You know how we all have a few meals that we grew up on and will always stick in our memory? This was one of those meals and it was a favorite of mine. My mom made it, my Nana made it, etc. The only thing that seems kind of funny to me now as an adult and as someone who is always looking through recipes, is that my family always called it goulash. Looking at the photo you will see that this is definitely not the goulash you will find on the menu somewhere. Even though that is the case, it will always be "goulash" to me, so please excuse my inaccurate naming of the dish.
I must also confess that this isn't the exact dish I grew up on. Again, now that I am an adult and try to be very conscious of my food choices I decided to put my own twist on the dish to make it a bit more well rounded. The version that I grew up on was simply pasta, ground meat, onion and homemade tomato sauce. I decided to make it a bit healthier by using ground turkey, whole wheat pasta and adding veggies to the mix. In the end you have a nice comforting meal that you don't have to feel guilty about.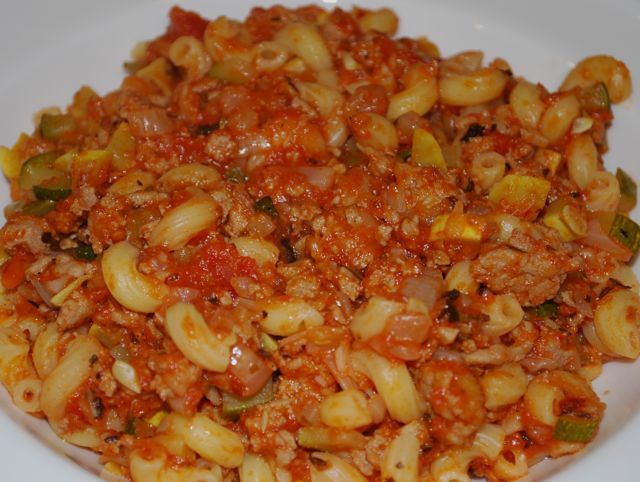 Nana's "Goulash"
Olive Oil
1 small to medium zucchini, chopped
1 small to medium yellow squash, chopped
1 medium onion, diced
2 cloves of garlic, minced
1 1/2 tsp. Italian seasoning
8 oz. ground turkey (I used 93/7)
1 tsp. garlic powder
1 tsp. paprika
crushed red pepper to taste
salt and pepper
2 cups of your favorite marinara sauce
4 oz. whole wheat elbows or rotini
Bring a pot of water to boil. Add pasta and cook according to time listed on the box.
Heat a pan on the stove and spray with olive oil. Add the zucchini, squash and onions. Saute for a couple of minutes and then add garlic and Italian seasoning. Continue cooking on medium heat.
Heat another pan and add the ground turkey. Add garlic powder, paprika, crushed red pepper and salt & pepper to taste. Continue on medium heat until cooked through.
When the veggies reach your desired tenderness, add the cooked ground turkey, marinara sauce and the drained pasta. Simmer to let flavors combine, about 5 minutes.
Yields 2 large servings
Approximate Nutrition Facts (according to sparkrecipe.com)
Calories: 453.4
Total Fat: 12.8 g
Cholesterol: 80 mg
Sodium: 149.6 mg
Carbohydrates: 63.3 g
Dietary Fiber: 11.5 g
Protein: 33.3 g
*Please note that the nutrition facts can vary greatly based on the type of sauce, meat and pasta that is used as well as the amount of salt added to the dish.  These facts were based on the 93/7 ground turkey, homemade san marzano sauce and Ronzoni Healthy Harvest Rotini.