Archive for December, 2009
According to the looks of my Google Reader, it is definitely the holiday season, and there is no doubt that everyone has sweet treats on their mind. I have seen so many incredible recipes for cookies, cakes, bars and candy. I am pretty sure I have enough recipes saved to last me for a few holiday seasons to come, and I would like to thank you fabulous cooks/bakers out there for sharing them.
With that said, we can't possibly live off of sweet treats alone for the next month. Although many of you may beg to differ, I think even my large sweet tooth will need a break here and there.
With the holidays comes entertaining, and with entertaining usually comes a need for appetizers. I know when I entertain I like to make as much as possible from scratch.  There is just something about people enjoying something that you created. Although, I have learned from experience that if you want to enjoy yourself, you have to pick and choose your battles. For some reason though, it always seems like the great sounding appetizers are also time consuming, and are best prepared right before serving. Obviously the last thing you want to be doing when your guests arrive is slaving in the kitchen with those appetizers. Well my friends, I have found an appetizer that is not only a cinch to make, but will make your taste buds forget all about those sweet treats we have come to love this time of year.
The fabulous Ina Garten has come through once again. When I saw her make a roasted tomato caprese salad, there was no doubt in my mind that I would have to try it. Oh, and try it I did! Twice actually! I made it for my husband as part of his birthday dinner, and we fell in love with it. After raving about it to my dad, he insisted that I make it for him as well. So, when my dad's birthday rolled around last week, I was sure to put it on the menu for his birthday dinner as well. He loved it, my stepmom loved it, and my husband and I loved it all over again.
It is a must try recipe! It is simple, doesn't call for a lot of ingredients, and (although it takes a while to cook) it doesn't take much prep time at all. What more can you ask for? I promise, it will be a hit!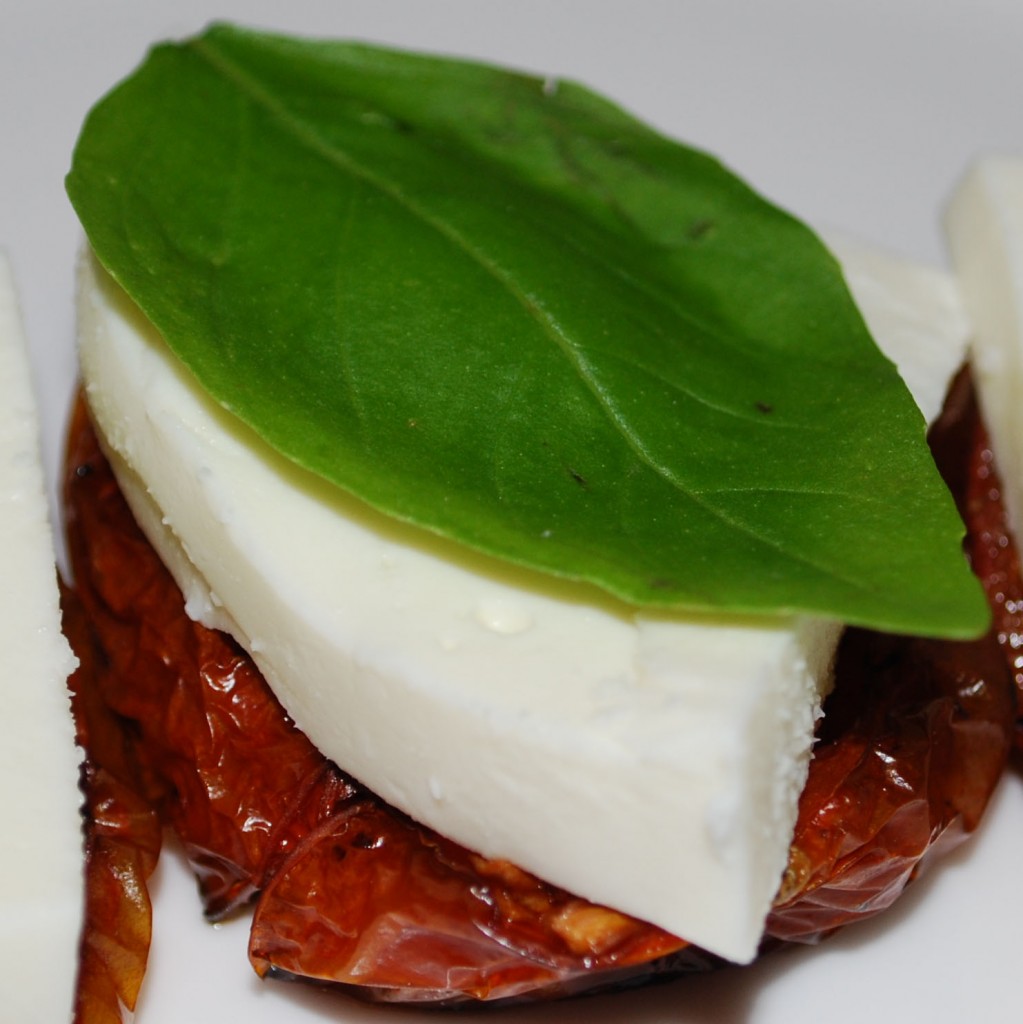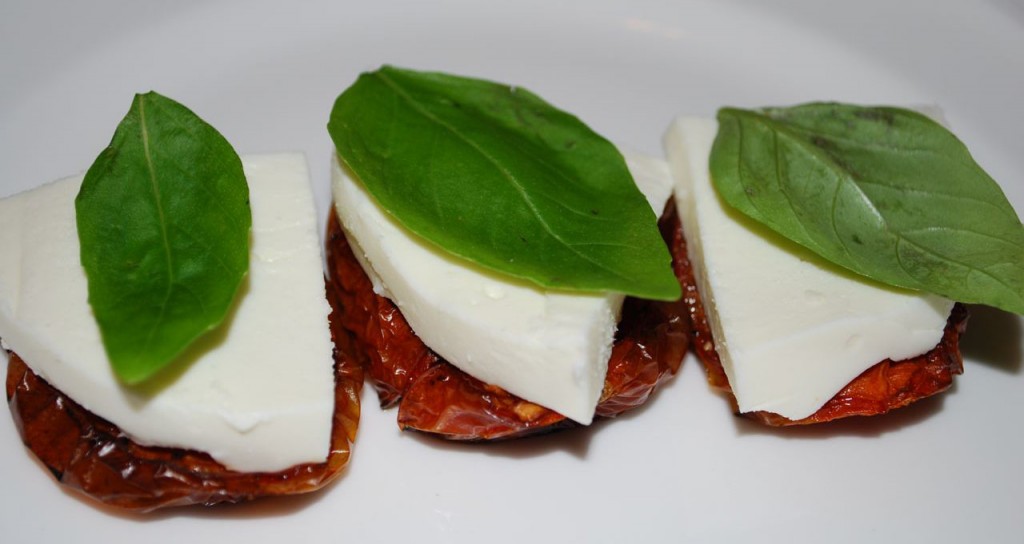 Roasted Tomato Caprese Salad
courtesy of Food Network and Barefoot Contessa
12 plum tomatoes, halved lengthwise, seeds (not cores) removed
1/4 cup good olive oil, plus more for drizzling
1 1/2 tablespoons balsamic vinegar
2 large garlic cloves, minced
2 teaspoons sugar
Kosher salt and freshly ground black pepper
16 ounces fresh salted mozzarella
12 fresh basil leaves, julienned (or left whole)
Preheat the oven to 275 degrees F.
Arrange the tomatoes on a sheet pan, cut sides up, in a single layer. Drizzle with 1/4 cup of olive oil and the balsamic vinegar. Sprinkle with the garlic, sugar, 1 1/2 teaspoons salt, and 1/2 teaspoon pepper. Roast for 2 hours until the tomatoes are concentrated and begin to caramelize. Allow the tomatoes to cool to room temperature.
Cut the mozzarella into slices slightly less than 1/2-inch thick. If the slices of mozzarella are larger than the tomatoes, cut the mozzarella slices in half. Layer the tomatoes alternately with the mozzarella on a platter and scatter the basil on top. Sprinkle lightly with salt and pepper and drizzle lightly with olive oil. Serve at room temperature.
Note:  I left the basil whole the first time I made it, but the second time we julienned it.  Personally, I preferred it julienned and found it easier to eat that way.
Yields: approximately 6 servings

I want to begin by saying thank you to anyone who contacted me, wondering where I was. I really appreciate your concern. I am back now and I apologize for my absence over the past month. I took a little break so I could put some extra concentration into my ongoing job hunt. I needed some time to work on writing samples, track down previous work samples and revamp some things. I am thrilled there has been some interest shown, so now I will just hope that good things are coming my way. My wish is to start the new year out with a new job, so please send the job dust my way!
Okay, on to the task at hand. It's time to get back in the kitchen and do what I love. You are all obviously not here to listen to my job woes, you are here for that stuff that satisfies our taste-buds and fills our bellies with goodness. Well my friends, I have a good one for you today. I have to give you something great to make up for my absence, right? I don't think this will disappoint.
Hands down, chocolate chip cookies have always been my favorite of the cookie family; that is until my husband influenced me. He loves oatmeal cookies. Not just oatmeal cookies, but oatmeal raisin chocolate chip cookies! Now, I am usually trying to find healthier versions of recipes, but when my husband's birthday rolled around I knew I had to give him the good stuff. He isn't really a fan of cake, but I knew a great cookie would win his heart over. So, of course I turned to my trusty Cook's Illustrated book; which never disappoints. That is where I found, in my opinion, the best oatmeal cookie recipe. A plump, soft center with slightly crispy edges, and full of raisin and chocolate chip goodness. Not only did they win his heart over, but they won mine too. I think this cookie has taken the position as my new favorite cookie.
Enjoy the treat, and I will be back soon with an amazing appetizer recipe; just in time for the holidays!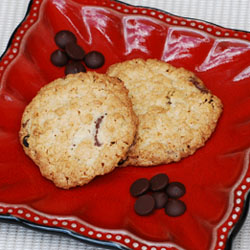 Chewy Oatmeal Raisin Chocolate Chip Cookies
adapted from Cook's Illustrated, The New Best Recipe
1 1/2 cups (7 1/2 ounces) unbleached all-purpose flour
1/2 teaspoon baking powder
1/2 teaspoon salt
16 tablespoons (2 sticks) unsalted butter, softened but still cool
1 cup packed (7 ounces) light brown sugar
1 cup (7 ounces) granulated sugar
2 large eggs
3 cups old fashioned rolled oats
3/4 cup raisins
3/4 cup semi-sweet chocolate chips
Adjust the oven racks to the low and middle positions and heat the oven to 350 degrees. Line 2 large baking sheets with parchment paper or spray them with nonstick cooking spray.
Whisk flour, baking powder, and salt together in a medium bowl.
Either by hand or with an electric mixer, beat the butter on medium speed until creamy. Add the sugars; beat until fluffy, about 3 minutes. Beat in the eggs, one at a time.
Stir the dry ingredients into the butter-sugar mixture with a wooden spoon or large rubber spatula. Stir in the oats, raisins and chocolate chips.
Working with a generous 2 tablespoons of dough each time, roll the dough into 2-inch balls. Place the balls on the prepared baking sheets, spacing them at least 2 inches apart.
Bake until the cookie edges turn golden brown, 22 to 25 minutes, rotating the baking sheets front to back and top to bottom halfway through the baking time. Let the cookies cool on the baking sheets for 2 minutes. Transfer the cookies with a wide metal spatula to a wire rack. Let cool at least 30 minutes.
Yields: approximately 2 dozen cookies.
*In the case that you don't want to overindulge too much, these cookies freeze well too!