If my husband had his way, he would eat a vegetable (preferably broccoli) and a starch with his dinner every night. Don't get me wrong, he is not a picky meat and potatoes kind of guy, but he would still be completely content with the simplicity of those side dishes on a daily basis. Me on the other hand, would probably give up eating altogether before I would eat the same stark meals day after day. So I am always on a mission to find new, but healthy side dishes to compliment our meals. I mean let's face it, we could all eat mac n' cheese, loaded potatoes and every other calorie laden side dish every day of the week if our waistlines and arteries would let us, but that is not realistic. At least it isn't in my world. So that leads us back to finding the healthy, but tasty and satisfying variety of dishes.
After plastering the title of boring eater to my husband, I will now give him some credit because he is the one who suggested black bean soup over our fairly regular black beans the other night. Although I was the one who raced up the stairs in hopes of beating him to a great recipe. See, he will look for a recipe and then try to change it in every way possible in order to not follow the recipe. In many cases this leads to a fabulous dish (b/c he is a great cook), but in other cases he turns into the spice monster and tends to "over flavor" the dish. So I raced to my computer and immediately went to Epicurious.com, which is my new favorite recipe source. One of the first recipes I pulled up was one from the December 2008 issue of Gourmet magazine. I thought it was going to be something a little too obscure for our simple dinner, but surprisingly it was a simple yet delicious sounding concoction. I passed it along to the anti-recipe guy, since I was going to put him in charge of making it, and to my surprise he said it sounded great! No only that, but he made the recipe without altering it beyond recognition. Of course we did change it up a tiny bit, but for the most part it was great the way it was.
So we now have a new side dish to add to our repertoire and my husband actually followed a recipe without completely changing every element. Don't get me wrong though, I may like to give my hubby a hard time, but he is an amazing cook and I love him dearly.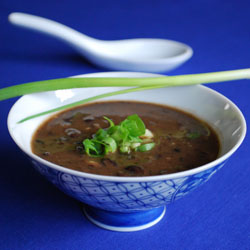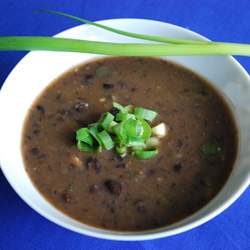 Spicy Black-Bean Soup
adapted from Gourment 12/08 via Epicurious.com
2 teaspoons olive oil
1 medium white onion, finely chopped
2 garlic cloves, minced
1 fresh jalapeño (2 inches), seeded and minced
1 teaspoons chili powder
1 teaspoons ground cumin
1 teaspoon dried oregano
2 (15-ounces) cans black beans, 1 drained and rinsed, 1 with liquid (we use low sodium)
2 1/2 cups chicken stock/broth (use 2 cups if you prefer it thicker)
1 bay leaf
Green Onion, chopped for garnish
*Use vegetable stock to make this dish vegetarian.
Heat oil in a 4-to 5-quart heavy pot over medium-high heat, then sauté onion, garlic, and jalapeño with chili powder, cumin, and oregano until onion is beginning to brown, 6 to 8 minutes. Add beans, stock/broth, and bay leaf and simmer, covered, stirring occasionally, until soup has thickened slightly, about 15 minutes.
Transfer about 1 cup soup to a blender and purée (use caution when blending hot liquids). Return to pot and reheat over medium-low heat, stirring frequently. Discard bay leaf. Season with salt if desired. Add green onion for garnish.
Yields 4-6 servings
Approximate Nutrition Facts (according to Spark Recipe)
Calories: 229.7
Total Fat: 3.9 g
Saturated Fat: .09 g
Polyunsaturated Fat: 0.5 g
Monounsaturated Fat: 0.9 g
Cholesterol: 3.1 mg
Carbohydrates: 44.8 g
Dietary Fiber: 11.6 g
Protein: 13.6 g
*Please note that these are very approximate nutrition facts since one can of beans was rinsed from it's liquid. This is also why I left the sodium out b/c it was not going to be accurate at all.  These facts were also based on the amounts for 4 servings.