Archive for the 'Fall Inspired' Category
Back in June, I decided to take a Wilton course at my local Michael's in hopes of learning some nice decorating techniques for cakes. After taking Course 1, I quickly learned that you can't do much great decorating without using butter cream icing; which works best for decorating purposes when it is made with vegetable shortening (GAG!).  I decided that I wasn't a big fan. I would much rather decorate a cake with things that actually taste good. I still use some of the techniques that I learned, but I try to avoid using the dreaded butter cream as much as possible. I tend to try and decorate with fruit, chocolate shavings, etc. I also sometimes choose to ice cakes in my preferred icing and then make a small batch of butter cream for the decorating.
Anyway, since I love to bake and most people (mainly family) know I took that course, I am the first they come to when it is birthday cake time. So, when the Jewish holidays rolled around, my mother-in-law asked if I would mind making a birthday cake for her father instead of making a dessert for one of the holiday dinners. Of course I agreed. So now I needed to find a tasty cake that I thought everyone would love, but would also look like a birthday cake and allow for writing (without having to use the butter cream). It was also getting into the fall season, so I figured I would take that into mind as well.
After doing a bit of searching I finally found a three layer apple cake by Martha Stewart. It would look like a birthday cake, have fall flavors that I was sure most people would enjoy and I would top it with my favorite cream cheese icing that could still be used for some decorating purposes. I think I hit all of my goals! Most importantly avoiding the BC!
The cake was moist and delicious; and everyone raved over how great it tasted. The only downfall I found was that it was a little hard to work with. The outside of the cake is quite sticky and the centers seemed to fall a bit, which makes it a bit difficult to stack without it all sticking to your hands and it requires a bit more frosting in the middle of each layer to compensate for the fallen centers. Overall though, I would make it again because it tasted great and had that homey, rustic feel to it. I think the cream cheese icing paired very nicely with it as well.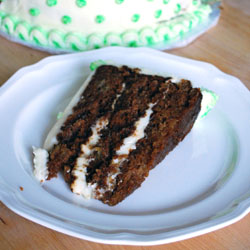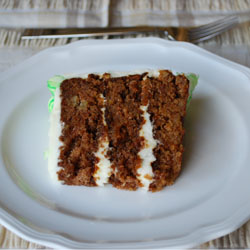 Three-Layer Apple Cake
Cake
1/2 cup (1 stick) unsalted butter, melted, plus more for pans
2 cups all-purpose flour (spooned and leveled), plus more for pans
2 teaspoons baking soda
1/2 teaspoon baking powder
2 teaspoons ground cinnamon
1/2 teaspoon ground ginger
3/4 teaspoon salt
2 cups packed light-brown sugar
2 large eggs
4 Granny Smith apples, peeled, two coarsely grated and two diced
Icing
Vanilla Cream Cheese icing (from the Banana Bars recipe)
Preheat oven to 350 degrees. Butter three 8-inch-round cake pans (I used 9-inch b/c that is what I had); line bottoms with parchment paper. Butter, then flour paper and sides (tapping out excess); set aside.
In a medium bowl, whisk together flour, baking soda, baking powder, cinnamon, ginger, and salt; set aside. In a large bowl, whisk together butter, sugar, and eggs until well combined; fold in grated and diced apples. Add flour mixture; mix just until combined. Divide batter among prepared pans; smooth tops.
Bake until a toothpick inserted in center of cake comes out clean, 35 to 40 minutes. Cool cakes in pans 20 minutes, then invert onto wire racks; peel off parchment. Invert cakes again, and let cool completely on racks.
Assemble cake to your liking with Vanilla Cream Cheese Icing.  Refrigerate at least 1 hour (or up to 4 days). To serve, bring cake to room temperature; slice with a serrated knife.
Yields: 12 servings

I want to preface this with the fact that fall is my favorite time of the year. Now that I am back in Florida, I miss the chilly weather and the beautiful foliage. This is the time of year that I yearn to live somewhere in the north.
With that being said, can I tell you that I wanted to throw something at my TV the other night! My husband was flipping through the channels and stopped at a news station. The weather just happened to come on and I was watching it, even though I know it is a joke in South Florida. Well, the meteorologist proceeded to talk about how we are going to get a little cold front. What?? A cold front this early?? We don't get cool weather (that being the 70's) until at least December. I had this moment of extreme excitement, like a little giddy school girl. He then proceeds to say that the temperatures will be in the low 90's with less humidity. What??? How dare he play with my emotions like that! Who in their right mind would utter the words "cold front" and "temperatures in the 90's" in the same sentence?
So now I had to find a way to mend my broken little heart. What better way than to make Cinnamon Apple Scones? I knew that would bring my fall spirit back and shining. I came across this recipe while going through my Google Reader the other night. Again, it was a great contribution from the wonderful Katie at Good Things Catered. I knew I would have to make these ASAP! The only problem is, I don't like baking full batches of things to keep in our house. I say that because it means the full batch will be consumed by my husband and I. Last time I checked, my waistline didn't cooperate with that so kindly. Well, it just so happened I was also trying to find a couple of treats that would ship well to my husband's cousin in college. It looks like she will be getting some scones in her package!
So off I went to bake some fall flavored goodies. As soon as my house started to fill with the scents of apples and spice, my memories of that wretched weatherman began to diminish. So now I can spend the week filling my spirits with fall goodness, even if I have to come to reality when I walk out of my front door and the 90 degree heat hits me.
Oh yeah, and these tasted delicious too!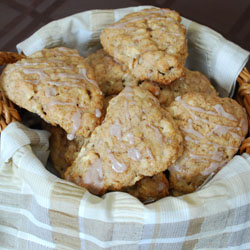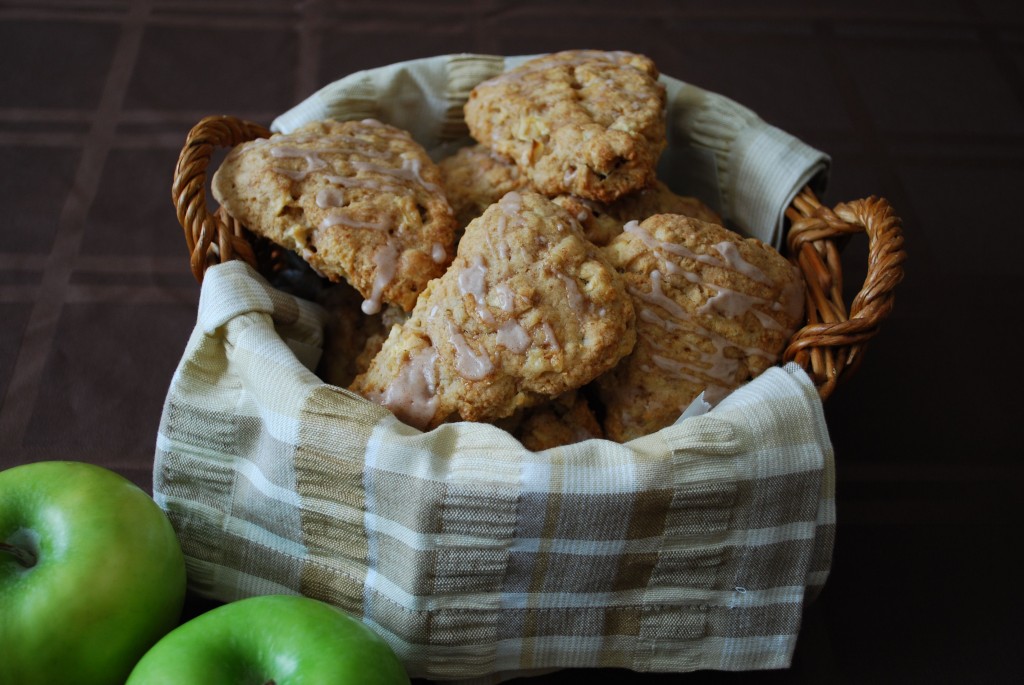 Apple Cinnamon Scones
adapted from Good Things Catered
2 1/4 cups all purpose flour
1/3 cup light brown sugar
1 tablespoon baking powder
1 1/2 teaspoons cinnamon
1/4 teaspoon nutmeg
1/8 teaspoon cloves
1/4 teaspoon salt
1 stick (8 Tbsp) butter, chilled and cut into small pieces
1 egg
1/4 cup applesauce (I used unsweetened)
1/4 cup milk
1 teaspoon vanilla extract
2 cups apples, cored, peeled and diced (about 2 medium to large apples)
Cinnamon Glaze:
4 1/2 tablespoons powdered sugar
1/8 teaspoon cinnamon
2 teaspoons water
Preheat oven to 350 degrees F. and line 2 baking sheets with parchment paper.
In a small bowl, combine egg, applesauce, milk, and vanilla; whisk to combine thoroughly and set aside.
In a large bowl combine flour, sugar, baking powder, cinnamon, nutmeg, cloves, and salt; whisk to combine.
Using a pastry cutter or two knives, cut butter into flour until all pieces are smaller than pea-sized. Add apples and toss to coat.
Add wet ingredients to dry and mix in lightly with fork until dough just comes together. Turn dough out onto well floured work surface and pat into a large ball. Cut dough in half. Shape half of dough into a flat disk shape and cut into 8 slices.
Place on baking sheet and repeat with other half of dough. Bake until they turn slightly brown, about 25-30 minutes.
Remove from oven and let cool on baking sheets for 10 minutes. Transfer to a wire rack and let cool completely.
In a small bowl, combine the powdered sugar, cinnamon and water; whisk until completely smooth. When scones have cooled completely, drizzle the glaze across the top of each with a spoon or fork. Let dry completely before storing.
Yields 16 Scones