For some reason I find it necessary to look for new recipes every week. I guess this just stems from my love of cooking. I think no matter how many recipes I accumulate I will never be content. So as I mentioned a few posts back, I have begun to sit down and read through blogs in my spare time. I feel like I have never done it often enough so now I have to actually sit and read entire blogs. Hopefully after I do this with certain blogs I will then be able to just keep up with them through Google Reader. This is my hope, but I have a feeling I will never get organized with all of this blogging. I am going to stay hopeful though. :o)
Anyway, I was very inspired by the blog, Elly Says Opa. I made her Chicken with Herbed Pan Sauce a few weeks ago and loved it. So I figured I couldn't go wrong when I found her recipe for Indian-Spiced Chicken Burgers. When I first showed the recipe to Greg he had a typical guy response, "It doesn't look like much food." After I convinced him that the three baby burgers add up to the same amount that he normally eats in one regular burger he decided that it sounded good. Needless to say, he needed no further convincing after we both sat there stuffed after our meal. The dish was delicious and the flavors really complimented each other. I was surprised at how incredibly filling it was too. I absolutely loved the yogurt sauce on top. Although we adore naan, we decided to use whole-wheat flatbread instead to save on calories.
We ended up enjoying the meal with a nice salad and it was a hearty, but healthful and guilt free feast. I love being able to eat more ethnic inspired foods in a trimmed down manner.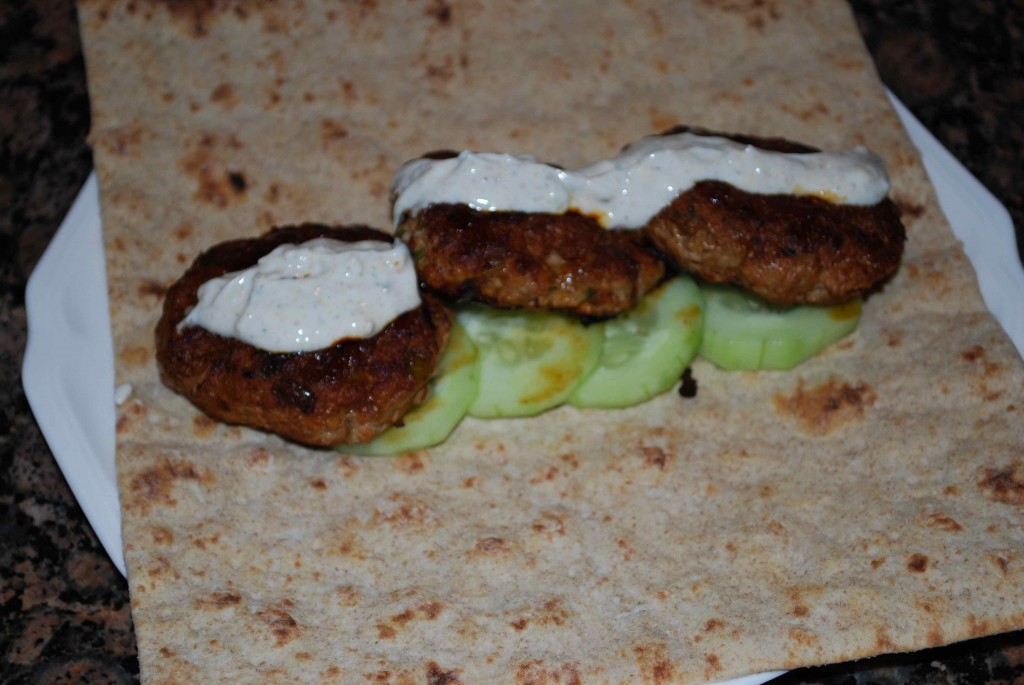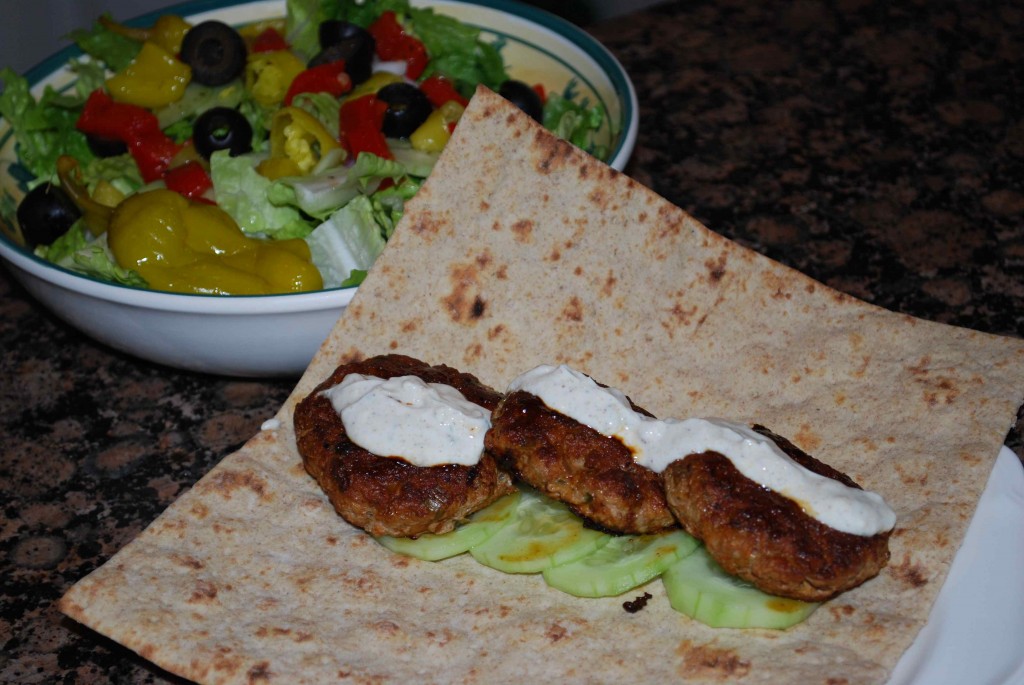 Indian-Spiced Turkey Burgers
1 lb. ground chicken breast
 (I used turkey burger)
3 scallions, thinly sliced
2 1/2 tbsp. fresh ginger, minced
2 tbsp. fresh lemon juice
2 tsp. paprika
2 tsp. ground cumin
1/4 tsp. cayenne pepper
salt and pepper
1 small cucumber, sliced
flatbread (or naan) and cilantro (optional) for serving
cumin yogurt sauce (recipe follows)
In a bowl, gently combine the first 8 ingredients. Form into burgers or meatballs and set aside/refrigerate for 10 minutes or longer to combine flavors.
Grill or fry the patties. Place the cucumber and cilantro on the naan/flatbread, followed by the patties.
Drizzle with the yogurt sauce.
Cumin Yogurt Sauce
1/2 cup plain Greek yogurt (or strained yogurt)
1/2 tsp. ground cumin
1 clove garlic, minced
salt and freshly ground pepper
Yields 4 servings.