I want to preface this with the fact that fall is my favorite time of the year. Now that I am back in Florida, I miss the chilly weather and the beautiful foliage. This is the time of year that I yearn to live somewhere in the north.
With that being said, can I tell you that I wanted to throw something at my TV the other night! My husband was flipping through the channels and stopped at a news station. The weather just happened to come on and I was watching it, even though I know it is a joke in South Florida. Well, the meteorologist proceeded to talk about how we are going to get a little cold front. What?? A cold front this early?? We don't get cool weather (that being the 70's) until at least December. I had this moment of extreme excitement, like a little giddy school girl. He then proceeds to say that the temperatures will be in the low 90's with less humidity. What??? How dare he play with my emotions like that! Who in their right mind would utter the words "cold front" and "temperatures in the 90's" in the same sentence?
So now I had to find a way to mend my broken little heart. What better way than to make Cinnamon Apple Scones? I knew that would bring my fall spirit back and shining. I came across this recipe while going through my Google Reader the other night. Again, it was a great contribution from the wonderful Katie at Good Things Catered. I knew I would have to make these ASAP! The only problem is, I don't like baking full batches of things to keep in our house. I say that because it means the full batch will be consumed by my husband and I. Last time I checked, my waistline didn't cooperate with that so kindly. Well, it just so happened I was also trying to find a couple of treats that would ship well to my husband's cousin in college. It looks like she will be getting some scones in her package!
So off I went to bake some fall flavored goodies. As soon as my house started to fill with the scents of apples and spice, my memories of that wretched weatherman began to diminish. So now I can spend the week filling my spirits with fall goodness, even if I have to come to reality when I walk out of my front door and the 90 degree heat hits me.
Oh yeah, and these tasted delicious too!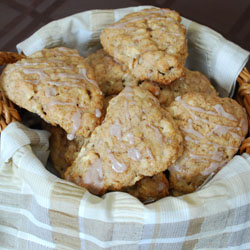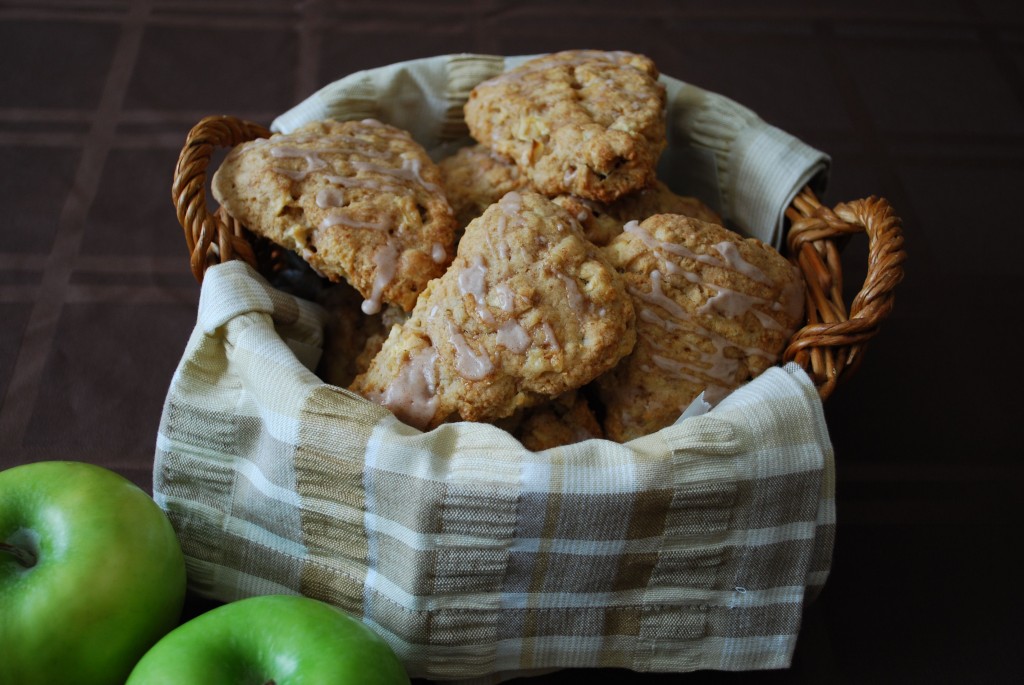 Apple Cinnamon Scones
adapted from Good Things Catered
2 1/4 cups all purpose flour
1/3 cup light brown sugar
1 tablespoon baking powder
1 1/2 teaspoons cinnamon
1/4 teaspoon nutmeg
1/8 teaspoon cloves
1/4 teaspoon salt
1 stick (8 Tbsp) butter, chilled and cut into small pieces
1 egg
1/4 cup applesauce (I used unsweetened)
1/4 cup milk
1 teaspoon vanilla extract
2 cups apples, cored, peeled and diced (about 2 medium to large apples)
Cinnamon Glaze:
4 1/2 tablespoons powdered sugar
1/8 teaspoon cinnamon
2 teaspoons water
Preheat oven to 350 degrees F. and line 2 baking sheets with parchment paper.
In a small bowl, combine egg, applesauce, milk, and vanilla; whisk to combine thoroughly and set aside.
In a large bowl combine flour, sugar, baking powder, cinnamon, nutmeg, cloves, and salt; whisk to combine.
Using a pastry cutter or two knives, cut butter into flour until all pieces are smaller than pea-sized. Add apples and toss to coat.
Add wet ingredients to dry and mix in lightly with fork until dough just comes together. Turn dough out onto well floured work surface and pat into a large ball. Cut dough in half. Shape half of dough into a flat disk shape and cut into 8 slices.
Place on baking sheet and repeat with other half of dough. Bake until they turn slightly brown, about 25-30 minutes.
Remove from oven and let cool on baking sheets for 10 minutes. Transfer to a wire rack and let cool completely.
In a small bowl, combine the powdered sugar, cinnamon and water; whisk until completely smooth. When scones have cooled completely, drizzle the glaze across the top of each with a spoon or fork. Let dry completely before storing.
Yields 16 Scones