I subscribe to quite a few cooking magazines, as I am always looking for new ideas and forms of inspiration. One of my favorites is Cooking Light. I know some people out there don't like the magazine as much as they used to and I do admit I was getting a little tired of it myself while reading the past few issues. Well, I received my September issue a week or two ago and I was surprised to see that they have given the magazine somewhat of a face lift. I have to say, I am really liking it. The last few issues prior to this one seemed to be lacking in the recipe and food department. I really hope they keep up this new format because it has so much information on ingredients, nutrition and a huge variety of recipes.
Okay, so why did I give that shout out to Cooking Light? No, I am not getting paid to endorse the magazine. Like I mentioned, this issue had a great variety of recipes. So, of course I made one. I love one pot dishes, so anytime I come across a great one pot dish, I am all over it. This particular recipe was for a Creole Shrimp and Sausage Stew. This dish was really tasty and will be perfect for the cool days to come. Well, the cool days to come for my friends to the north. I most likely won't be seeing a cool day at least until December or January. This recipe is also a great base recipe for switching things up. You can pretty much use it to clean out your refrigerator if you have some veggies to use up. You can also make it as spicy or tame as you like; I used the spicy Rotel and it gave it quite a kick.  We ate it over brown rice and it made for the perfect meal.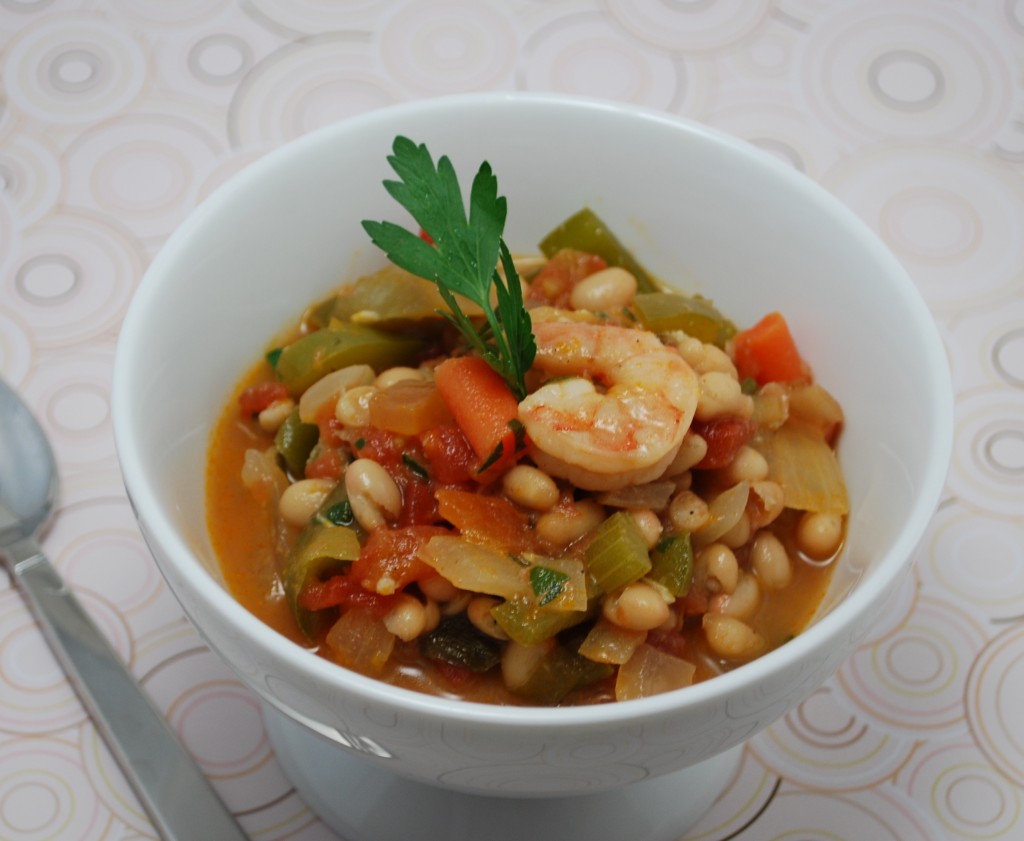 Creole Shrimp and Sausage Stew
2 teaspoons olive oil
1 cup green bell pepper, chopped
1/2 cup onion, chopped
1/4 cup celery, chopped
1/4 cup carrots, chopped
1 cup thinly sliced turkey or chicken sausage (about 6 ounces)
2 cloves of garlic, minced
3/4 cup fat-free, less-sodium chicken broth
1 (10-ounce) can diced tomatoes and green chiles, undrained (such as Rotel)
8 ounces peeled and deveined medium shrimp
1 (15-ounce) can of white beans, rinsed and drained
2 tablespoons chopped fresh parsley
Heat a large saucepan over medium-high heat. Add oil to pan; swirl to coat. Add bell pepper, onion, carrot and celery to pan; saute on medium-high heat about 5 minutes. Add garlic and sausage to the pan; sauté 3 minutes or until the veggies are tender, stirring occasionally. Add broth and tomatoes; bring to a boil. Stir in shrimp and beans; cover, reduce heat, and simmer 6 minutes or until shrimp are done. Sprinkle with parsley.
Yields 4 servings
Approximate Nutrition Facts (according to Spark Recipe)
Serving size: about 1 cup
Calories: 298.2
Total Fat: 6.3 g
Saturated Fat: 1.7 g
Polyunsaturated Fat: 0.9 g
Monounsaturated Fat: 2.1 g
Cholesterol: 117.1 mg
Sodium: 863.8 mg
Carbohydrates: 32.2 g
Dietary Fiber: 6.9 g
Protein: 27.2 g