That last couple weeks of summer are upon us and with them brings mixed emotions for all. People like me, who live in Florida, are suffering through the most brutal days of the summer and begging fall to get here as quickly as possible in hopes of seeing 70's in the forecast. Our friends to the north are looking forward to the apple picking and beautiful foliage but are savoring the last few warm days of the year. On the other hand we are also battling with our cooking desires. We are counting down the days until we have the scents of pumpkin, cinnamon, apple and cranberry slithering through our homes, as well as pots of soups and stews simmering on the stove. At the same time we are also trying to fit in those last few summer dishes we haven't gotten around to yet. Needless to say, our menus are probably a bit of a mix mosh these days.
Labor Day was probably the last of the big summer get togethers and barbecues for most. So while I was thinking of sweet treats to bring to the BBQ I attended, I kept the traditions of summer in mind. I knew I had to make the banana bars I had found a recipe for, but I wanted one more thing. What is more of a summer treat than s'mores?? We weren't going to have a campfire handy, so I needed to think along other lines. I decided to go with a s'mores brownie. That is a combination that most wouldn't turn down!
I went to work looking to see if I could find a tried and true recipe, but to my dismay they all came back with mixed reviews. I really didn't want to take the chance of them coming out sub-par. So I decided to take a brownie recipe that I knew was a winner and then add the s'more elements on my own. While trying to decide on what brownie recipe I wanted to go with, I remembered that I had bookmarked a Cook's Illustrated version that Annie from Annie's Eats had made recently and raved about. It was simple and chocolatey, so I went with that one.
I added a graham cracker crust and "roasted" some marshmallows on top. In the end I had a yummy s'more-like concoction without the campfire and flaming marshmallows. They were a perfect end of summer treat!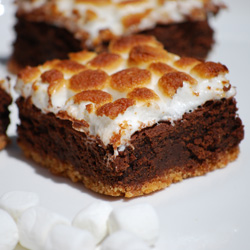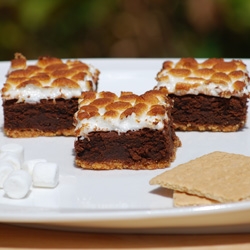 S'mores Brownies
brownies adapted from Baking Illustrated as seen on Annie's Eat's
crust courtesy of The Bon Appetit Cookbook
Crust:
6 whole graham crackers, broken into small pieces
3 tablespoons sugar
3 tablespoons unsalted butter, room temperature, cut into pieces
Brownies:
5 oz. semisweet chocolate, chopped (I used chocolate chips)
2 oz. unsweetened chocolate, chopped
8 tablespoons unsalted butter, cut into quarters
3 tablespoons cocoa powder
3 large eggs
1¼ cups (8¾ oz.) sugar
2 teaspoons vanilla extract
½ teaspoon salt
1 cup (5 oz.) all-purpose flour
Topping:
1/2 bag mini-marshmallows
Position oven rack to the center of the oven and preheat to 350 degrees F. Line a 8×8 or 9×9 inch pan with parchment paper (allowing edges to extend over sides). Blend graham crackers, sugar, and butter in a food processor until moist crumbs form. Press crumbs evenly onto the parchment paper in the bottom of the prepared pan. Bake crust until light golden brown, about 7-10 minutes. Place to the side.
Move the oven rack to the lower-middle position.
In a heatproof bowl set over a pan of barely simmering water, melt the chocolate and butter, stirring occasionally until smooth. Whisk in the cocoa powder until smooth. Set aside to cool.
In a medium bowl, combine the eggs, sugar, vanilla and salt; whisk until combined, about 15 seconds. Whisk in the warm chocolate mixture until incorporated. Then stir in the flour with a wooden spoon until just combined. Pour the mixture into the prepared pan and spread with a spatula to make an even layer. Bake until slightly puffed and a toothpick inserted in the center comes out with a small amount of sticky crumbs clinging to it, 35-40 minutes.
Remove the pan from the oven. Carefully move the rack to about 6 inches from the broiler and preheat to broil. Top the brownies with the marshmallows, making an even layer. Place the pan on the rack and watch carefully with the oven door cracked. Make sure to stay by the oven and watch because the marshmallows will smoke a bit and brown VERY quickly (if you aren't careful they could potentially catch on fire). As soon as the marshmallows have a nice brown crust, remove them from the oven. Let cool completely before attempting to remove from pan and cutting. You may want to butter your knife a bit to prevent the marshmallow from sticking.
Cut to your desired serving size.