Archive for the 'Appetizers' Category
According to the looks of my Google Reader, it is definitely the holiday season, and there is no doubt that everyone has sweet treats on their mind. I have seen so many incredible recipes for cookies, cakes, bars and candy. I am pretty sure I have enough recipes saved to last me for a few holiday seasons to come, and I would like to thank you fabulous cooks/bakers out there for sharing them.
With that said, we can't possibly live off of sweet treats alone for the next month. Although many of you may beg to differ, I think even my large sweet tooth will need a break here and there.
With the holidays comes entertaining, and with entertaining usually comes a need for appetizers. I know when I entertain I like to make as much as possible from scratch.  There is just something about people enjoying something that you created. Although, I have learned from experience that if you want to enjoy yourself, you have to pick and choose your battles. For some reason though, it always seems like the great sounding appetizers are also time consuming, and are best prepared right before serving. Obviously the last thing you want to be doing when your guests arrive is slaving in the kitchen with those appetizers. Well my friends, I have found an appetizer that is not only a cinch to make, but will make your taste buds forget all about those sweet treats we have come to love this time of year.
The fabulous Ina Garten has come through once again. When I saw her make a roasted tomato caprese salad, there was no doubt in my mind that I would have to try it. Oh, and try it I did! Twice actually! I made it for my husband as part of his birthday dinner, and we fell in love with it. After raving about it to my dad, he insisted that I make it for him as well. So, when my dad's birthday rolled around last week, I was sure to put it on the menu for his birthday dinner as well. He loved it, my stepmom loved it, and my husband and I loved it all over again.
It is a must try recipe! It is simple, doesn't call for a lot of ingredients, and (although it takes a while to cook) it doesn't take much prep time at all. What more can you ask for? I promise, it will be a hit!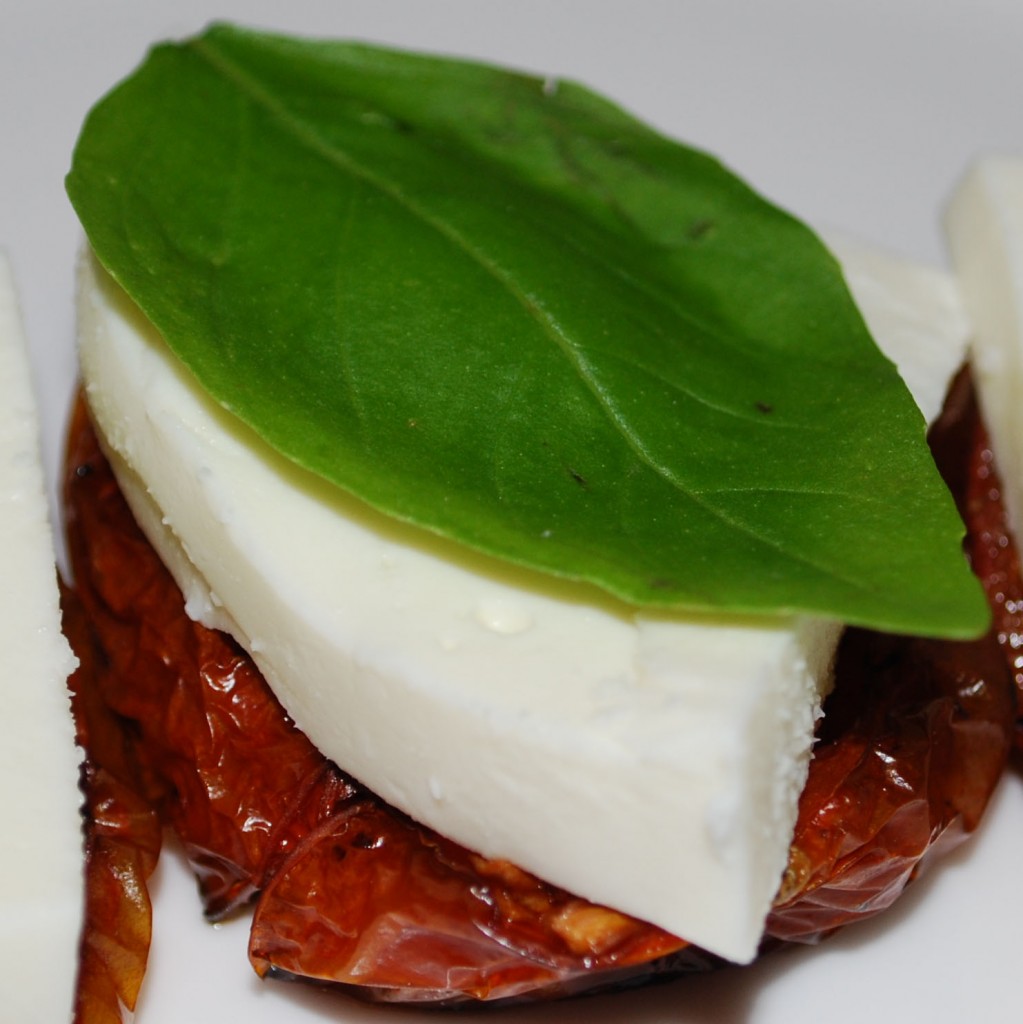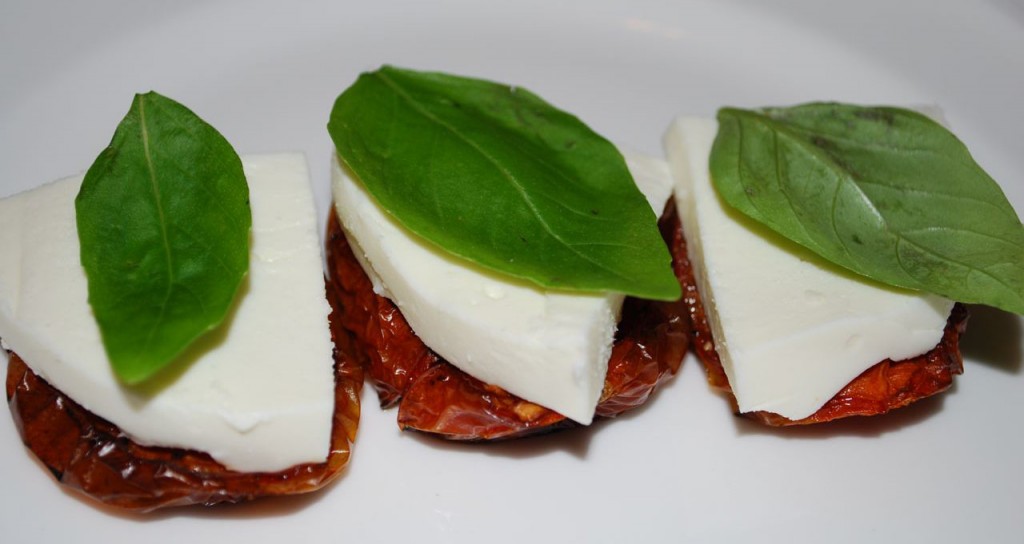 Roasted Tomato Caprese Salad
courtesy of Food Network and Barefoot Contessa
12 plum tomatoes, halved lengthwise, seeds (not cores) removed
1/4 cup good olive oil, plus more for drizzling
1 1/2 tablespoons balsamic vinegar
2 large garlic cloves, minced
2 teaspoons sugar
Kosher salt and freshly ground black pepper
16 ounces fresh salted mozzarella
12 fresh basil leaves, julienned (or left whole)
Preheat the oven to 275 degrees F.
Arrange the tomatoes on a sheet pan, cut sides up, in a single layer. Drizzle with 1/4 cup of olive oil and the balsamic vinegar. Sprinkle with the garlic, sugar, 1 1/2 teaspoons salt, and 1/2 teaspoon pepper. Roast for 2 hours until the tomatoes are concentrated and begin to caramelize. Allow the tomatoes to cool to room temperature.
Cut the mozzarella into slices slightly less than 1/2-inch thick. If the slices of mozzarella are larger than the tomatoes, cut the mozzarella slices in half. Layer the tomatoes alternately with the mozzarella on a platter and scatter the basil on top. Sprinkle lightly with salt and pepper and drizzle lightly with olive oil. Serve at room temperature.
Note:  I left the basil whole the first time I made it, but the second time we julienned it.  Personally, I preferred it julienned and found it easier to eat that way.
Yields: approximately 6 servings

Rachael Ray, you either love her or you hate her. I just so happen to love her. I will admit that I am not always a fan of her recipes, as they can be a bit out there. I guess I should say that Greg isn't always a big fan, since he can be somewhat of a picky eater at times. Her combinations can be a bit too much for him. I still love getting ideas from her and I love her magazine. I feel that although I don't always use her recipes religiously, she inspires me to think outside of the box.
We hosted a birthday dinner for my dad back in December. I had actually never had anyone from my dad's side of the family, including him and my stepmom, over for dinner before. I know it sounds strange, but this is the first time we have lived close to them since I graduated college back in 2005. So, I really wanted to wow them. I am pleased to say that Greg and I did just that! They didn't stop talking about that dinner for weeks. I made a few more time consuming appetizers, so I was looking for another one that was simple. While flipping through the December issue of Everyday with Rachael Ray I found a section of little finger sandwiches. This Pesto-Prosciutto Sandwich was one that was mentioned. It sounded like a winner, tasty and simple. That it was!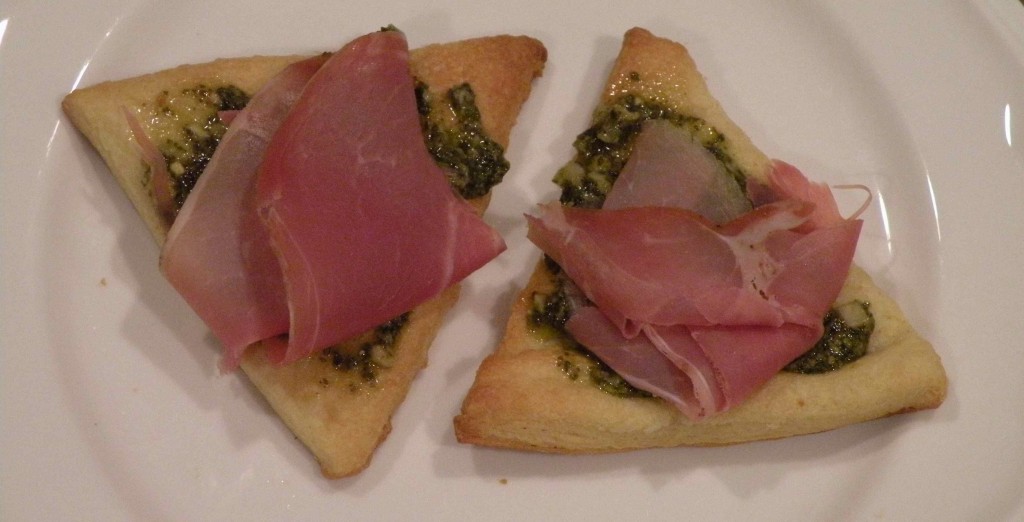 Pesto-Prosciutto Sandwiches
courtesy of Everyday with Rachael Ray
Frozen Puff Pastry (I actually used crescent roll dough)
Thinly sliced prosciutto
Store bought pesto
Thaw dough if necessary and then roll out. Cut into the desired shape. Mine were more of a triangle since I used crescent roll dough. Bake in a 400 degree oven until golden brown. Let cool and then split (if necessary). Spread the bottoms with store bought pesto, top with prosciutto slices and cover with pastry tops if desired.  I chose to keep mine open faced.