Archive for the 'Ice Cream' Category
Every month I try to make sure I go over to Joelen's Culinary Adventures to see what she has planned for her monthly Tasty Tools event. Of course I visit her wonderful blog more than once a month, but sometimes I get busy and completely forget to check out what events she has going. Well, I managed to remember this month and found out that the June's choice tool was the ice cream maker. After thinking about it, I thought that I wouldn't get around to making any ice ream this month and I would wait and see what she would choose for next month.
Fast-forward to the end of the month; I made a delicious strawberry cake for Father's Day and had quite a bit of leftover strawberry puree. I was originally planning on freezing it into small portions for smoothies. Well, as I was portioning it out, I decided that a strawberry sorbet would be divine for these hot summer days. Of course it then dawned on me that it would give me the opportunity to use my ice cream maker. Yay, I would get to participate in Tasty Tools after all!
I began searching for sorbet recipes and found a great one over at Epicurious by Bon Appétit. I did realize that I didn't have quite enough strawberries though, but I did have a bag of blueberries in the freezer. So my strawberry sorbet quickly turned into a "berry" sorbet. Well, what are berries without a little chocolate? To me, the mixture of a berry ice cream or sorbet with semi-sweet or dark chocolate chips is heaven. Okay, so now I have a berry chocolate chip sorbet. Yum!
Oh, and YUM is right! I got to work on my concoction and I was NOT disappointed. Greg snubbed his nose at the thought of the blueberries when I first told him what I was doing. Ha, that snub didn't last long after he took a bite that night. The outcome was delicious. A sweet tartness with a hint of chocolate, what more could a girl ask for?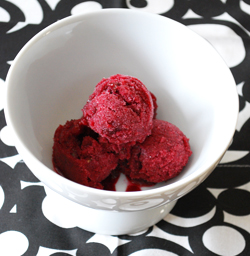 Berry Chocolate Chip Sorbet
1 1/3 cups water
2/3 cup sugar
10 ounces strawberries, hulled
6 ounces blueberries
2.5 tbs. fresh orange juice
2.5 tbs. fresh lemon juice
1 tsp. lemon zest
1/3 cup mini semi-sweet chocolate chips
Stir 1 1/3 cups water and sugar in heavy medium saucepan over high heat until sugar dissolves. Boil 5 minutes.
Puree strawberries and blueberries in food processor until smooth. Add the berry puree, orange and lemon juices and lemon zest to sugar syrup; stir to blend. Cover and refrigerate until cold, about 2 hours.
Process berry mixture in ice cream maker according to manufacturer's instructions; adding the chocolate chips during the last 5 minutes.
-The sorbet does become very solid after freezing overnight. You may choose to add a tablespoon of vodka to the mix to help keep the sorbet from getting too solid. You can also let it sit out about 15 minutes before serving.

As I mentioned in my previous post, we made a special Valentine's dinner in this year. It was fabulous and we enjoyed every minute of cooking and eating it. Along with the side dishes, I was also in charge of the dessert. Of course I wanted to make something special that we wouldn't have everyday. Sometimes the dessert decision can be a bit of a challenge since Greg and I have different tastes. I love pretty much any kind of dessert, especially cakes and things that are incredibly indulgent. Greg on the other hand, he would be happiest with a cookie, brownie or bowl of ice cream. So, what was I to do??
Well, my original thought was to make individual chocolate lava cakes, as that is one of my all time favorite desserts. The more I thought about it though, I realized that this was not something Greg would enjoy as much. Valentines Day dessert had to be something we would both enjoy equally.
I don't quite remember what triggered this thought in my head, but after much debate I finally figured out the perfect dessert that Greg would especially enjoy. Ice cream sandwiches made with oatmeal chocolate chip cookies (Greg's favorite) and homemade vanilla bean ice cream. I had some vanilla beans in the closet that I have been meaning to use and we hadn't put our ice cream machine to much use since we got it as a wedding gift.
After realizing I couldn't go wrong with this choice, I went to scrounge up some recipes. The cookie recipe I found on Cooking Light and adapted it. Honestly, I think they were the best homemade oatmeal chocolate chip cookies we have ever had. That is a major score since they are also lower in calories than most. I also came across an incredible vanilla bean ice cream recipe in the blog, Amber's Delectable Delights, where she credits The Perfect Scoop by David Lebovitz. It was amazing and better than any store bought vanilla ice cream. By the way, I highly recommend a visit to Amber's blog because she has tons of great recipes.
So we put these two great recipes together and had some yummy ice cream sandwiches. They were a bit messy when you bit into them, but they were worth the mess.
Unfortunately I never got a picture of the actual sandwiches, but I was able to snap some of the individual ingredients.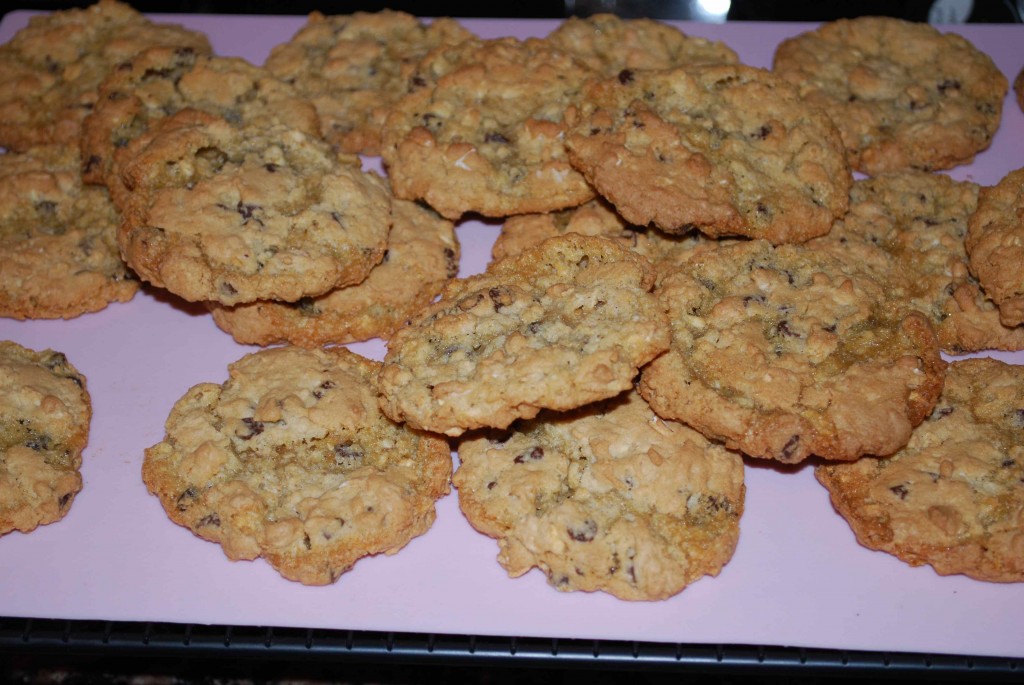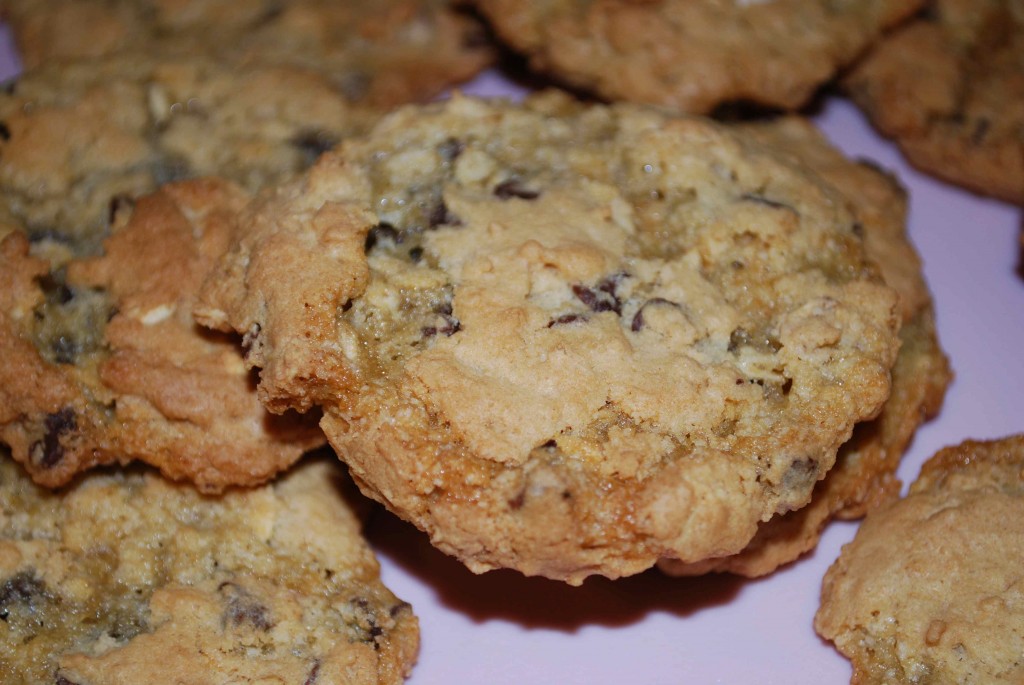 Oatmeal-Chocolate Chip Cookies
adapted from cookinglight.com
1 ¼ cups all-purpose flour (about 5 ½ ounces)
1 cup regular oats
¾ tsp. baking powder
½ tsp. baking soda
½ tsp. salt
¾ cup granulated sugar
½ cup packed brown sugar
1/3 cup butter, softened
1 ½ tsp. vanilla extract
1 large egg
½ cup semi-sweet minichips (next time I will probably add a few more)
Preheat oven to 350 degrees.
Lightly spoon flour into dry measuring cups; level with a knife.  Combine flour and next 4 ingredients (through salt), stirring with a whisk; set aside.
Place sugars and butter in a large bowl; beat with a mixer at medium speed until well blended.  Add vanilla and egg; beat until blended.  Gradually add flour mixture, beating at low speed just until combined.  Stir in the minichips.
Drop dough by tablespoons 2 inches apart onto baking sheets lined with parchment paper.  Bake at 350 degrees for 12 minutes or until edges of cookies are lightly browned.  Cool on pans 2 minutes.  Remove cookies from pans; cool on wire racks.
Yields: 3 dozen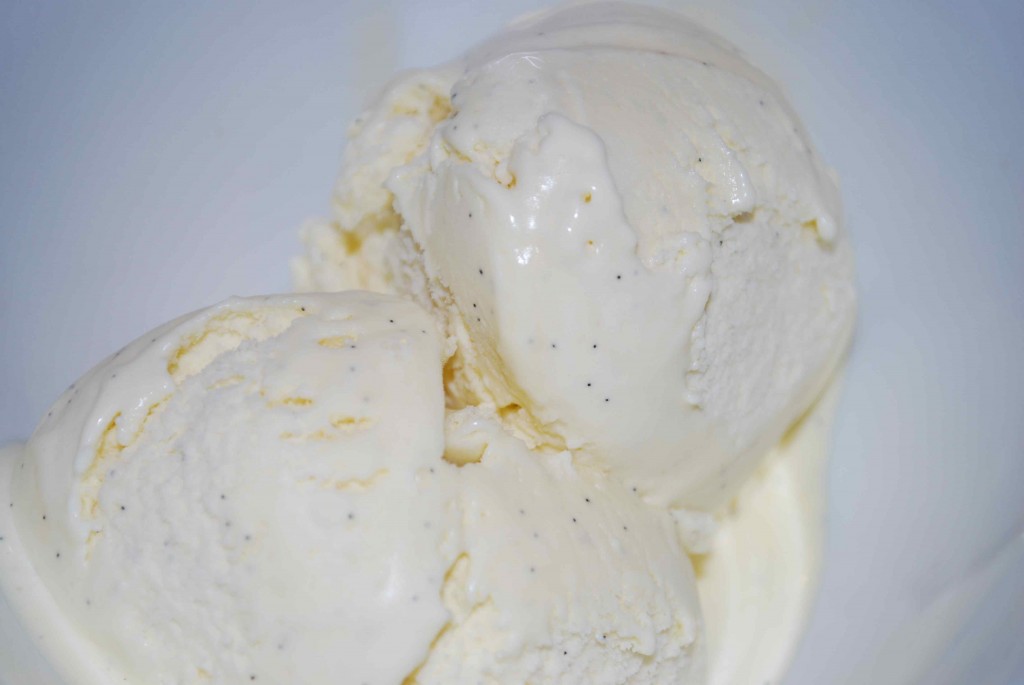 Vanilla Ice Cream
courtesy of Amber's Delectable Delights
1 cup whole milk
¾ cup sugar
2 cups heavy cream, divided
pinch of salt
1 vanilla bean, split in half lengthwise
6 large egg yolks
¾ tsp. vanilla extract
Warm the milk, sugar, 1 cup of cream, and salt in a medium saucepan. Scrape the seeds from the vanilla bean into the warm milk and add the bean as well. Cover, remove from the heat, and let steep at room temperature for 30 minutes.
Pour the remaining 1-cup cream into a large bowl and set a mesh strainer on top. In a separate medium bowl, whisk together the egg yolks. Slowly pour the warm mixture into the egg yolks, whisking constantly, then scrape the warmed egg yolks back into the saucepan.
Stir the mixture constantly over medium heat with a heatproof spatula, scraping the bottom as you stir, until the mixture thickens and coats the spatula. Pour the custard through the strainer (into the remaining 1-cup cream) and stir until cool over an ice bath.
Chill the mixture thoroughly in the refrigerator. When ready to churn, remove the vanilla bean, and then freeze the mixture in your ice cream maker according to the manufacturers instructions.