Every month I try to make sure I go over to Joelen's Culinary Adventures to see what she has planned for her monthly Tasty Tools event. Of course I visit her wonderful blog more than once a month, but sometimes I get busy and completely forget to check out what events she has going. Well, I managed to remember this month and found out that the June's choice tool was the ice cream maker. After thinking about it, I thought that I wouldn't get around to making any ice ream this month and I would wait and see what she would choose for next month.
Fast-forward to the end of the month; I made a delicious strawberry cake for Father's Day and had quite a bit of leftover strawberry puree. I was originally planning on freezing it into small portions for smoothies. Well, as I was portioning it out, I decided that a strawberry sorbet would be divine for these hot summer days. Of course it then dawned on me that it would give me the opportunity to use my ice cream maker. Yay, I would get to participate in Tasty Tools after all!
I began searching for sorbet recipes and found a great one over at Epicurious by Bon Appétit. I did realize that I didn't have quite enough strawberries though, but I did have a bag of blueberries in the freezer. So my strawberry sorbet quickly turned into a "berry" sorbet. Well, what are berries without a little chocolate? To me, the mixture of a berry ice cream or sorbet with semi-sweet or dark chocolate chips is heaven. Okay, so now I have a berry chocolate chip sorbet. Yum!
Oh, and YUM is right! I got to work on my concoction and I was NOT disappointed. Greg snubbed his nose at the thought of the blueberries when I first told him what I was doing. Ha, that snub didn't last long after he took a bite that night. The outcome was delicious. A sweet tartness with a hint of chocolate, what more could a girl ask for?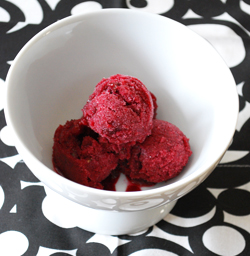 Berry Chocolate Chip Sorbet
1 1/3 cups water
2/3 cup sugar
10 ounces strawberries, hulled
6 ounces blueberries
2.5 tbs. fresh orange juice
2.5 tbs. fresh lemon juice
1 tsp. lemon zest
1/3 cup mini semi-sweet chocolate chips
Stir 1 1/3 cups water and sugar in heavy medium saucepan over high heat until sugar dissolves. Boil 5 minutes.
Puree strawberries and blueberries in food processor until smooth. Add the berry puree, orange and lemon juices and lemon zest to sugar syrup; stir to blend. Cover and refrigerate until cold, about 2 hours.
Process berry mixture in ice cream maker according to manufacturer's instructions; adding the chocolate chips during the last 5 minutes.
-The sorbet does become very solid after freezing overnight. You may choose to add a tablespoon of vodka to the mix to help keep the sorbet from getting too solid. You can also let it sit out about 15 minutes before serving.