Archive for the 'Spinach' Category
I grew up eating stuffed peppers, although we only had them on occasion since my mother and I were the only ones who enjoyed them. If you think about it, it's a great way to get your vegetables, protein and starch all into one compact entrée. I also love this meal because it is very versatile; you can do just about anything to change it up. I guess stuffed peppers are kind of like a pizza.  You have your base and then you can add whatever your choice toppings, or in this case mix-ins, are until you are blue in the face.
Of course the stuffed peppers that I grew up on were the traditional ones; the standard pepper stuffed with ground beef, rice, diced onion and topped with tomato sauce. When I decided to make them for dinner the other night I wanted to spruce them up a bit. Not only did I want to make them a bit healthier, but I also wanted to make a few additions. So, I decided to go with a Greek inspired version. I also opted to use turkey burger and barley instead of the beef and rice. The addition of the spinach, Greek peppers and black olives gave a nice extra element of flavor. I am sure it would be great with kalamata olives too (which would be a bit more Greek); and feel free to add some feta cheese to the top as well.
Not only is this a great way to use up what's in your refrigerator, but it also makes for great leftovers.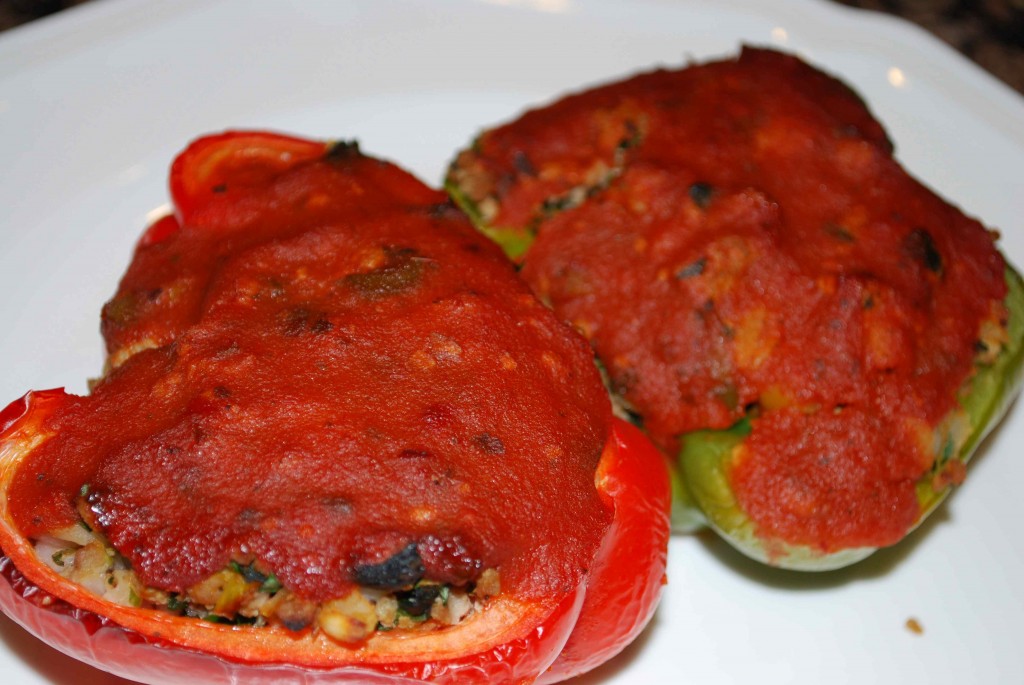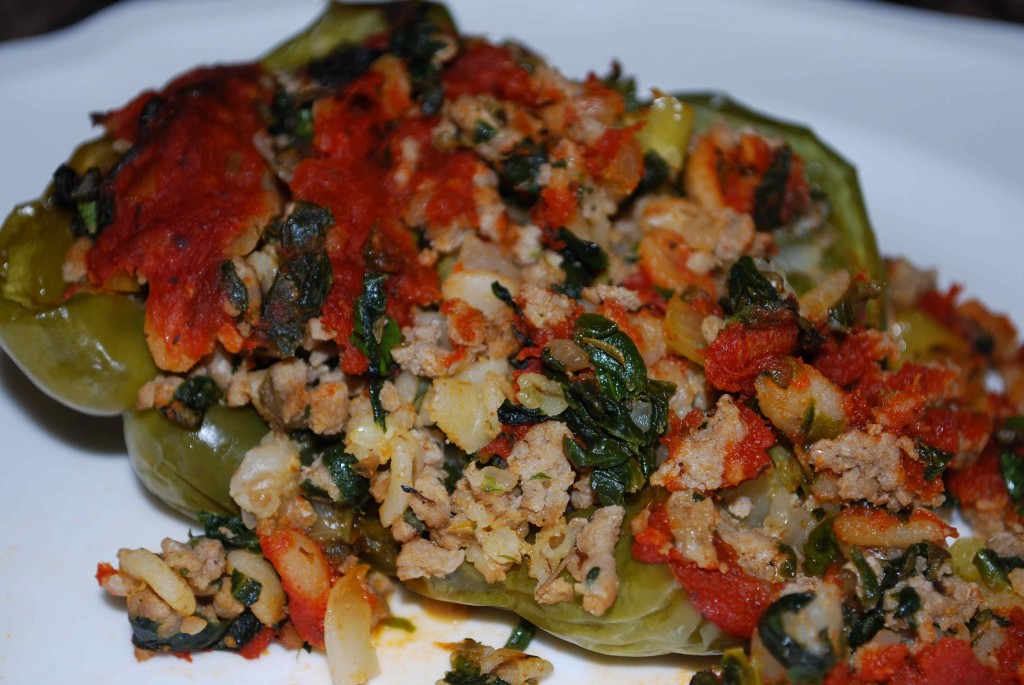 Greek Inspired Stuffed Peppers
3 bell peppers (your choice of color), halved vertically
1 cup cooked barley
2 tsp. olive oil (or coat the bottom of the pan with olive oil spray)
½ cup onion, chopped
½ lb. ground turkey
2 tsp. dried oregano
1 tsp. garlic powder
½ of a 10-ounce package of frozen chopped spinach, thawed and squeezed dry
8 large black olives, sliced
4 Greek peppers, chopped
salt and pepper to taste
1 cup of your favorite tomato sauce (store bought or homemade)
Preheat oven to 350 degrees.
Begin preparing barley on the stove top.
Place your six pepper halves, cut side up into a large casserole dish (9×13).
Heat olive oil in a large skillet over medium to medium-high heat. Add the diced onion to the pan and sauté; about 2 minutes. Add the ground turkey, oregano, garlic powder and salt & pepper to the pan and cook until onions are translucent and the meat is cooked through.
Place the meat mixture into a large bowl, combine with cooked barley, spinach, olives and chopped Greek peppers. Fill each pepper half with the mixture. Spoon tomato sauce over the top of each filled pepper.
Place in the oven and bake for about 30 minutes or until peppers are tender.
Yields: 3 servings
Nutrition Facts
Serving size: 2 pepper halves
Calories: 421.7
Total Fat: 13.6 g
Cholesterol: 81 mg
Sodium: 1,284.1 mg
Carbohydrates: 53.3 g
Dietary Fiber: 13.1 g
Protein: 30 g
*note that I used my olive oil sprayer, so the nutrition does not include the 2 tsp. of olive oil.

After frequenting the What's Cooking board on The Nest, I have been exposed to so many wonderful cooking blogs. I love getting new ideas and great recipes from others that enjoy cooking as much as I do. I find myself book marking recipes and blogs all of the time. The problem is, they accumulate and it can become a bit overwhelming. So lately I have been choosing a blog here and a blog there to sit and sift through. I will look at the tabs that interest me and go through the blog entirely, book marking each recipe that I'm interested in trying. One of the blogs that I did this with was Just 2 Good by Amy. She is also a fellow WC Nestie and has given me great ideas on more than one occasion.
While visiting her blog I came across a recipe for Florentine Turkey Meatloaf. It looked and sounded delicious! It is definitely a twist on the normal humdrum meatloaf that most of us were brought up on. After plugging the ingredients into Spark Recipe and seeing that it wasn't going to blow my calories for the day, I decided it was definitely worth trying. I am so glad that I did too because it was fabulous and it was an easy recipe to cut in half for the two of us. You can't beat an old comfort food that is good for you and has a great new face lift.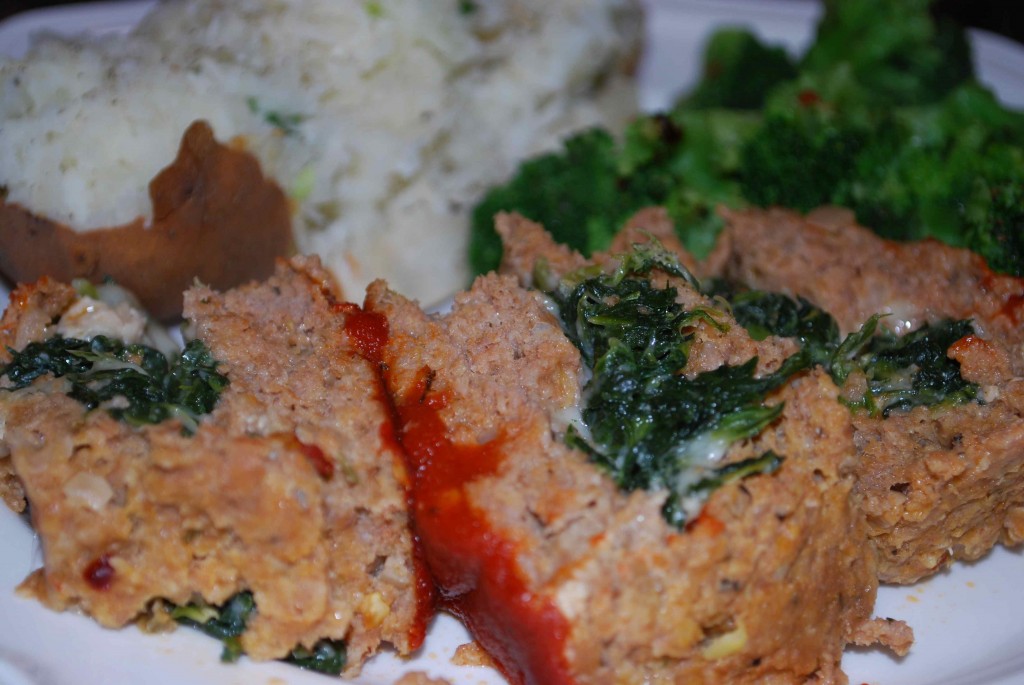 Florentine Turkey Meatloaf
1 ¼ pounds ground turkey
1 cup spaghetti sauce, divided
½ cup Italian-seasoned breadcrumbs
1/2 cup finely chopped onion
2 eggs, slightly beaten
2 tbs. grated Parmesan cheese
1 package (10 oz.) frozen chopped spinach, thawed and well drained
¾ cup low-fat shredded mozzarella cheese
Preheat oven to 350 degrees. Line an 8 or 9-inch loaf pan (or 4 mini loaf pans) with foil, dull side toward the food.
Combine ground turkey, ¼ cup spaghetti sauce, breadcrumbs, onion, eggs, and Parmesan cheese in a medium bowl.
Press half of the turkey mixture into a foil-lined pan(s). Press a 1-inch indention down the center of mixture, leaving 1-inch thickness on all sides.
Toss spinach and mozzarella cheese together; spoon into indention, mounding in center. Press remaining turkey mixture evenly over top, sealing edges.
Bake 45 to 50 minutes. Spoon remaining spaghetti sauce over meat loaf. Bake 15 minutes longer. Let stand 10 minutes.
Yields: 6 to 8 servings