After frequenting the What's Cooking board on The Nest, I have been exposed to so many wonderful cooking blogs. I love getting new ideas and great recipes from others that enjoy cooking as much as I do. I find myself book marking recipes and blogs all of the time. The problem is, they accumulate and it can become a bit overwhelming. So lately I have been choosing a blog here and a blog there to sit and sift through. I will look at the tabs that interest me and go through the blog entirely, book marking each recipe that I'm interested in trying. One of the blogs that I did this with was Just 2 Good by Amy. She is also a fellow WC Nestie and has given me great ideas on more than one occasion.
While visiting her blog I came across a recipe for Florentine Turkey Meatloaf. It looked and sounded delicious! It is definitely a twist on the normal humdrum meatloaf that most of us were brought up on. After plugging the ingredients into Spark Recipe and seeing that it wasn't going to blow my calories for the day, I decided it was definitely worth trying. I am so glad that I did too because it was fabulous and it was an easy recipe to cut in half for the two of us. You can't beat an old comfort food that is good for you and has a great new face lift.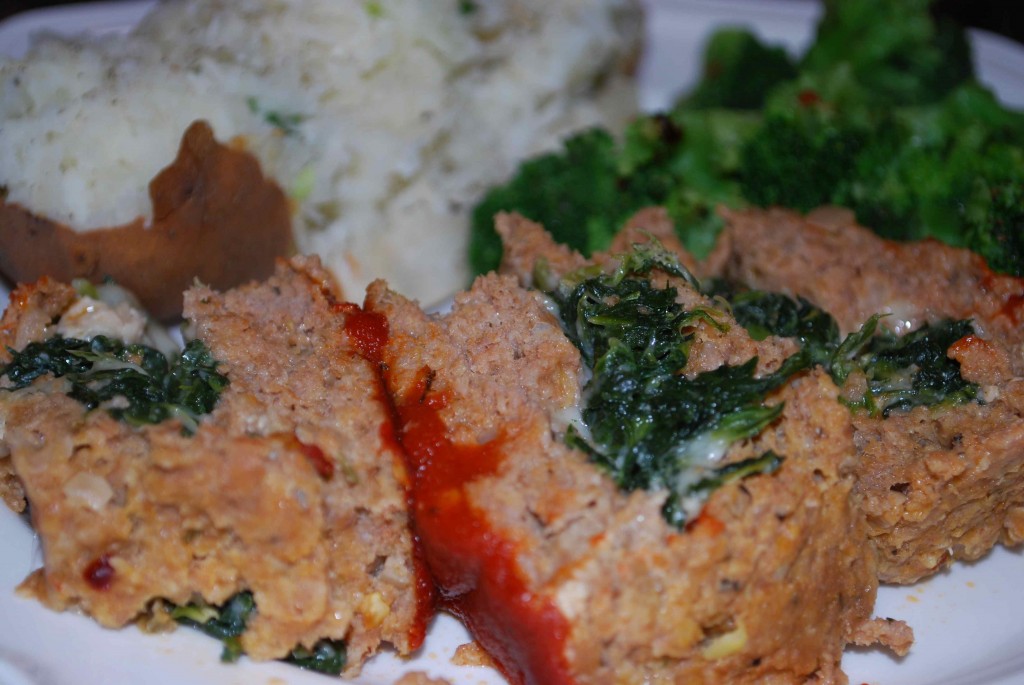 Florentine Turkey Meatloaf
1 ¼ pounds ground turkey
1 cup spaghetti sauce, divided
½ cup Italian-seasoned breadcrumbs
1/2 cup finely chopped onion
2 eggs, slightly beaten
2 tbs. grated Parmesan cheese
1 package (10 oz.) frozen chopped spinach, thawed and well drained
¾ cup low-fat shredded mozzarella cheese
Preheat oven to 350 degrees. Line an 8 or 9-inch loaf pan (or 4 mini loaf pans) with foil, dull side toward the food.
Combine ground turkey, ¼ cup spaghetti sauce, breadcrumbs, onion, eggs, and Parmesan cheese in a medium bowl.
Press half of the turkey mixture into a foil-lined pan(s). Press a 1-inch indention down the center of mixture, leaving 1-inch thickness on all sides.
Toss spinach and mozzarella cheese together; spoon into indention, mounding in center. Press remaining turkey mixture evenly over top, sealing edges.
Bake 45 to 50 minutes. Spoon remaining spaghetti sauce over meat loaf. Bake 15 minutes longer. Let stand 10 minutes.
Yields: 6 to 8 servings