Archive for the 'Stoup' Category
I subscribe to quite a few cooking magazines, as I am always looking for new ideas and forms of inspiration. One of my favorites is Cooking Light. I know some people out there don't like the magazine as much as they used to and I do admit I was getting a little tired of it myself while reading the past few issues. Well, I received my September issue a week or two ago and I was surprised to see that they have given the magazine somewhat of a face lift. I have to say, I am really liking it. The last few issues prior to this one seemed to be lacking in the recipe and food department. I really hope they keep up this new format because it has so much information on ingredients, nutrition and a huge variety of recipes.
Okay, so why did I give that shout out to Cooking Light? No, I am not getting paid to endorse the magazine. Like I mentioned, this issue had a great variety of recipes. So, of course I made one. I love one pot dishes, so anytime I come across a great one pot dish, I am all over it. This particular recipe was for a Creole Shrimp and Sausage Stew. This dish was really tasty and will be perfect for the cool days to come. Well, the cool days to come for my friends to the north. I most likely won't be seeing a cool day at least until December or January. This recipe is also a great base recipe for switching things up. You can pretty much use it to clean out your refrigerator if you have some veggies to use up. You can also make it as spicy or tame as you like; I used the spicy Rotel and it gave it quite a kick.  We ate it over brown rice and it made for the perfect meal.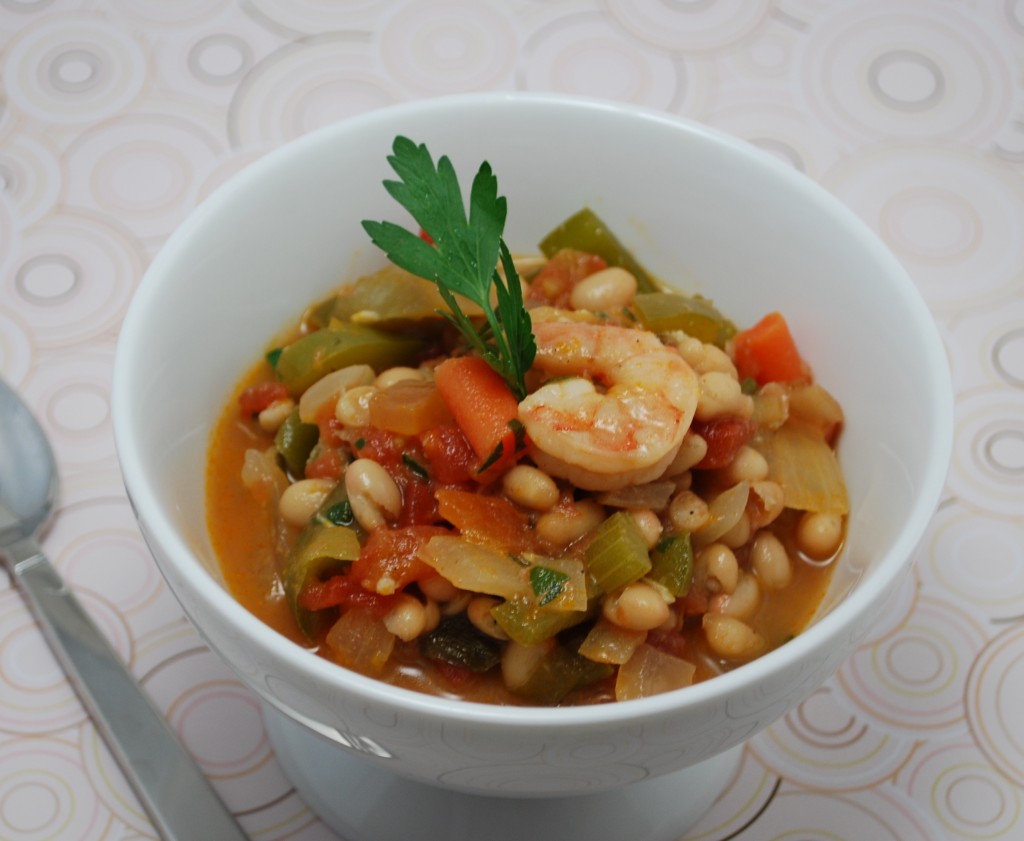 Creole Shrimp and Sausage Stew
2 teaspoons olive oil
1 cup green bell pepper, chopped
1/2 cup onion, chopped
1/4 cup celery, chopped
1/4 cup carrots, chopped
1 cup thinly sliced turkey or chicken sausage (about 6 ounces)
2 cloves of garlic, minced
3/4 cup fat-free, less-sodium chicken broth
1 (10-ounce) can diced tomatoes and green chiles, undrained (such as Rotel)
8 ounces peeled and deveined medium shrimp
1 (15-ounce) can of white beans, rinsed and drained
2 tablespoons chopped fresh parsley
Heat a large saucepan over medium-high heat. Add oil to pan; swirl to coat. Add bell pepper, onion, carrot and celery to pan; saute on medium-high heat about 5 minutes. Add garlic and sausage to the pan; sauté 3 minutes or until the veggies are tender, stirring occasionally. Add broth and tomatoes; bring to a boil. Stir in shrimp and beans; cover, reduce heat, and simmer 6 minutes or until shrimp are done. Sprinkle with parsley.
Yields 4 servings
Approximate Nutrition Facts (according to Spark Recipe)
Serving size: about 1 cup
Calories: 298.2
Total Fat: 6.3 g
Saturated Fat: 1.7 g
Polyunsaturated Fat: 0.9 g
Monounsaturated Fat: 2.1 g
Cholesterol: 117.1 mg
Sodium: 863.8 mg
Carbohydrates: 32.2 g
Dietary Fiber: 6.9 g
Protein: 27.2 g

Have you ever come across a recipe and when you read the name you think to yourself, "I'm not so sure about this one?"  Well that is exactly what I was thinking when I found Cod-and-Shrimp Stoup with Salt-and-Vinegar Mashed Potatoes in the November 2008 issue of Everyday with Rachael Ray.  It just did not sound that appealing; the first thing that came to mind were potato chips!
Of course anything that sounds odd is also intriguing, so I decided to read through the recipe anyway.  As I skimmed through it actually began to sound quite yummy.  Okay, so now I am convinced that I may actually try this one out but the next obstacle is my husband.  He isn't exactly a picky eater, but he tends to like things a bit more on the simple side.  With that said, I was shocked when he told me to go ahead and try out the recipe.
To our surprise (no offense Rachael), the dish was delicious!  It is also a great one for cooler days, not that we see many of those here in south Florida.  It would be great for a cold winter night in the north though.  I recommend this recipe to anyone looking for a bit of comfort food but without too much guilt (as it is a fairly light recipe).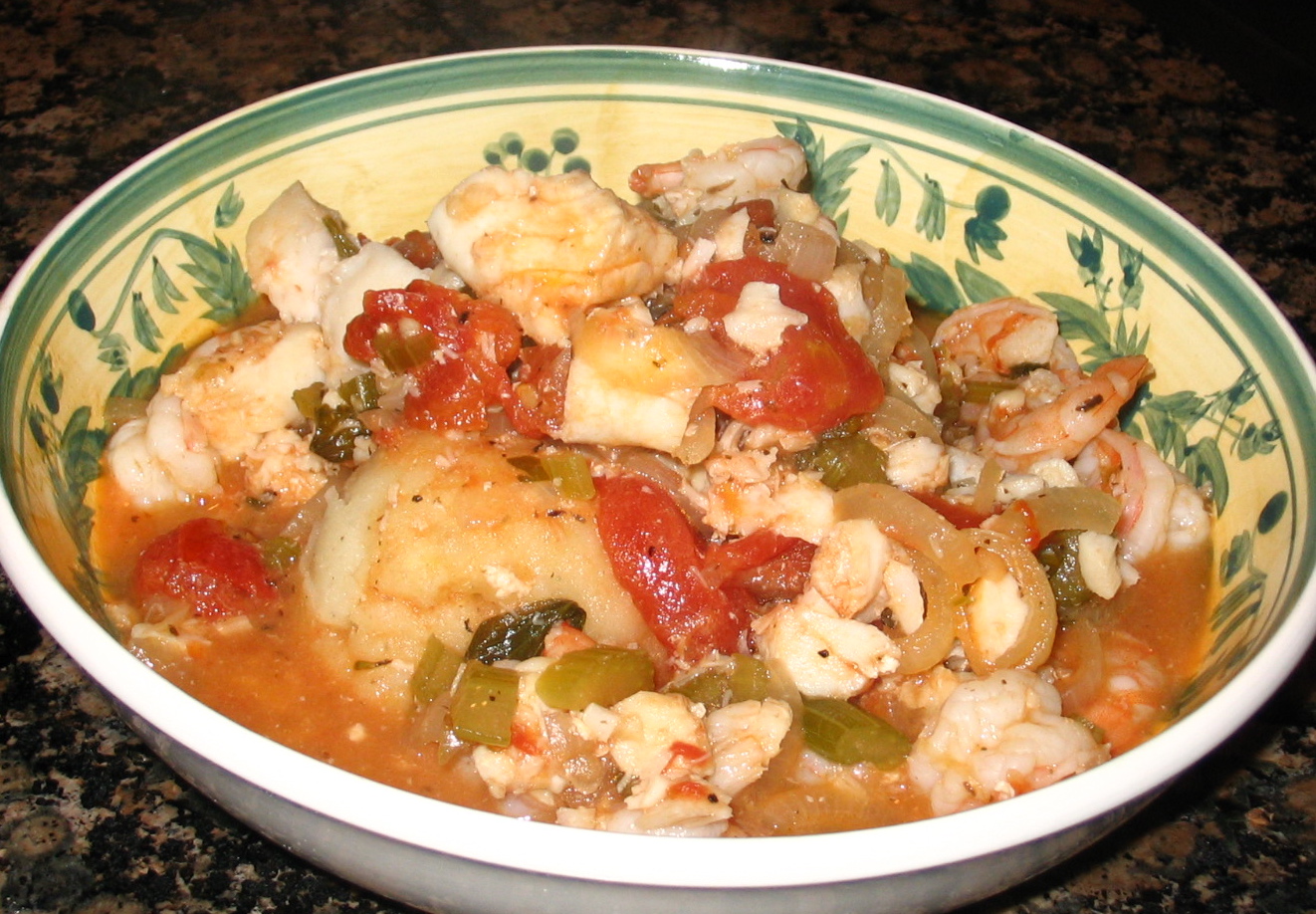 Cod-and-Shrimp Stoup 
with Salt-and-Vinegar Mashed Potatoes
courtesy of Everyday with Rachael Ray
4 large baking potatoes, peeled and thickly sliced
salt
3 tbs. extra-virgin olive oil
2 onions, thinly sliced
3 to 4 ribs celery from the heart, with leafy greens, chopped
1 large bay leaf
2 tbs. fresh thyme leaves, chopped (I used dry thyme*)
zest and juice from 1 lemon
pepper
1/2 cup dry white wine
1 cup chicken broth
1 (14.5 oz.) can diced or stewed tomatoes
1 1/2 pounds thick cod fillets, cut into chunks (I used haddock)
1 pound large shrimp, peeled and deveined
1/4 cup white balsamic vinegar or white wine vinegar
2 tbs. butter
In a deep pot, add the potatoes and enough water to cover.  Bring to a boil, salt the water and cook the potatoes until tender, about 15 minutes.  Drain
In a Dutch oven or large, deep skillet with a lid, heat the extra-virgin olive oil, about 3 turns of the pan,  over medium-high heat.  Add the onions, celery, garlic, bay leaf, thyme and lemon zest; season with salt and pepper.  Cook until the onions are softened, 7 to 8 minutes.  Pour in the wine and cook for 1 minute.  Stir in 1/2 cup chicken broth and the tomatoes with their juice; bring to a simmer.  Add the cod in a single layer, cover and cook for 3 minutes.  Gently stir in the shrimp, season with salt and pepper.  Cover and cook until the cod and shrimp are opaque throughout, about 3 minutes.  Remove from the heat and stir in the lemon juice; discard the bay leaf.
Mash the potatoes with the remaining 1/2 cup chicken broth, the vinegar and butter; season with salt.
To serve, mound the potatoes into shallow bowls.  Ladle the stoup around the potatoes.
Note:  This recipe can easily be cut in half for 2 servings.
*when using dried herbs remember to reduce the amount the recipe calls for.