Have you ever come across a recipe and when you read the name you think to yourself, "I'm not so sure about this one?"  Well that is exactly what I was thinking when I found Cod-and-Shrimp Stoup with Salt-and-Vinegar Mashed Potatoes in the November 2008 issue of Everyday with Rachael Ray.  It just did not sound that appealing; the first thing that came to mind were potato chips!
Of course anything that sounds odd is also intriguing, so I decided to read through the recipe anyway.  As I skimmed through it actually began to sound quite yummy.  Okay, so now I am convinced that I may actually try this one out but the next obstacle is my husband.  He isn't exactly a picky eater, but he tends to like things a bit more on the simple side.  With that said, I was shocked when he told me to go ahead and try out the recipe.
To our surprise (no offense Rachael), the dish was delicious!  It is also a great one for cooler days, not that we see many of those here in south Florida.  It would be great for a cold winter night in the north though.  I recommend this recipe to anyone looking for a bit of comfort food but without too much guilt (as it is a fairly light recipe).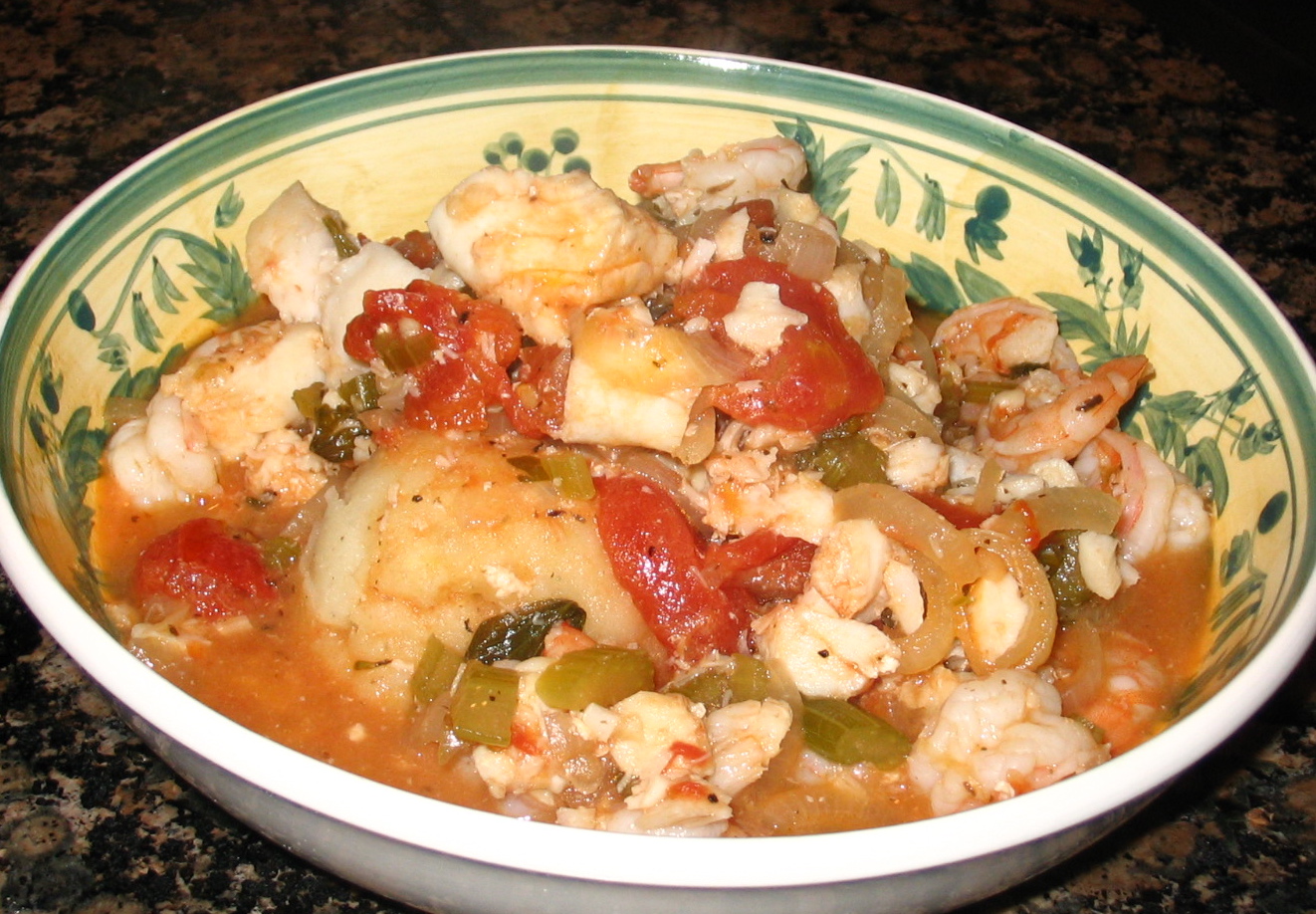 Cod-and-Shrimp Stoup 
with Salt-and-Vinegar Mashed Potatoes
courtesy of Everyday with Rachael Ray
4 large baking potatoes, peeled and thickly sliced
salt
3 tbs. extra-virgin olive oil
2 onions, thinly sliced
3 to 4 ribs celery from the heart, with leafy greens, chopped
1 large bay leaf
2 tbs. fresh thyme leaves, chopped (I used dry thyme*)
zest and juice from 1 lemon
pepper
1/2 cup dry white wine
1 cup chicken broth
1 (14.5 oz.) can diced or stewed tomatoes
1 1/2 pounds thick cod fillets, cut into chunks (I used haddock)
1 pound large shrimp, peeled and deveined
1/4 cup white balsamic vinegar or white wine vinegar
2 tbs. butter
In a deep pot, add the potatoes and enough water to cover.  Bring to a boil, salt the water and cook the potatoes until tender, about 15 minutes.  Drain
In a Dutch oven or large, deep skillet with a lid, heat the extra-virgin olive oil, about 3 turns of the pan,  over medium-high heat.  Add the onions, celery, garlic, bay leaf, thyme and lemon zest; season with salt and pepper.  Cook until the onions are softened, 7 to 8 minutes.  Pour in the wine and cook for 1 minute.  Stir in 1/2 cup chicken broth and the tomatoes with their juice; bring to a simmer.  Add the cod in a single layer, cover and cook for 3 minutes.  Gently stir in the shrimp, season with salt and pepper.  Cover and cook until the cod and shrimp are opaque throughout, about 3 minutes.  Remove from the heat and stir in the lemon juice; discard the bay leaf.
Mash the potatoes with the remaining 1/2 cup chicken broth, the vinegar and butter; season with salt.
To serve, mound the potatoes into shallow bowls.  Ladle the stoup around the potatoes.
Note:  This recipe can easily be cut in half for 2 servings.
*when using dried herbs remember to reduce the amount the recipe calls for.