My blog, how I have missed it so! I feel like I haven't cooked in forever, and I know I haven't updated this poor blog in forever. I feel like my kitchen is almost a stranger to me at this point. We've even bought a few pieces of the cherished Le Creuset since I updated last, but the sad part is I haven't even used it yet! Don't worry, it has been broken in a few times, but unfortunately for me, it's been by my husband.  I will get there though, eventually.
My absence is for good reason though; I got a job! Not only did I get a job, but I got a fabulous job that I am loving so much. The only downside is that my free time has been non-existent, which means my hobbies have been put on the back burner. The good news is that I have every intention of figuring out how to manage my time to where I can put my all into this fabulous new job and still have time to do the things I love, like cook and blog. So please hang in there with me because I promise there will be more fabulous stuff to come.
With that all said, it is now time to share with you a recipe that I have been holding on to now since December!  I think this is the perfect time to pass it along though because it would be a great choice for that little romantic holiday we have coming around the corner. It is something that I saw in a Food & Wine magazine and it intrigued me from the first moment I spotted it.  Red wine, chocolate and whipped cream; need I say more?? I think that has romance written all over it! Did I mention that those ingredients resulted in a cake? Yes, a divinely decadent cake. The best part about it is that it is very simple to make, but will wow a crowd (or just that someone special – whichever you choose).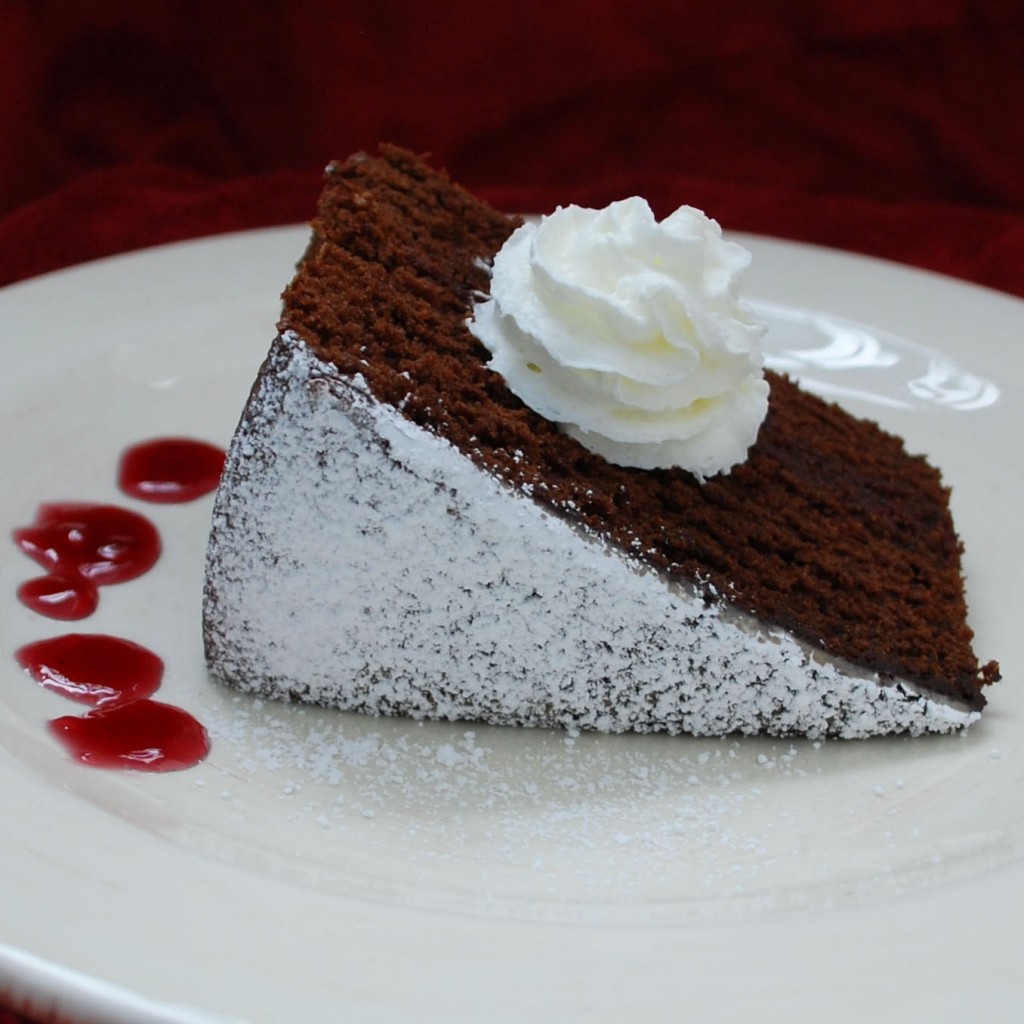 Chocolate Red Wine Cake
Courtesy of Epicurious and Food & Wine
2 cups (250 g/1/2 lb) flour
3/4 cup (100 g/3 1/4 oz) cocoa
1 1/4 teaspoons baking soda
1/2 teaspoon salt
3/4 cup (175 g/6 oz) butter
1 3/4 cup (350 g/15 oz) sugar
2 eggs
1 teaspoon vanilla
1 1/4 cups (300 ml/1/2 pt) well-rounded red wine
confectioners' sugar (for dusting)
Wine Jelly
1/2 cup (125 g/4 oz) Concord grape jelly
2 to 3 tablespoons red wine
Heat the oven to 350°F (175°C/Gas 4). Butter the 9 inch cake pans, line each pan with a round of parchment paper, and brush again with butter. Sprinkle the pans with flour, discarding the excess.
Sift flour with the cocoa, baking soda, and salt into a bowl; set aside. Cream the butter in an electric mixer, beat in the sugar, and continue beating until the mixture is light and fluffy, 3 to 5 minutes. Add the eggs, one by one, and then the vanilla, and continue beating 1 to 2 minutes. Sift a third of the flour over the butter mixture and fold them together, using a spoon. Fold in a third of the wine. Add the remaining flour and wine alternately in two batches.
Spread batter in the prepared pans and bake in the oven until the cakes start to shrink from the sides of the pan, 30 to 35 minutes; a metal skewer inserted in the center should come out clean. Let the cakes cool 10 minutes in the pans, then turn them out on a rack to cool completely.
Meanwhile make the wine jelly: Melt the jelly with the wine over low heat, stirring gently until combined. Let it cool.
Shortly before serving, sandwich the cake with the cooled jelly. Sprinkle the top with confectioners' sugar and transfer the cake to a plate to serve. Top with whipped cream and and a little drizzle of wine jelly if you desire!