Like most people, I am always looking for new chicken recipes. I mean it is just that go-to meat that you always have in your house that is healthy and versatile. You honestly can do a million and one things with it, but of course when you are trying to think of something new, you draw a blank. Well, at least I do. Therefore, any time I come across a new chicken recipe I am sure to put it in safe keeping for those, "I don't know what I want for dinner," nights.
I love chicken, but I tend to steer away from dishes that call for chicken on the bone unless it is a whole chicken or it's being cooked on the grill and eaten with your hands. I don't like to have to pick chicken off the bone when it is in some type of mixed dish (i.e. chicken cacciatore). Let's be honest, you can only get so much meat off of the bone with a fork and knife.  Ironically, when I saw a recipe in Cooking Light for Braised Chicken with Vegetables, I just couldn't resist it. The picture just made the dish look so appetizing and it made me forget about my dislike of picking through chicken that was surrounded by a gravy like substance.
It was a very tasty dish and I must say that I enjoyed it, even though I had to pick through my food.  Unfortunately my version is missing the peas sine Greg told me there were peas in the freezer when really they were lima beans (yuck). I did add some sliced mushrooms to the mix though.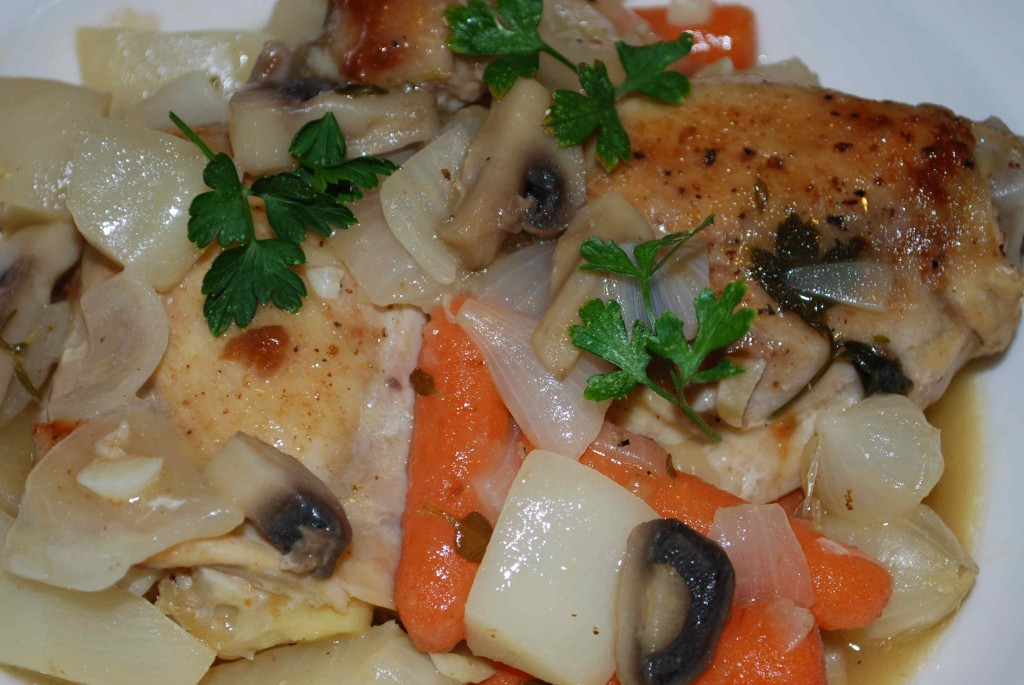 Braised Chicken with Baby Vegetables and Peas
2 tbs. butter, divided
2 bone-in chicken breast halves, skinned
2 bone-in chicken thighs, skinned
2 chicken drumsticks, skinned
1/2 tsp. salt
1/4 tsp. freshly ground black pepper
2 (14-ounce) cans fat-free, less-sodium chicken broth
1 cup dry white wine
1/2 tsp chopped fresh thyme
12 baby turnips, peeled (about 8 ounces) (I cut up a large turnip)
12 baby carrots, peeled (about 8 ounces)
12 pearl onions, peeled (about 8 ounces) (I used frozen)
6 white mushrooms, sliced
6 fresh flat-leaf parsley sprigs
2 bay leaves
2 tbs. all-purpose flour
3/4 cup fresh green peas
2 tbs. chopped fresh flat-leaf parsley
Melt 1 tablespoon butter in a Dutch oven over medium-high heat. Sprinkle chicken evenly with salt and pepper. Add chicken to pan; sauté 5 minutes on each side or until browned. Remove from pan.
Add broth to pan; cook 1 minute, scraping pan to loosen browned bits. Add wine and next 7 ingredients (through bay leaves); stir. Add chicken to pan, nestling into vegetable mixture; bring to a boil. Cover, reduce heat, and simmer 20 minutes or until chicken is done. Discard bay leaves and parsley sprigs. Remove chicken and vegetables from the pan.
Place a zip-top plastic bag inside a 2-cup glass measure. Pour cooking liquid into bag; let stand 10 minutes (fat will rise to the top). Seal bag; carefully snip off 1 bottom corner of bag. Drain drippings back into pan, stopping before fat layer reaches opening; discard fat. Return liquid to pan. Bring liquid to a boil; cook until reduced to 1 1/2 cups (about 5 minutes).
Melt remaining 1 tablespoon butter in a small skillet. Add flour, stirring until smooth. Add flour mixture to cooking liquid; cook 2 minutes or until slightly thick, stirring constantly. Return chicken and vegetable mixture to pan; stir in peas. Cook 3 minutes or until thoroughly heated. Garnish with chopped parsley.
Yields 4 servings
Nutrition Facts (according to Cooking Light)
Calories: 324
Total Fat: 11.4 g
Cholesterol: 100 mg
Sodium: 818 mg
Carbohydrates: 22.1 g
Dietary Fiber: 5.2 g
Protein: 32.6 g