Since Valentine's Day was on a Saturday this year, Greg and I decided that we were going to celebrate at home. We didn't want to be bothered with the crowds at restaurants to only receive a sub-par meal from an overwhelmed kitchen. We thought that cooking together and enjoying a romantic dinner with a bottle of great wine would be much more enjoyable. As a side note while I am mentioning wine, I picked up a bottle of Mark West Pinot Noir a while back since Pinot is Greg's favorite and I had read that this was a fantastic wine for the price.  This was the bottle we chose to have with dinner and to my surprise and happiness, Greg loved it and thought it was one of the best Pinots he has ever had. Score one for me!
Getting back to dinner, we decided that Greg would grill up some steaks, which he does incredibly well, and I would be in charge of side dishes and dessert. For the sides, I ended up going with a cheesy smashed potato crock and zesty asparagus with shallots and fresh Parmigiano-Reggiano cheese.
After sitting down to our home cooked masterpiece, we both agreed that we made the right decision by staying in. The food was amazing; especially his steaks and we were able to enjoy each other's company without the hustle and bustle of the Valentines crowd. This may just be a new tradition for us.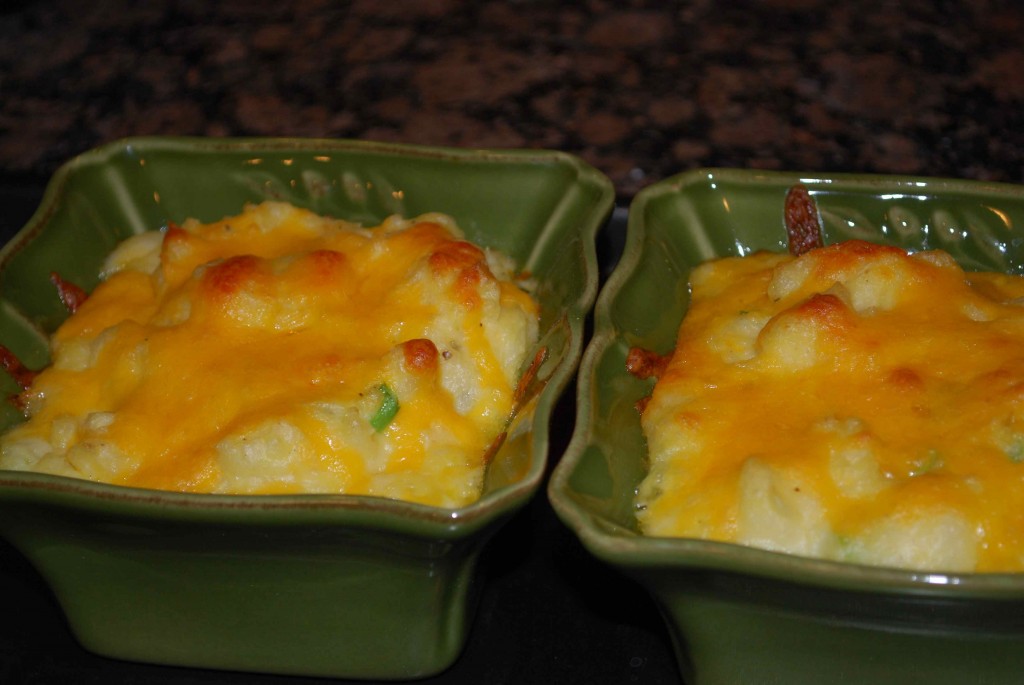 Cheesy Smashed Potato Crocks
1 large baking potato
1 cup shredded cheddar cheese, divided
½ cup cream (or milk)
1 tbs. unsalted butter
¼ cup chopped green onion
salt and pepper to taste
Preheat oven to 375 degrees.
Peel the potato and cut it into about 1 inch chunks.  Place the cut potato into a medium pot of salted water and bring to a boil over medium heat.  Boil the potatoes for about 10 minutes or until a knife can be inserted easily.
Drain the potatoes and place in a mixing bowl.  Using a fork, smash the potatoes to the consistency you desire (I chose to leave small bits in ours).  Add ½ cup of cheese to the bowl (please note that you can use as much or as little cheese as you desire).  Add the cream (or milk), butter, green onion and salt & pepper to taste.  Mix well until all ingredients are incorporated.
Divide the potato mixture into two crocks or individual sized casserole dishes.  Sprinkle the remaining cheese on top of each dish.  Place the dishes on a baking sheet and insert in oven.  Bake 15-20 minutes, or until tops have golden brown specs.
Serve the hot crocks carefully.
Yields: 2 servings.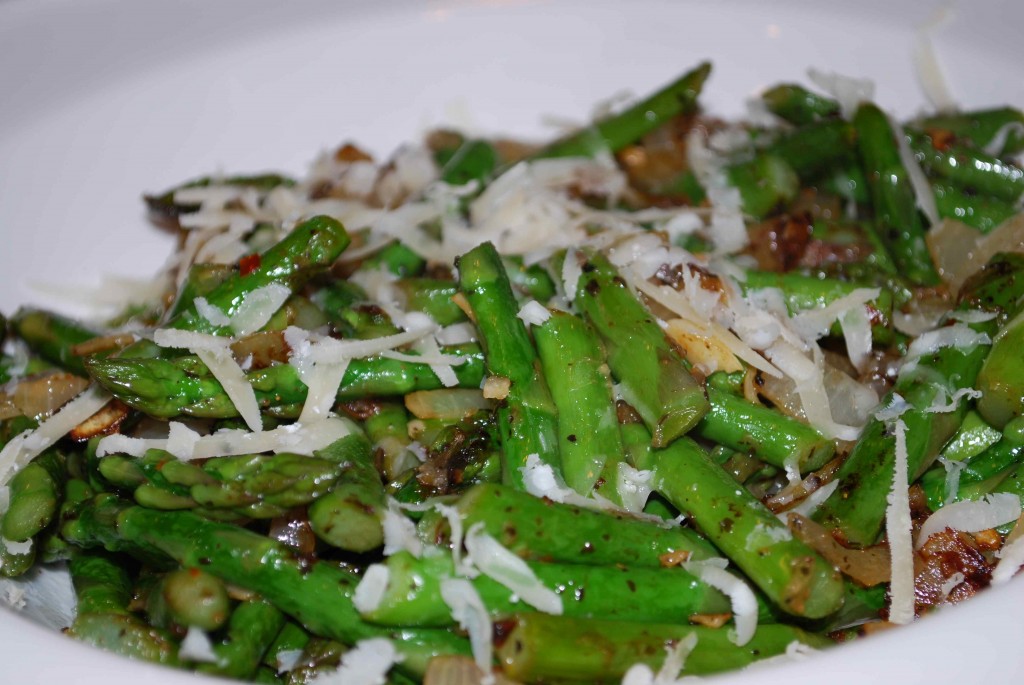 Zesty Asparagus
1 package fresh asparagus
2 shallots, sliced
1 tbs. butter
1 ½ tsp. Penzey's Tuscan Seasoning (or Italian seasoning)
1 tsp. dried red pepper flakes.
¼ cup fresh Parmigiano-Reggiano cheese, grated
Wash the asparagus and cut into 2 inch pieces. Place the butter in a sauté pan on medium-high heat. When the butter has begun to melt, add the sliced shallot and the cut asparagus. Add the Tuscan Seasoning and red pepper flakes. Cook for about 10 minutes or until your desired tenderness. Remove from pan and put in a serving dish, sprinkle the top with Parmigiano-Reggiano cheese.
Yields: 2-3 large servings.