Raspberry and cheesecake combined…it doesn't get much better than that! Or does it? How about adding a shortbread crust into the mix. All I can say is, YUM. This is a great dessert for Spring and Summer, or any time of the year for that matter. It's simple, easy to transport and it tastes great. Sounds like my kind of dessert.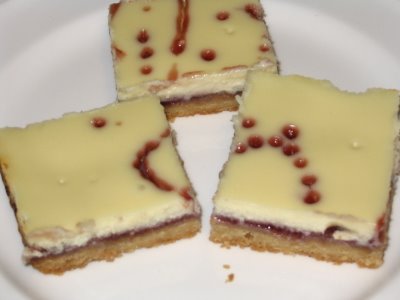 Raspberry Cheesecake Bars
adapted from Food Network
16 oz. cream cheese, softened
2 large eggs
3/4 cup sugar
1 tsp. vanilla
3/4 cup raspberry preserves (you can switch this out with your favorite flavor)
hot shortbread base (recipe follows)
Preheat oven 350 degrees.
In a bowl whisk cream cheese until smooth then whisk in eggs, sugar and vanilla. Evenly spread preservers over hot shortbread and pour cream cheese mixture over it. You may also choose to melt a small amount of the preserves in the microwave and drizzle over the top for a little extra visual. Bake in the center of oven until slightly puffed, about 30 minutes. Cool completely in pan and then cut into 24 bars.
*Note: I lined my pan with parchment paper to make for easy removal.
Shortbread Base
1 1/2 sticks (3/4 cup) unsalted butter
2 cups all-purpose flour
1/2 cup packed like brown sugar
1/2 tsp. salt
Preheat oven 350 degrees.
Cut butter into 1/2 inch pieces. In a food processor, process all ingredients until mixture begins to form small lumps. Sprinkle mixture into a 13 by 9 by 2 inch baking pan, press evenly onto bottom. Bake shortbread in the center of the oven until golden brown, about 20 minutes.