I started watching the food network on a regular basis about five years ago and I have to admit that I was not a fan of Barefoot Contessa. I think it may have had to do with the fact that I was a poor college kid through most of that period and her recipes didn't appeal to my style of cooking at the time or my pocketbook for that matter. About a month ago, on a Saturday morning, I found myself sucked into a Barefoot Contessa marathon. Before I knew it I was very much attracted to her recipes. One in particular stood out to my husband and I both…..the Scallops Provencal with Herbed Basmati Rice. It looked so fancy and decadent but yet simple at the same time. Not too long after this my husband had to go out of town for a whole week so I decided to cook him and extra special dinner upon his return. He had been subjected to sub-par restaurant food during his trip so I knew he wouldn't object. I figured this would be the perfect time to try the recipe we had been eyeing.
After picking up the ingredients I went to work on my romantic dinner. It was surprisingly easy for as pretty as it looks when complete. The only issue I ran into was it took a while for my scallops to brown up since I was using a non-stick pan. Note to self: next investment is a good stainless steel pan for browning.
In the end it was SO good and we both thoroughly enjoyed it. Mission accomplished!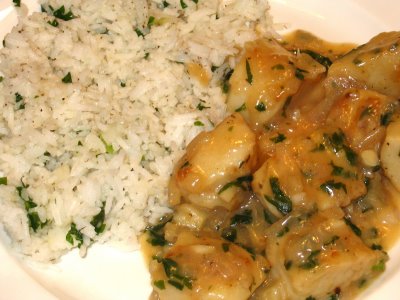 Scallops Provencal
courtesy of Barefoot Contessa/The Food Network
1 pound fresh bay or sea scallops (I used sea scallops)
Kosher salt and freshly ground black pepper
All-purpose flour, for dredging
4 tablespoons (1/2 stick) unsalted butter, divided
1/2 cup chopped shallots
1 garlic clove, minced
1/4 cup chopped fresh flat-leaf parsley leaves
1/3 cup dry white wine
1 lemon, cut in 1/2
If you're using bay scallops, keep them whole. If you're using sea scallops, cut each 1 in half horizontally. Sprinkle with salt and pepper, toss with flour, and shake off the excess.
In a very large saute pan, heat 2 tablespoons of the butter over high heat until sizzling and add the scallops in 1 layer. Lower the heat to medium and allow the scallops to brown lightly on 1 side without moving them, then turn and brown lightly on the other side. This should take 3 to 4 minutes, total. Melt the rest of the butter in the pan with the scallops, then add the shallots, garlic, and parsley and saute for 2 more minutes, tossing the seasonings with the scallops. Add the wine, cook for 1 minute and taste for seasoning. Serve hot with a squeeze of lemon juice.
~~~~~~~~~~~~~~~~
Herbed Basmati Rice
courtesy of Barefoot Contessa/The Food Network
1 cup uncooked long-grain (white) basmati rice
1 3/4 cups water
3/4 teaspoon kosher salt
1 tablespoon unsalted butter
2 tablespoons minced fresh curly parsley leaves (I used flat leaf parsley)
1 tablespoon minced fresh dill leaves (I left the dill out)
1 tablespoon minced fresh scallions, white and green parts
Pinch freshly ground black pepper
Combine the rice, 1 3/4 cups water, the salt and butter in a small heavy-bottomed saucepan. Bring to a boil over high heat; reduce the heat to low, stir once and simmer, covered tightly, for 15 minutes. (You may need to pull the pot half off the burner to keep it from boiling over.) Turn off the heat and allow the rice to sit covered for 5 minutes. Add the parsley, dill, scallions, and pepper. Fluff with a fork, and serve warm.