While it's nice to have the traditional meat, starch and vegetable dinner on a plate, I am always looking for one pot dishes. I feel like after a long day of work, a one pot dish is so simple for a weeknight dinner. Not only do you not have to concentrate on three different pots and pans on the stove while you are trying to unwind, but you also have a lot less dishes to wash at the end of the night.
I was delighted when I found not only a great sounding stew dish but a healthy stew dish at Erin's Eats. My husband is not a fan of a traditional stew because he really doesn't like gravy, so I love the fact that this stew has more of a light sauce rather than a gravy. It's light but hearty.
This is also a recipe that you can very simply alter to fit your taste.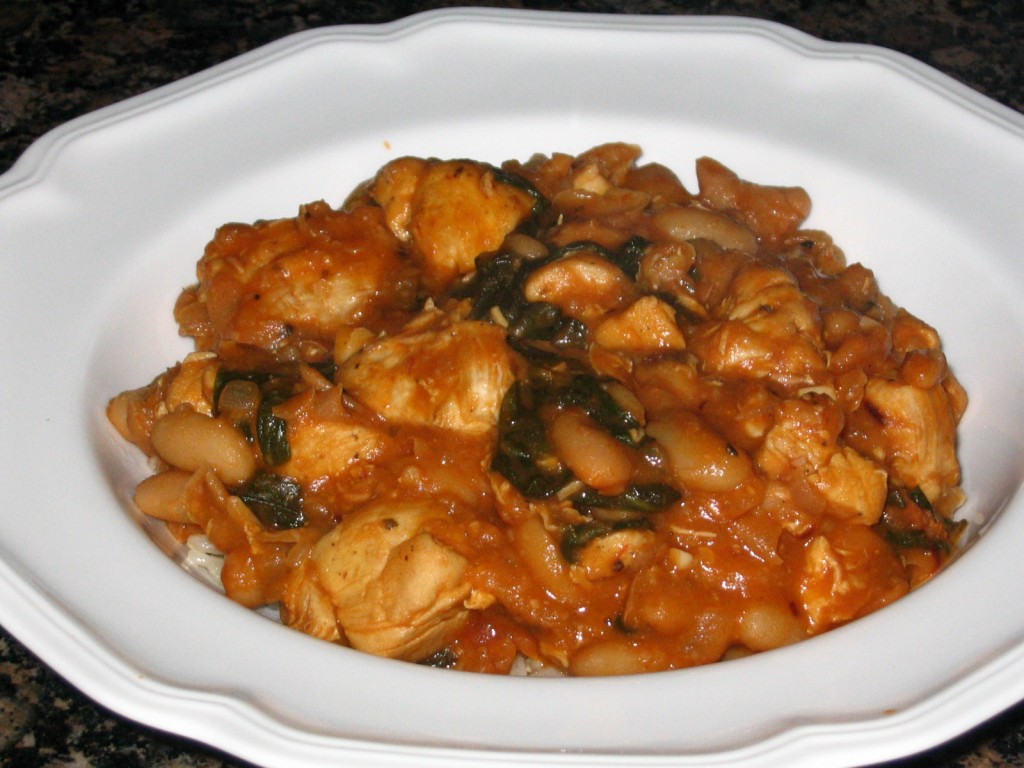 Chicken Stew with White Beans and Spinach
adapted from Erin's Eats
2-3 slices of bacon, chopped (I used turkey bacon)
2 chicken breasts, cut into bite size pieces (I used boneless skinless)
1 small onion, diced
2 cloves garlic, minced
2 tbs. tomato paste
1/2 cup dry white wine
1 cup chicken broth
1 bay leaf
1 tsp. oregano
1 can cannellini, or your favorite white beans, drained
3 cups fresh spinach
salt and pepper, to taste
In a large saute pan with lid, cook bacon until it is crispy. Remove with a slotted spoon and set aside. You want about 1 tbs. of fat/oil remaining in the pan. If you used pork bacon then you may need to remove some excess fat and if you used turkey bacon you may have to actually add a bit of olive oil to the pan to compensate.
Sprinkle the chicken with salt and pepper and sear it in the pan, browning both sides. Remove from pan.
Add the onions and cook until tender. Stir in the garlic and once the garlic becomes fragrant, stir in tomato paste. Cook approximately 1 minute.
Add wine to the pan to deglaze. Cook for about 2 minutes, scraping up the brown bits. Add the chicken broth, bay leaf, oregano, salt and pepper to taste, and bring to a boil. Add the chicken back to the pan. Cover, reduce heat and simmer for 15 minutes.
Meanwhile, mash about 1/3 of the can of beans with a fork or back of a wooden spoon–not into a paste, but just breaking up some of the beans (this will make the texture of the final product a bit thicker). After the chicken has simmered for 15 minutes, add the whole beans and the mashed beans into the pan. Cover, simmering an additional 15 minutes.
Add the bacon back in and the spinach. Cook just until spinach is wilted, about 2 minutes.