I am always trying to find recipes that are healthy but not boring. I mean I can only eat so much grilled chicken with a veggie and cous cous! I never knew about the Cooking Light website until I started posting on the WC board. Now it is a great resource for me to find new and exciting recipes that are still healthy. The first recipe I found and tried was Lemon Chicken and Rice with Artichokes. Lucky for me it was a hit with both my husband and I. It is so quick and easy and who can resist a one pot dish? This will definitely be a repeat on our list of weeknight meals.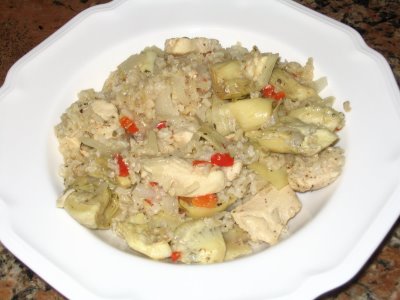 Lemon Chicken and Rice with Artichokes
courtesy of Cooking Light
1 pound skinless, boneless chicken breast, cut into 1/2-inch strips
2 1/4 cups chopped onion
1 cup chopped red bell pepper
2 cups instant rice (I used brown rice)
1/4 cup fresh lemon juice
1/4 teaspoon salt
1/4 teaspoon black pepper
1 (14-ounce) can fat-free, less-sodium chicken broth
1 (14-ounce) can quartered artichoke hearts, drained
2 tablespoons grated Romano cheese (I left the cheese out)
Heat pan with cooking spray or a little olive oil over medium-high heat. Add the chicken, chopped onion and red bell pepper; sauté 5 minutes. Stir in rice, lemon juice, salt, black pepper and broth; bring to a boil. Cover, reduce heat, and simmer for 15 minutes or until rice is tender. Stir in artichokes and cook 1 minute or until heated through. Sprinkle with cheese if desired.