Archive for the 'Easy' Category
My blog, how I have missed it so! I feel like I haven't cooked in forever, and I know I haven't updated this poor blog in forever. I feel like my kitchen is almost a stranger to me at this point. We've even bought a few pieces of the cherished Le Creuset since I updated last, but the sad part is I haven't even used it yet! Don't worry, it has been broken in a few times, but unfortunately for me, it's been by my husband.  I will get there though, eventually.
My absence is for good reason though; I got a job! Not only did I get a job, but I got a fabulous job that I am loving so much. The only downside is that my free time has been non-existent, which means my hobbies have been put on the back burner. The good news is that I have every intention of figuring out how to manage my time to where I can put my all into this fabulous new job and still have time to do the things I love, like cook and blog. So please hang in there with me because I promise there will be more fabulous stuff to come.
With that all said, it is now time to share with you a recipe that I have been holding on to now since December!  I think this is the perfect time to pass it along though because it would be a great choice for that little romantic holiday we have coming around the corner. It is something that I saw in a Food & Wine magazine and it intrigued me from the first moment I spotted it.  Red wine, chocolate and whipped cream; need I say more?? I think that has romance written all over it! Did I mention that those ingredients resulted in a cake? Yes, a divinely decadent cake. The best part about it is that it is very simple to make, but will wow a crowd (or just that someone special – whichever you choose).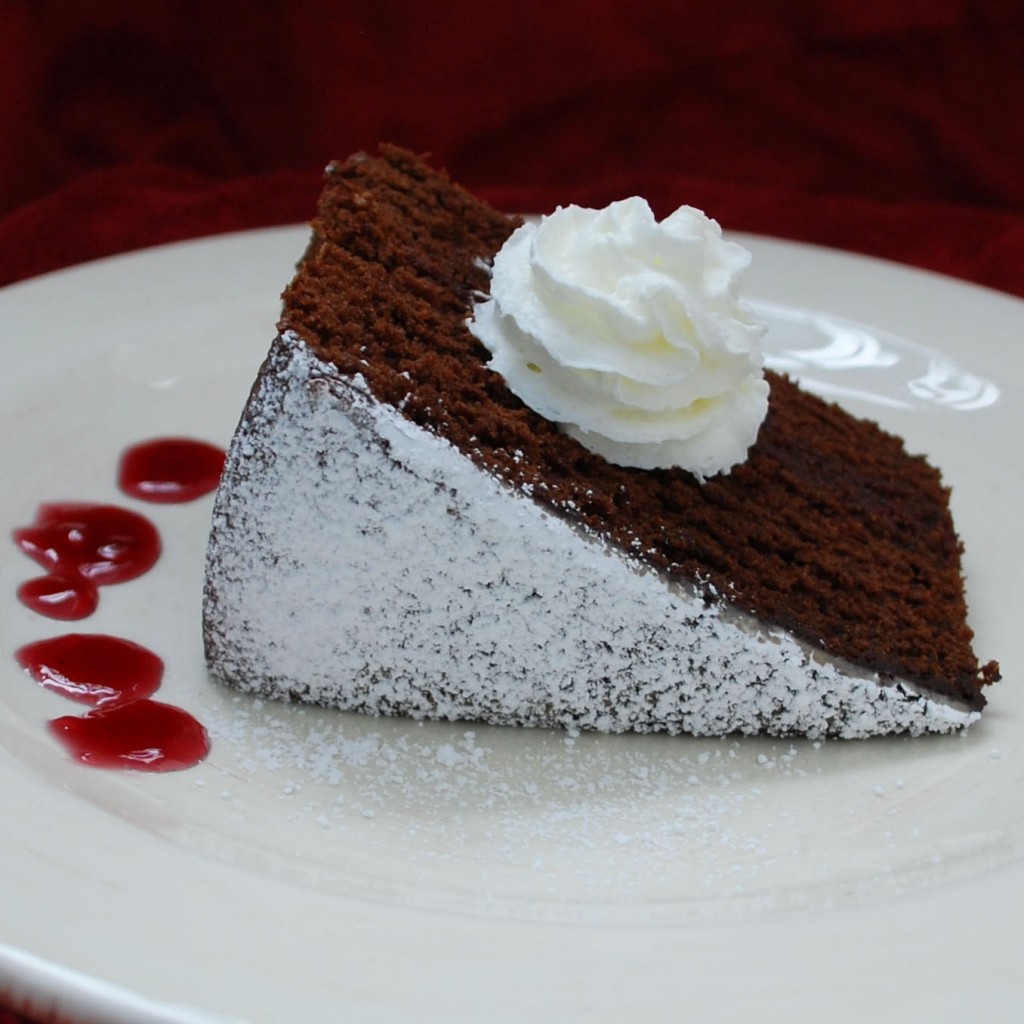 Chocolate Red Wine Cake
Courtesy of Epicurious and Food & Wine
2 cups (250 g/1/2 lb) flour
3/4 cup (100 g/3 1/4 oz) cocoa
1 1/4 teaspoons baking soda
1/2 teaspoon salt
3/4 cup (175 g/6 oz) butter
1 3/4 cup (350 g/15 oz) sugar
2 eggs
1 teaspoon vanilla
1 1/4 cups (300 ml/1/2 pt) well-rounded red wine
confectioners' sugar (for dusting)
Wine Jelly
1/2 cup (125 g/4 oz) Concord grape jelly
2 to 3 tablespoons red wine
Heat the oven to 350°F (175°C/Gas 4). Butter the 9 inch cake pans, line each pan with a round of parchment paper, and brush again with butter. Sprinkle the pans with flour, discarding the excess.
Sift flour with the cocoa, baking soda, and salt into a bowl; set aside. Cream the butter in an electric mixer, beat in the sugar, and continue beating until the mixture is light and fluffy, 3 to 5 minutes. Add the eggs, one by one, and then the vanilla, and continue beating 1 to 2 minutes. Sift a third of the flour over the butter mixture and fold them together, using a spoon. Fold in a third of the wine. Add the remaining flour and wine alternately in two batches.
Spread batter in the prepared pans and bake in the oven until the cakes start to shrink from the sides of the pan, 30 to 35 minutes; a metal skewer inserted in the center should come out clean. Let the cakes cool 10 minutes in the pans, then turn them out on a rack to cool completely.
Meanwhile make the wine jelly: Melt the jelly with the wine over low heat, stirring gently until combined. Let it cool.
Shortly before serving, sandwich the cake with the cooled jelly. Sprinkle the top with confectioners' sugar and transfer the cake to a plate to serve. Top with whipped cream and and a little drizzle of wine jelly if you desire!

According to the looks of my Google Reader, it is definitely the holiday season, and there is no doubt that everyone has sweet treats on their mind. I have seen so many incredible recipes for cookies, cakes, bars and candy. I am pretty sure I have enough recipes saved to last me for a few holiday seasons to come, and I would like to thank you fabulous cooks/bakers out there for sharing them.
With that said, we can't possibly live off of sweet treats alone for the next month. Although many of you may beg to differ, I think even my large sweet tooth will need a break here and there.
With the holidays comes entertaining, and with entertaining usually comes a need for appetizers. I know when I entertain I like to make as much as possible from scratch.  There is just something about people enjoying something that you created. Although, I have learned from experience that if you want to enjoy yourself, you have to pick and choose your battles. For some reason though, it always seems like the great sounding appetizers are also time consuming, and are best prepared right before serving. Obviously the last thing you want to be doing when your guests arrive is slaving in the kitchen with those appetizers. Well my friends, I have found an appetizer that is not only a cinch to make, but will make your taste buds forget all about those sweet treats we have come to love this time of year.
The fabulous Ina Garten has come through once again. When I saw her make a roasted tomato caprese salad, there was no doubt in my mind that I would have to try it. Oh, and try it I did! Twice actually! I made it for my husband as part of his birthday dinner, and we fell in love with it. After raving about it to my dad, he insisted that I make it for him as well. So, when my dad's birthday rolled around last week, I was sure to put it on the menu for his birthday dinner as well. He loved it, my stepmom loved it, and my husband and I loved it all over again.
It is a must try recipe! It is simple, doesn't call for a lot of ingredients, and (although it takes a while to cook) it doesn't take much prep time at all. What more can you ask for? I promise, it will be a hit!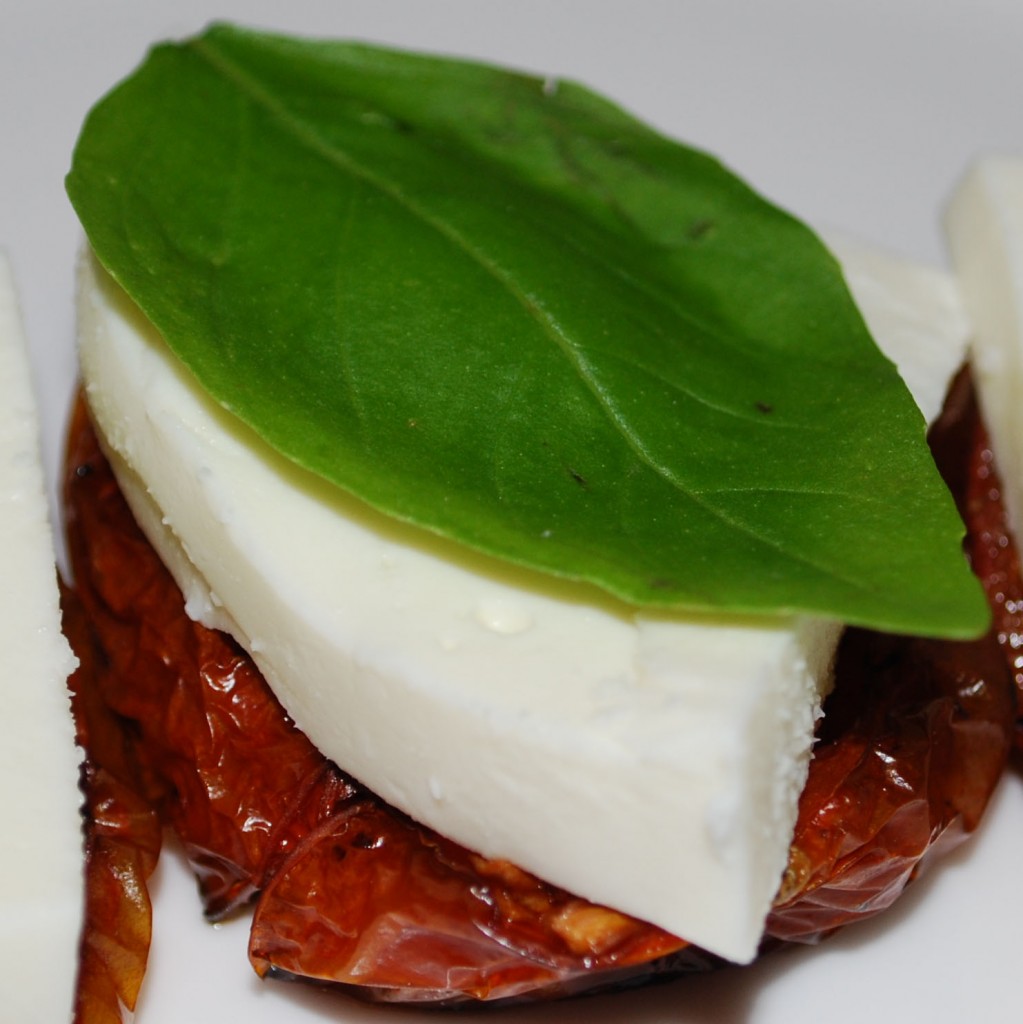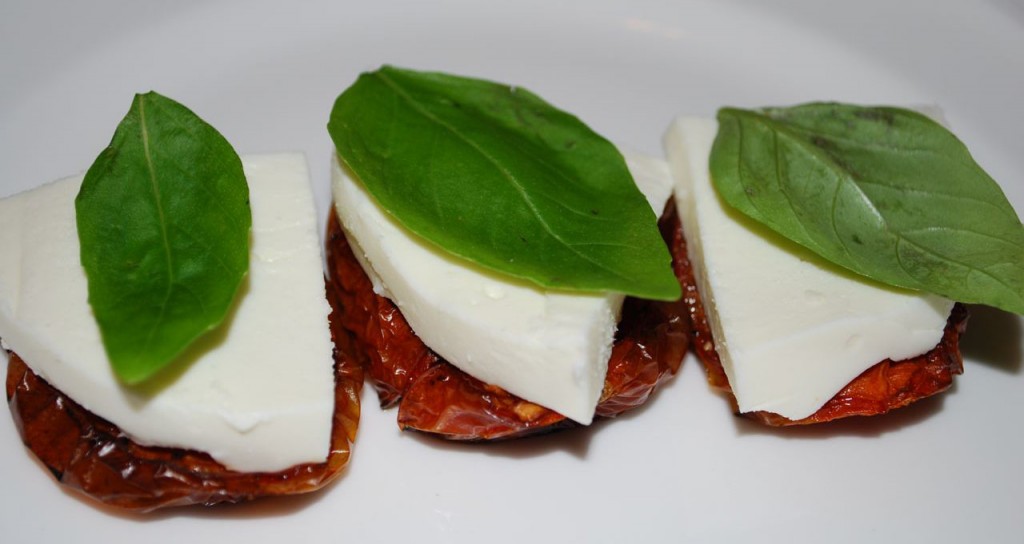 Roasted Tomato Caprese Salad
courtesy of Food Network and Barefoot Contessa
12 plum tomatoes, halved lengthwise, seeds (not cores) removed
1/4 cup good olive oil, plus more for drizzling
1 1/2 tablespoons balsamic vinegar
2 large garlic cloves, minced
2 teaspoons sugar
Kosher salt and freshly ground black pepper
16 ounces fresh salted mozzarella
12 fresh basil leaves, julienned (or left whole)
Preheat the oven to 275 degrees F.
Arrange the tomatoes on a sheet pan, cut sides up, in a single layer. Drizzle with 1/4 cup of olive oil and the balsamic vinegar. Sprinkle with the garlic, sugar, 1 1/2 teaspoons salt, and 1/2 teaspoon pepper. Roast for 2 hours until the tomatoes are concentrated and begin to caramelize. Allow the tomatoes to cool to room temperature.
Cut the mozzarella into slices slightly less than 1/2-inch thick. If the slices of mozzarella are larger than the tomatoes, cut the mozzarella slices in half. Layer the tomatoes alternately with the mozzarella on a platter and scatter the basil on top. Sprinkle lightly with salt and pepper and drizzle lightly with olive oil. Serve at room temperature.
Note:  I left the basil whole the first time I made it, but the second time we julienned it.  Personally, I preferred it julienned and found it easier to eat that way.
Yields: approximately 6 servings

I want to begin by saying thank you to anyone who contacted me, wondering where I was. I really appreciate your concern. I am back now and I apologize for my absence over the past month. I took a little break so I could put some extra concentration into my ongoing job hunt. I needed some time to work on writing samples, track down previous work samples and revamp some things. I am thrilled there has been some interest shown, so now I will just hope that good things are coming my way. My wish is to start the new year out with a new job, so please send the job dust my way!
Okay, on to the task at hand. It's time to get back in the kitchen and do what I love. You are all obviously not here to listen to my job woes, you are here for that stuff that satisfies our taste-buds and fills our bellies with goodness. Well my friends, I have a good one for you today. I have to give you something great to make up for my absence, right? I don't think this will disappoint.
Hands down, chocolate chip cookies have always been my favorite of the cookie family; that is until my husband influenced me. He loves oatmeal cookies. Not just oatmeal cookies, but oatmeal raisin chocolate chip cookies! Now, I am usually trying to find healthier versions of recipes, but when my husband's birthday rolled around I knew I had to give him the good stuff. He isn't really a fan of cake, but I knew a great cookie would win his heart over. So, of course I turned to my trusty Cook's Illustrated book; which never disappoints. That is where I found, in my opinion, the best oatmeal cookie recipe. A plump, soft center with slightly crispy edges, and full of raisin and chocolate chip goodness. Not only did they win his heart over, but they won mine too. I think this cookie has taken the position as my new favorite cookie.
Enjoy the treat, and I will be back soon with an amazing appetizer recipe; just in time for the holidays!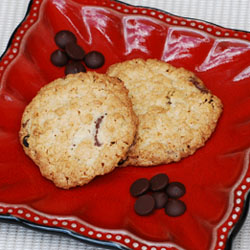 Chewy Oatmeal Raisin Chocolate Chip Cookies
adapted from Cook's Illustrated, The New Best Recipe
1 1/2 cups (7 1/2 ounces) unbleached all-purpose flour
1/2 teaspoon baking powder
1/2 teaspoon salt
16 tablespoons (2 sticks) unsalted butter, softened but still cool
1 cup packed (7 ounces) light brown sugar
1 cup (7 ounces) granulated sugar
2 large eggs
3 cups old fashioned rolled oats
3/4 cup raisins
3/4 cup semi-sweet chocolate chips
Adjust the oven racks to the low and middle positions and heat the oven to 350 degrees. Line 2 large baking sheets with parchment paper or spray them with nonstick cooking spray.
Whisk flour, baking powder, and salt together in a medium bowl.
Either by hand or with an electric mixer, beat the butter on medium speed until creamy. Add the sugars; beat until fluffy, about 3 minutes. Beat in the eggs, one at a time.
Stir the dry ingredients into the butter-sugar mixture with a wooden spoon or large rubber spatula. Stir in the oats, raisins and chocolate chips.
Working with a generous 2 tablespoons of dough each time, roll the dough into 2-inch balls. Place the balls on the prepared baking sheets, spacing them at least 2 inches apart.
Bake until the cookie edges turn golden brown, 22 to 25 minutes, rotating the baking sheets front to back and top to bottom halfway through the baking time. Let the cookies cool on the baking sheets for 2 minutes. Transfer the cookies with a wide metal spatula to a wire rack. Let cool at least 30 minutes.
Yields: approximately 2 dozen cookies.
*In the case that you don't want to overindulge too much, these cookies freeze well too!

As a mentioned in a previous post, I decided to make my husband's cousin a little care package and send it off to her in college. This is her freshman year and of course she is living in the dorms and having the time of her life. It seems like just yesterday I was moving into my dorm and starting college, but it has actually been 8 years since that big move! It is crazy how time flies. I do remember though how nice it was to get packages of goodies from my mom and my Nana. I mean if she is anything like I was, I lived off of ramen noodles and rice, unless I ventured off to have some of the less than spectacular cafeteria food. Of course I had my occasional Subway, Taco Bell and Wendy's, which is a splurge on a college budget, but there was nothing like getting that package of homemade goodies. I had suite-mates, but no roommate, so I didn't have to share either.
Okay, enough reminiscing of days past, back to my care package for Juliann. I didn't realize how hard it was going to be to come up with the contents of the package. The main problem being, the temperatures down here in Florida are well into the 90's and I knew anything that contained too much chocolate was going to melt. So I needed things that weren't only sturdy (to make it through the shipping process), but that would also get to her without being a complete and utter mess. So I decided on the Apple Cinnamon Scones I mentioned in a previous post and also went with a Oatmeal Chocolate Chip Blondie. I figured since the blondies were much more dense than a cookie the chocolate chips should hold up fairly well. I think my conclusion was correct, but Juliann will have to confirm that for me. Just an FYI, the scones didn't do as well getting to her as I would have liked. They were more of a muffin consistency than a typical scone consistency, so by the time they got to her they were a bit on the soggy side. Once again, I believe the blondies were okay though, but Juliann will have to confirm.
I originally found this recipe on Martha Stewart's website, but I did some modifications because honestly, they sounded a bit bland in their original form. The final product came out quite nice. My husband absolutely loved them! It's a good thing he went out of town the day after I made them or else they probably would have never made it to you Julianne! This is a very simple recipe that is perfect for having around the house. With school just starting back this is a great treat for an after school snack or for the lunch boxes too. Not that I have children to test this theory on, but I am assuming. One day though, one day.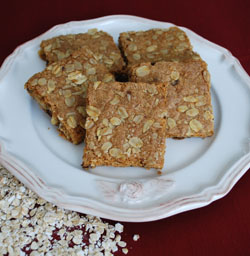 Oatmeal Chocolate Chip Blondies
adapated from MarthaStewart.com
1/2 cup (1 stick) unsalted butter, room temperature, plus more for pan
1/2 cup packed light-brown sugar
1 large egg
1/2 teaspoon vanilla extract
1 cup all purpose flour
1/2 cup granulated sugar
1 teaspoon baking powder
1 cup old-fashioned rolled oats (not quick-cooking)
1/2 cup semi-sweet chocolate chips (I used semi-sweet minis)
Preheat oven to 350 degrees. Brush an 8-inch (or 9 inch) square baking pan with butter. Line bottom and two sides with a strip of parchment paper, leaving a 2-inch overhang on both sides. Butter paper, and set pan aside.
Using a mixer, beat butter and brown sugar until light and fluffy. Add egg and vanilla, and beat until combined. With mixer on low, gradually add the flour, granulated sugar and baking powder; mix just until combined. Mix in 3/4 cup oats. Pour batter into prepared pan.
Using a spatula or table knife, smooth batter evenly. Sprinkle with remaining oats, pressing gently to adhere. Bake until a toothpick inserted in center comes out with only a few moist crumbs attached, *30 to 35 minutes (see note below). Let cool in pan 30 minutes.
Using overhang, transfer blondie (still on paper) to a wire rack to cool completely. Place on a cutting board (peel off paper); using a serrated knife, cut into 16 squares. Store blondies in an airtight container at room temperature.
*Notes:
-If you are using a 9 inch pan, I suggest checking the blondies at 20-25 minutes (depending on your oven), otherwise they may get too dry.  I completely forgot that I used a larger pan than directed and left them in the full time; they were good but I would have liked them a bit more moist.
-According to Martha Stewart's website, these will freeze for up to 2 months.
Yields: 16 bars

If my husband had his way, he would eat a vegetable (preferably broccoli) and a starch with his dinner every night. Don't get me wrong, he is not a picky meat and potatoes kind of guy, but he would still be completely content with the simplicity of those side dishes on a daily basis. Me on the other hand, would probably give up eating altogether before I would eat the same stark meals day after day. So I am always on a mission to find new, but healthy side dishes to compliment our meals. I mean let's face it, we could all eat mac n' cheese, loaded potatoes and every other calorie laden side dish every day of the week if our waistlines and arteries would let us, but that is not realistic. At least it isn't in my world. So that leads us back to finding the healthy, but tasty and satisfying variety of dishes.
After plastering the title of boring eater to my husband, I will now give him some credit because he is the one who suggested black bean soup over our fairly regular black beans the other night. Although I was the one who raced up the stairs in hopes of beating him to a great recipe. See, he will look for a recipe and then try to change it in every way possible in order to not follow the recipe. In many cases this leads to a fabulous dish (b/c he is a great cook), but in other cases he turns into the spice monster and tends to "over flavor" the dish. So I raced to my computer and immediately went to Epicurious.com, which is my new favorite recipe source. One of the first recipes I pulled up was one from the December 2008 issue of Gourmet magazine. I thought it was going to be something a little too obscure for our simple dinner, but surprisingly it was a simple yet delicious sounding concoction. I passed it along to the anti-recipe guy, since I was going to put him in charge of making it, and to my surprise he said it sounded great! No only that, but he made the recipe without altering it beyond recognition. Of course we did change it up a tiny bit, but for the most part it was great the way it was.
So we now have a new side dish to add to our repertoire and my husband actually followed a recipe without completely changing every element. Don't get me wrong though, I may like to give my hubby a hard time, but he is an amazing cook and I love him dearly.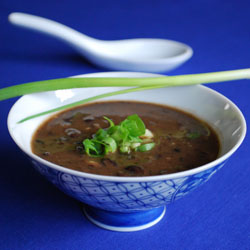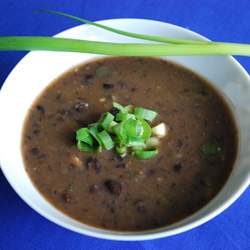 Spicy Black-Bean Soup
adapted from Gourment 12/08 via Epicurious.com
2 teaspoons olive oil
1 medium white onion, finely chopped
2 garlic cloves, minced
1 fresh jalapeño (2 inches), seeded and minced
1 teaspoons chili powder
1 teaspoons ground cumin
1 teaspoon dried oregano
2 (15-ounces) cans black beans, 1 drained and rinsed, 1 with liquid (we use low sodium)
2 1/2 cups chicken stock/broth (use 2 cups if you prefer it thicker)
1 bay leaf
Green Onion, chopped for garnish
*Use vegetable stock to make this dish vegetarian.
Heat oil in a 4-to 5-quart heavy pot over medium-high heat, then sauté onion, garlic, and jalapeño with chili powder, cumin, and oregano until onion is beginning to brown, 6 to 8 minutes. Add beans, stock/broth, and bay leaf and simmer, covered, stirring occasionally, until soup has thickened slightly, about 15 minutes.
Transfer about 1 cup soup to a blender and purée (use caution when blending hot liquids). Return to pot and reheat over medium-low heat, stirring frequently. Discard bay leaf. Season with salt if desired. Add green onion for garnish.
Yields 4-6 servings
Approximate Nutrition Facts (according to Spark Recipe)
Calories: 229.7
Total Fat: 3.9 g
Saturated Fat: .09 g
Polyunsaturated Fat: 0.5 g
Monounsaturated Fat: 0.9 g
Cholesterol: 3.1 mg
Carbohydrates: 44.8 g
Dietary Fiber: 11.6 g
Protein: 13.6 g
*Please note that these are very approximate nutrition facts since one can of beans was rinsed from it's liquid. This is also why I left the sodium out b/c it was not going to be accurate at all.  These facts were also based on the amounts for 4 servings.

I try and pull inspiration for recipes and cooking techniques from all different sources. I watch my fair share of Food Network, subscribe to a ton of magazines, own quite a few cook books and frequent some cooking boards online. Those are the places that I probably get most of my inspiration from. Although those are all wonderful resources, I am always looking for something new to change things up a bit. I recently started visiting Tastespotting and Food Gawker, and they have become wonderful resources. Not only do you get to look at beautiful food photography, but all of those photos are linked to great recipes and ideas. I love these sites too because there is such a variety of information.
During one of my recent visits I saw a photo of delicious looking cake slices. They looked yummy enough for me to click and see where they led to. The photo took me to an adorable blog called My Baking Addiction, which is put out by Jamie. Not only did I find a fabulous sounding recipe, but I also found a wonderful new site for sweet treats! After reading over the recipe and seeing that I had two sad looking bananas hanging in my kitchen, I knew I had to make this for the Labor Day get together we would be attending.
Oh, and did I mention that this cake is topped with cream cheese icing?? This little recipe was just winning my heart over more and more by the minute. And win my heart over it did! Not only my heart, but the hearts of just about everyone who tried it. My uncle, who never eats desserts, came over and took three pieces on a plate to hide away for himself for later. Thank goodness I made the last minute decision to cut the larger pieces I made in half in order to create more, haha.
I should also mention that this is a very easy, fuss free recipe. How could you go wrong with an amazingly delicious cake that that doesn't take a whole lot of effort? I suggest you go out and make this as soon as possible!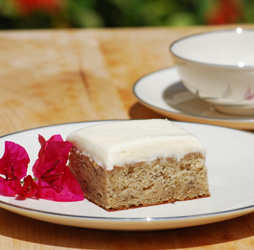 Banana Bars with Vanilla Cream Cheese Icing
adapted from My Baking Addiction, originally seen on allrecipes.com
Cake:
1/2 cup butter, softened
1 1/2 cups white sugar
2 eggs
1 cup plain Greek yogurt (I actually mixed a little plain with a bit of vanilla flavored that I had on hand)
1 teaspoon vanilla extract
2 cups all-purpose flour
1 teaspoon baking soda
1/4 teaspoon salt
1 teaspoon cinnamon
1 cup mashed ripe bananas (about 2 large bananas)
Icing:
2 (8) ounce package cream cheese, softened (I used 1/3 less fat)
1 stick unsalted butter, softened
1 1/2 lbs. confectioners' sugar ( adjust sugar for desired thickness and sweetness)
2 teaspoons vanilla extract
Preheat oven to 350 degrees F. Grease a 9×13 inch pan.
In a large bowl, cream together the butter and sugar until smooth. Beat in the eggs, one at a time, then stir in the yogurt and vanilla.
Combine the flour, baking soda, salt and cinnamon; stir into the batter. Finally, mix in the mashed banana. Spread evenly into the prepared pan.
Bake for 25-30 minutes in the preheated oven, until a toothpick inserted into the center comes out clean. Allow bars to cool completely before frosting with the cream cheese icing.
In the bowl of your mixer fitted with the paddle attachment, mix cream cheese and butter until smooth. Gradually add in the confectioners' sugar and mix until smooth and creamy. Stir in vanilla extract. Spread on cooled cake.  Refrigerate until ready to serve.
*This recipe creates a large amount of icing.  You could probably get away with making half of the recipe to ice this cake.  Although, there is nothing wrong with having leftover cream cheese icing hanging out in your refrigerator!

I subscribe to quite a few cooking magazines, as I am always looking for new ideas and forms of inspiration. One of my favorites is Cooking Light. I know some people out there don't like the magazine as much as they used to and I do admit I was getting a little tired of it myself while reading the past few issues. Well, I received my September issue a week or two ago and I was surprised to see that they have given the magazine somewhat of a face lift. I have to say, I am really liking it. The last few issues prior to this one seemed to be lacking in the recipe and food department. I really hope they keep up this new format because it has so much information on ingredients, nutrition and a huge variety of recipes.
Okay, so why did I give that shout out to Cooking Light? No, I am not getting paid to endorse the magazine. Like I mentioned, this issue had a great variety of recipes. So, of course I made one. I love one pot dishes, so anytime I come across a great one pot dish, I am all over it. This particular recipe was for a Creole Shrimp and Sausage Stew. This dish was really tasty and will be perfect for the cool days to come. Well, the cool days to come for my friends to the north. I most likely won't be seeing a cool day at least until December or January. This recipe is also a great base recipe for switching things up. You can pretty much use it to clean out your refrigerator if you have some veggies to use up. You can also make it as spicy or tame as you like; I used the spicy Rotel and it gave it quite a kick.  We ate it over brown rice and it made for the perfect meal.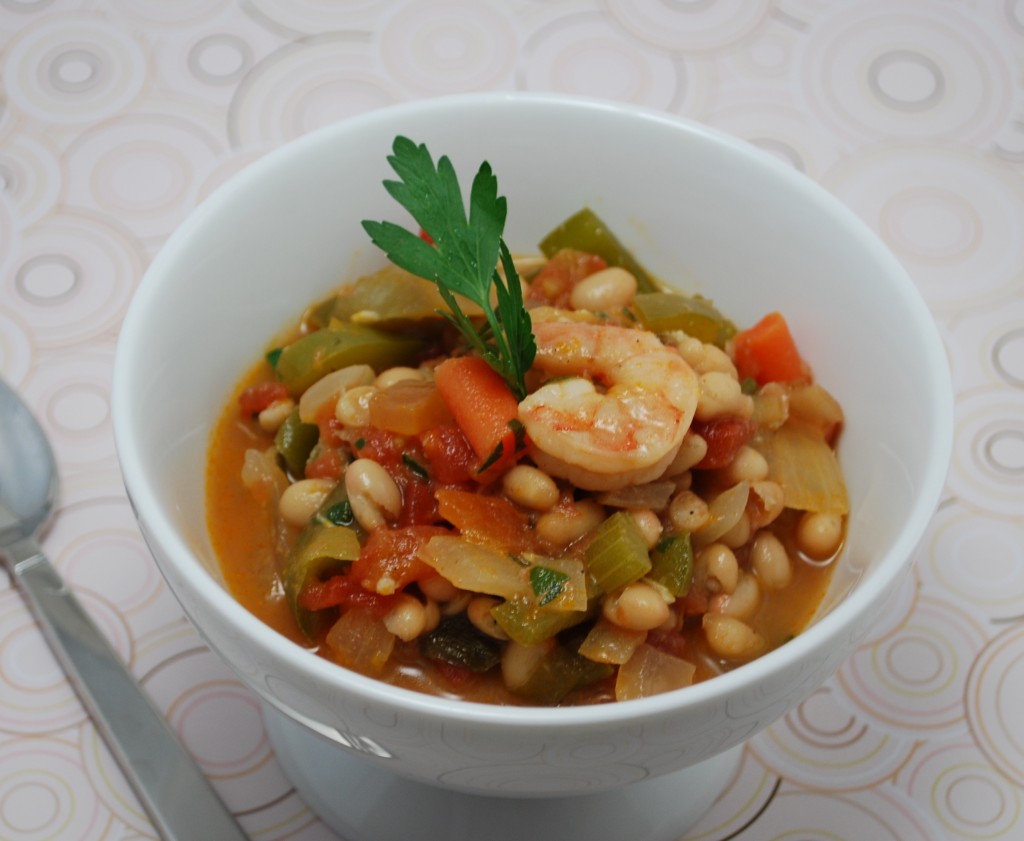 Creole Shrimp and Sausage Stew
2 teaspoons olive oil
1 cup green bell pepper, chopped
1/2 cup onion, chopped
1/4 cup celery, chopped
1/4 cup carrots, chopped
1 cup thinly sliced turkey or chicken sausage (about 6 ounces)
2 cloves of garlic, minced
3/4 cup fat-free, less-sodium chicken broth
1 (10-ounce) can diced tomatoes and green chiles, undrained (such as Rotel)
8 ounces peeled and deveined medium shrimp
1 (15-ounce) can of white beans, rinsed and drained
2 tablespoons chopped fresh parsley
Heat a large saucepan over medium-high heat. Add oil to pan; swirl to coat. Add bell pepper, onion, carrot and celery to pan; saute on medium-high heat about 5 minutes. Add garlic and sausage to the pan; sauté 3 minutes or until the veggies are tender, stirring occasionally. Add broth and tomatoes; bring to a boil. Stir in shrimp and beans; cover, reduce heat, and simmer 6 minutes or until shrimp are done. Sprinkle with parsley.
Yields 4 servings
Approximate Nutrition Facts (according to Spark Recipe)
Serving size: about 1 cup
Calories: 298.2
Total Fat: 6.3 g
Saturated Fat: 1.7 g
Polyunsaturated Fat: 0.9 g
Monounsaturated Fat: 2.1 g
Cholesterol: 117.1 mg
Sodium: 863.8 mg
Carbohydrates: 32.2 g
Dietary Fiber: 6.9 g
Protein: 27.2 g

One thing I have learned since I started cooking and baking is that in many cases, the recipes that are the most impressive in looks are sometimes the simplest to make. Although this recipe has been shared on many a food blog and cooking board, I almost don't want to out it to my family and friends because of the simplicity. These little guys can be made so many different ways, and are so pleasing to the eye, but they couldn't be any easier to make.
I originally found this recipe on Katie's blog, Good Things Catered. By the way, she is a domestic goddess and you should check out her blog if you haven't already. She made them into these cute little flower pops that she actually used as centerpieces. Since I was making these as part of a gift, I wanted to go in a different direction with them. I decided to go for more of a truffle look. In my experience of making these, I have also found that they can be difficult in the dipping process. Instead of dipping this batch, I decided to use wax paper, place a dollop of chocolate on the paper, place the cake ball down on the circle of chocolate and then, using a spoon, pouring the chocolate over the top of the ball. After placing them in the refrigerator to cool and harden, you can peel the truffles right off of the wax paper. The result, a pretty little truffle with an interesting look.
These are so tasty and you can make them to please just about anyone's palette. So, I send you off now to be creative and create your own little masterpiece of a truffle. Of course feel free to use the recipe verbatim too!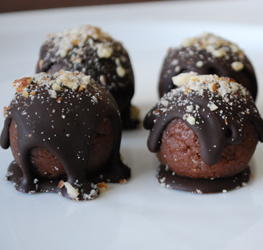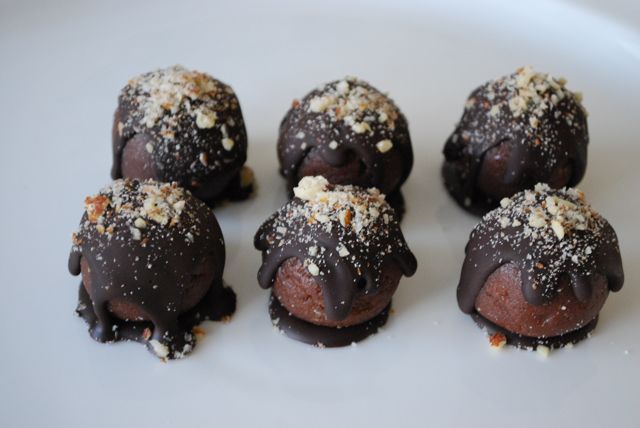 Chocolate Almond Cake Truffles
adapted from Good Things Catered, originally from Bakerella
1 box of yellow cake mix (or any recipe or flavor you choose)
1 can of chocolate frosting (or flavor of your choice)
1/2 tsp. almond extract
1 bag of dark chocolate morsels
crushed almonds for sprinkling on top
Prepare a 9×13 baking pan and bake your cake according to directions and let cool completely.
Slightly crumble your baked and cooled cake into a large mixer bowl, add the frosting and almond extract, stir to combine completely.
Take small amounts of cake mixture and roll into 1-inch balls, placing onto a parchment or wax paper lined baking sheet.
When all cake balls are rolled, place baking sheet into fridge overnight (this will form a crust around the edges and make the cake mixture much easier to work with)
In a double boiler, heat the chocolate morsels until they are completely melted and smooth.
Line a backing sheet with parchment or wax paper. For each truffle place a small dollop of the melted chocolate on the paper, place the cake ball on top of the chocolate and then spoon more chocolate over the top of the ball so it drizzles down the sides. Sprinkle crushed almonds over the top. Continue this process with each cake ball.
When finished, place the pan in the refrigerator until the the chocolate is completely cooled and set. You can then remove them from the paper and serve.

You know how we all have a few meals that we grew up on and will always stick in our memory? This was one of those meals and it was a favorite of mine. My mom made it, my Nana made it, etc. The only thing that seems kind of funny to me now as an adult and as someone who is always looking through recipes, is that my family always called it goulash. Looking at the photo you will see that this is definitely not the goulash you will find on the menu somewhere. Even though that is the case, it will always be "goulash" to me, so please excuse my inaccurate naming of the dish.
I must also confess that this isn't the exact dish I grew up on. Again, now that I am an adult and try to be very conscious of my food choices I decided to put my own twist on the dish to make it a bit more well rounded. The version that I grew up on was simply pasta, ground meat, onion and homemade tomato sauce. I decided to make it a bit healthier by using ground turkey, whole wheat pasta and adding veggies to the mix. In the end you have a nice comforting meal that you don't have to feel guilty about.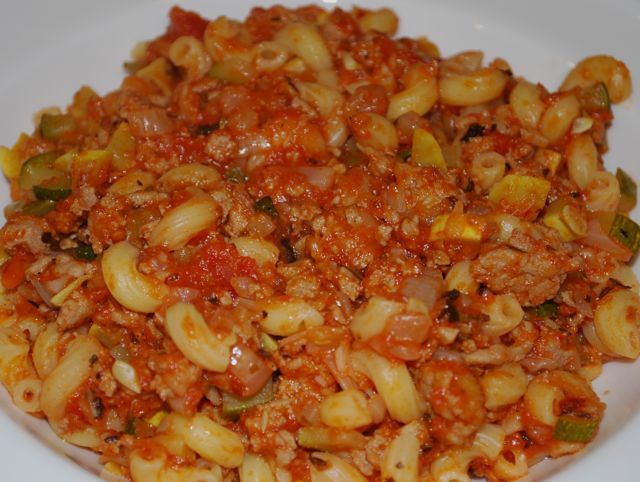 Nana's "Goulash"
Olive Oil
1 small to medium zucchini, chopped
1 small to medium yellow squash, chopped
1 medium onion, diced
2 cloves of garlic, minced
1 1/2 tsp. Italian seasoning
8 oz. ground turkey (I used 93/7)
1 tsp. garlic powder
1 tsp. paprika
crushed red pepper to taste
salt and pepper
2 cups of your favorite marinara sauce
4 oz. whole wheat elbows or rotini
Bring a pot of water to boil. Add pasta and cook according to time listed on the box.
Heat a pan on the stove and spray with olive oil. Add the zucchini, squash and onions. Saute for a couple of minutes and then add garlic and Italian seasoning. Continue cooking on medium heat.
Heat another pan and add the ground turkey. Add garlic powder, paprika, crushed red pepper and salt & pepper to taste. Continue on medium heat until cooked through.
When the veggies reach your desired tenderness, add the cooked ground turkey, marinara sauce and the drained pasta. Simmer to let flavors combine, about 5 minutes.
Yields 2 large servings
Approximate Nutrition Facts (according to sparkrecipe.com)
Calories: 453.4
Total Fat: 12.8 g
Cholesterol: 80 mg
Sodium: 149.6 mg
Carbohydrates: 63.3 g
Dietary Fiber: 11.5 g
Protein: 33.3 g
*Please note that the nutrition facts can vary greatly based on the type of sauce, meat and pasta that is used as well as the amount of salt added to the dish.  These facts were based on the 93/7 ground turkey, homemade san marzano sauce and Ronzoni Healthy Harvest Rotini.

September has landed, which starts to bring on the thoughts of fall. Unfortunately, living in south Florida I am not lucky enough to have that hint of crispness in the air like my friends in the north. I must say that I am still thrilled that fall is upon us because it is my favorite time of the year. The thought of fall and winter just gives me the warm fuzzies inside.  It must be the northerner in me, even though I'm a native to Florida (my roots are from the north though).
The only problem with the coming of fall is my love/hate relationship with the food. I love to cook heartier comfort foods during this time of year, BUT I also miss the fruits and veggies of summer. I will admit that I am lucky to live in Florida though because the passing of the brutal summer temperatures will bring in our fresh local produce, which our northern friends are saying farewell to. Unfortunately our local winter produce doesn't include the fresh berries of the summer though. Oh how I love fresh summer berries. I know that I can resort to the frozen variety, but it doesn't come close the fresh ones. After my last couple of visits to the grocery store I have realized that the end of the berries has come for this year. With that said, I leave you with one last glimpse of fresh summer fruit and what has become one of my favorite breakfast choices.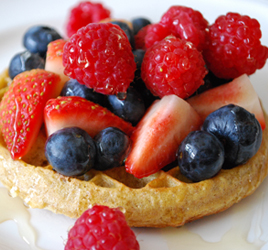 In case you are interested for next season, my nutritious breakfast treat consists of:
Honey Oat Kashi Waffle
Fresh Strawberries
Fresh Blueberries
Fresh Raspberries
A drizzle of Crystal's Own Maine Wild Blueberry Honey