Archive for the 'Easy' Category
I mentioned in my last post that I had made goodies for a barbeque we attended. I also mentioned that when I bake for gatherings I like to try and make an array of things in hopes of pleasing everyone's palates. For that same barbeque I decided to make some Cheesecake Thumbprint Cookies in addition to the Oatmeal Fudge Bars. About a year ago I purchased Martha Stewart's Baking Handbook. I am usually not a huge fan of hers, but this book seemed like it had a great variety of baked goods as well as some wonderful information on techniques, equipment, etc. So far it has been a great purchase and hasn't steered me wrong.
The Cheesecake Thumbprint Cookie recipe sounded like a winner, oh and a winner it was! Everyone raved over them, especially my grandmother. It is a fairly simple recipe and it is a treat that is easy for transport. The cookies are light and have the perfect amount of sweetness. This would be a wonderful recipe if you are looking for something that isn't incredibly rich and decadent.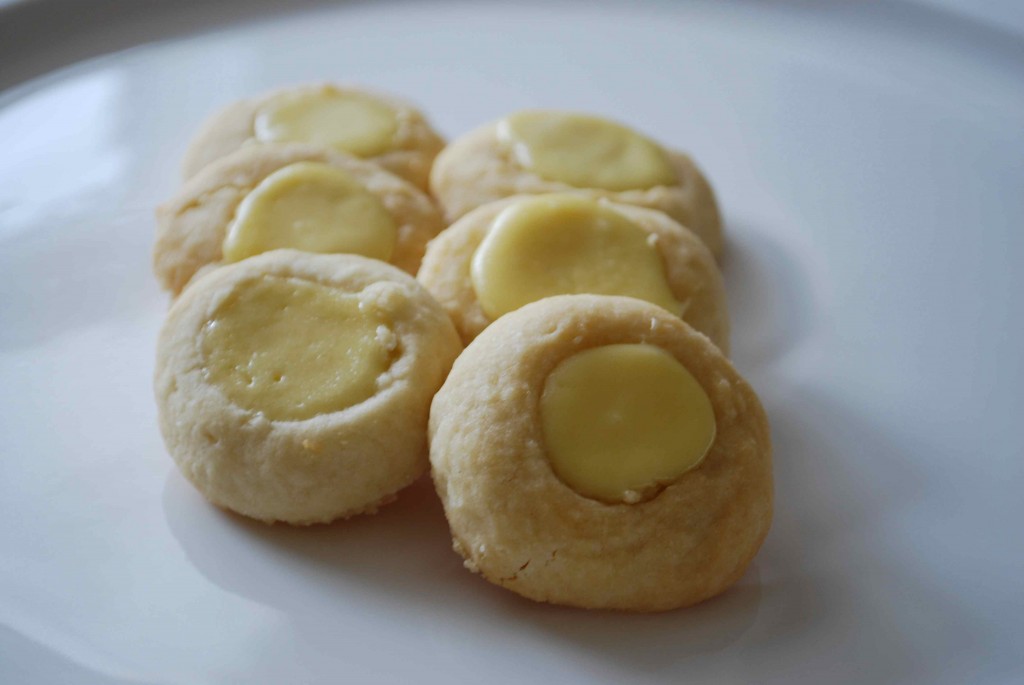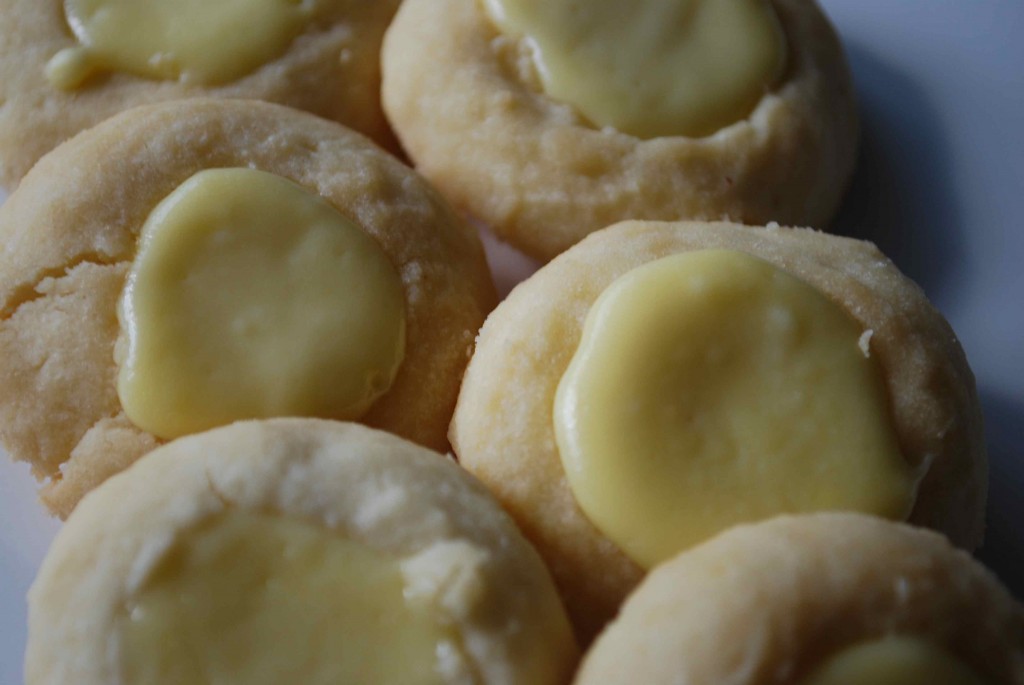 Cheesecake Thumbprints
Courtesy of Martha Stewart's Baking Handbook
4 oz. cream cheese, room temperature
½ cup granulated sugar
¼ tsp. salt, plus a pinch
2 large egg yolks
1½ tsp. sour cream
1/8 tsp. vanilla extract
2 sticks unsalted butter, room temperature
2 cups all purpose flour
In a bowl of an electric mixer fitted with the paddle attachment, beat cream cheese on medium speed until light and fluffy, about 3 minutes, scraping down the sides of the bowl as needed. Add ¼ cup sugar and a pinch of salt, and beat until smooth, about 3 minutes. Add 1 egg yolk, sour cream, and vanilla; beat until smooth. Transfer to a small bowl, and refrigerate for about 30 minutes.
Preheat the oven to 350 degrees F, with racks in the upper and lower thirds. Line two large baking sheets with parchment paper; set aside. In the bowl of an electric mixer fitted with the paddle attachment, beat the butter and remaining ¼ cup sugar on medium speed until well combined, 1 to 2 minutes, scraping down the sides of the bowl as needed. Add remaining ¼ teaspoon salt and egg yolk; beat to combine. With mixer on low speed, gradually add the flour, mixing until just combined.
Shape level tablespoons of dough into balls, and place on prepared baking sheets about 1 inch apart. Using the lightly floured end of a thick wooden spoon handle (or your thumb), make an indentation in the center of each ball.
Bake 10 minutes; remove from oven and make indentations again. Rotate sheets, return to oven, and bake until edges of cookies begin to turn golden, 7 to 9 minutes more. Transfer cookies to a wire rack to cool completely.
Using a small teaspoon, fill the center of each cookie with about 1 teaspoon cream cheese filling, mounding it slightly. Return cookies to the oven, and bake until the filling is firm, 7 to 8 minutes. Transfer cookies to a wire rack to cool completely. Refrigerate in an airtight container, layered between waxed or parchment paper, at least 4 hours before serving (cookies can be refrigerated overnight).
Note: This recipe makes about 30 cookies. These cookies are best eaten after they have been refrigerated overnight. Allow them to sit at room temperature for twenty minutes before serving.

It is absolutely no secret that I have a sweet tooth. Unfortunately you mix that with the fact that I gain 10 pounds by just looking at dessert and it doesn't make for a great combination. At least my waistline doesn't think so. With that said, I am always looking for sweet treats that I don't have to feel guilty about.
When we lived in Clearwater we used to frequent a little Greek restaurant that we loved. A few times I indulged in their rice pudding and thought it was delicious. I never really thought to make some of my own until I recently saw a recipe for a lightened up version. I figured that it was nutritious and would tame my sweet tooth, so I couldn't go wrong.
The recipe was very easy to make and it could feed quite a few people. I actually took some over to my grandmother and she really enjoyed it. It is light and slightly less sweet than your traditional rice pudding. It's perfect for an evening treat when you are craving a little something sweet.
Very Vanilla Rice Pudding
Courtesy of The Food You Crave by Ellie Krieger
2 cups water
1 cup Arborio rice
3 cups vanilla soy milk
¼ cup sugar
Pinch of salt
1 cinnamon stick
½ tsp. vanilla extract
¼ tsp. ground cinnamon, plus more for dusting
¼ tsp. ground nutmeg, plus more for dusting
Preheat oven to 375 degrees.
Bring the water to a boil in a medium, heavy, ovenproof saucepan. Add the rice, cover, reduce the heat to low, and simmer until the rice is nearly cooked, about 20 minutes.
In a large bowl, whisk together the soy milk, sugar, and salt. When the rice is cooked and still hot, add the soy milk mixture and cinnamon stick. Cover, place in the oven, and cook for 45 minutes.
Remove from the oven, uncover, and remove the cinnamon stick. Stir in vanilla, ground cinnamon, and nutmeg. The pudding will be slightly liquidy; the liquid will continue to absorb into the rice and thicken as the pudding cools. Distribute among 8 bowls. Dust with more cinnamon and nutmeg. Serve warm or at room temperature. The pudding will keep in the refrigerator in an airtight container for about 3 days.
Yields: 8 servings
Nutrition Facts (according to book)
Serving size: 2/3 cup
Calories: 154
Total Fat: 2 g
Cholesterol: 1.7 mg
Sodium: 59 mg
Carbohydrates: 36 g
Dietary Fiber: 0.7 g
Protein: 5 g

I'll be honest; I am not a huge fan of many vegetables. I mean I don't mind them and I will eat most of them, enjoying some more than others, but if I were forced to not eat a good number of veggies I would have no problem with that. Greg on the other hand will eat almost any vegetable you put in front of him.
Knowing that it is a must for me to include lots of veggies in my diet, I take my so-so relationship with vegetables and try to find ways to spruce them up so I will enjoy them more. Green beans are a vegetable that I like for the most part and I love onions, so when I saw this recipe I figured it would be a great combination for my vegetable picky taste buds. It is a simple recipe but just gives that extra something. It is also a great side dish for gatherings; we have served it twice for family get-togethers and everyone loves it.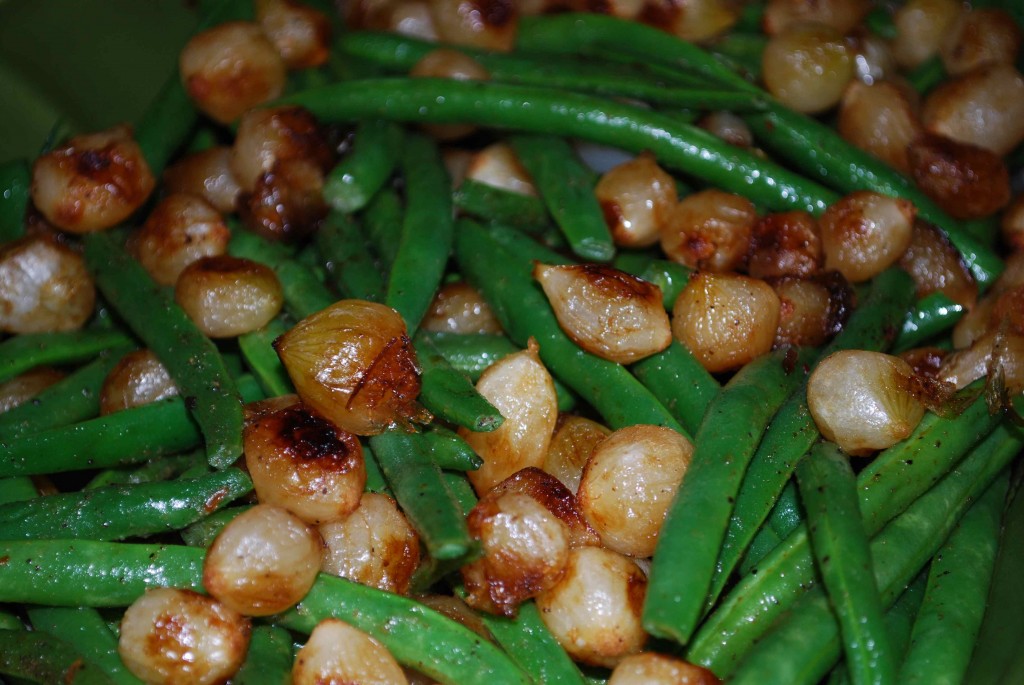 Green Beans with Caramelized Onions
2 tbs. olive oil, divided
2 (16-ounce) packages frozen pearl onions, thawed
1 tbs. sugar
1 tsp. salt, divided
2 pounds green beans, trimmed
Heat 1 tablespoon oil in a large nonstick skillet over medium heat. Pat onions dry with paper towels; add to pan. Increase heat to medium-high; sauté onions 5 minutes. Add sugar and 1/2 teaspoon salt; sauté 15 minutes or until onions are tender and golden brown. Spoon into a bowl.
Heat 1 tablespoon oil in pan over medium-high heat. Add beans; sauté 8 minutes or until crisp-tender. Add onions, 1/2 teaspoon salt, and pepper; cook 2 minutes or until mixture is thoroughly heated.
If you like a little heat, add crushed red pepper to taste towards the end.
Yields: 10 servings
Nutrition Facts
Serving size: 1 cup
Calories: 89
Total Fat: 2.9 g
Cholesterol: 0 mg
Sodium: 249 mg
Carbohydrates: 15.4 g
Dietary Fiber: 4.6 g
Protein: 2.5 g

When it comes to dinner, sometimes I'm just not in the mood for meat, veggies and a starch; I want something different. So, while thumbing through my Ellie Krieger cookbook I came across a recipe for Summer Corn and Vegetable Soup and knew that would be a great change-up. It called for lots of my favorite vegetables and it was more of a chowder style so I knew it would be hearty.
I whipped a batch up one night and served it with a half of a sandwich. It was so filling! I couldn't even finish my bowl. Greg was even satisfied by this "lighter" meal. It is jam packed with fresh and easy to find ingredients and is a cinch to make. What more could you ask for?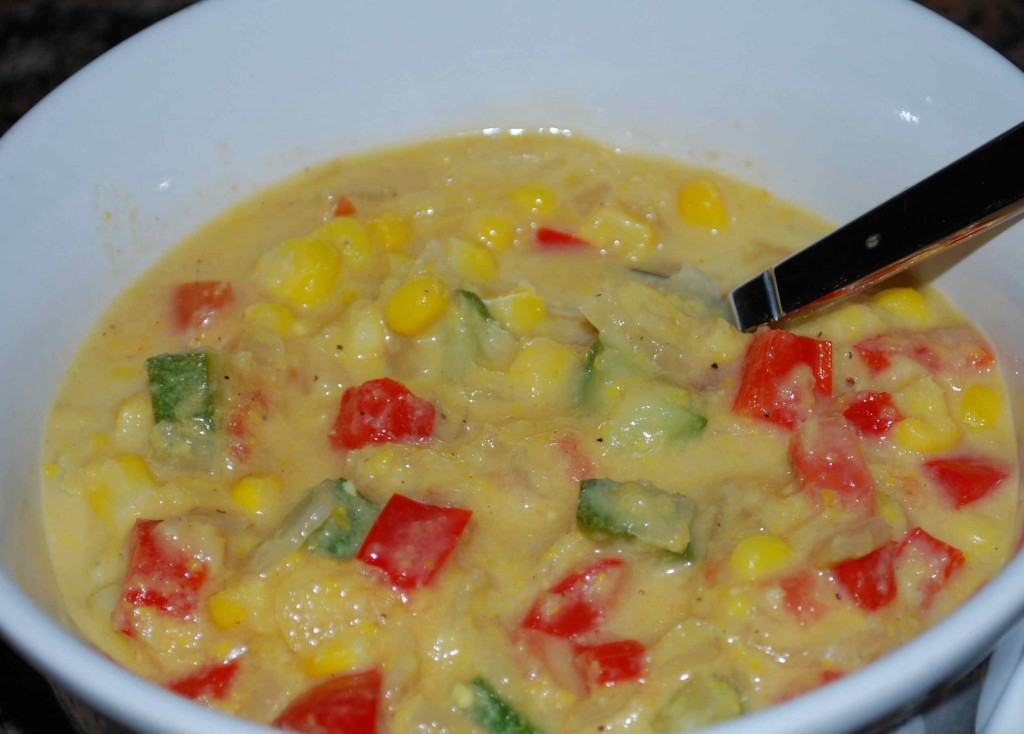 Summer Corn and Vegetable Soup
Courtesy of The Food You Crave by Ellie Krieger
4 cups fresh corn kernels or two 10 oz. packages frozen corn, thawed
2 cups non-fat milk
1 tbs. olive oil
1 large onion, diced (about 2 cups)
1 medium red bell pepper, seeded and diced (about 1 cup)
1 small zucchini (about ½ lb.), diced
2 cups low-sodium chicken or vegetable broth
2 plum tomatoes, seeded and diced
¾ tsp. salt
Freshly ground black pepper to taste
½ cup fresh basil leaves, cut into ribbons
Put 2 cups of the corn and the milk into a blender or food processor and process until smooth. Set aside.
Heat the oil in a large soup pot over medium-high heat. Add the onion, bell pepper, and zucchini and cook, stirring, until the vegetables are tender, about 5 minutes. Add the remaining 2 cups corn and the broth and bring to a boil. Add the pureed corn and the tomatoes and cook until warmed through but not boiling. Add the salt and season with pepper. Serve garnished with the basil ribbons.
Yields: 6 servings
Nutrition Facts (according to book)
Serving size: 1 ½ cups
Calories: 180
Total Fat: 5 g
Cholesterol: 5 mg
Sodium: 365 mg
Carbohydrates: 32 g
Dietary Fiber: 4 g
Protein: 9.5 g

For some reason I find it necessary to look for new recipes every week. I guess this just stems from my love of cooking. I think no matter how many recipes I accumulate I will never be content. So as I mentioned a few posts back, I have begun to sit down and read through blogs in my spare time. I feel like I have never done it often enough so now I have to actually sit and read entire blogs. Hopefully after I do this with certain blogs I will then be able to just keep up with them through Google Reader. This is my hope, but I have a feeling I will never get organized with all of this blogging. I am going to stay hopeful though. :o)
Anyway, I was very inspired by the blog, Elly Says Opa. I made her Chicken with Herbed Pan Sauce a few weeks ago and loved it. So I figured I couldn't go wrong when I found her recipe for Indian-Spiced Chicken Burgers. When I first showed the recipe to Greg he had a typical guy response, "It doesn't look like much food." After I convinced him that the three baby burgers add up to the same amount that he normally eats in one regular burger he decided that it sounded good. Needless to say, he needed no further convincing after we both sat there stuffed after our meal. The dish was delicious and the flavors really complimented each other. I was surprised at how incredibly filling it was too. I absolutely loved the yogurt sauce on top. Although we adore naan, we decided to use whole-wheat flatbread instead to save on calories.
We ended up enjoying the meal with a nice salad and it was a hearty, but healthful and guilt free feast. I love being able to eat more ethnic inspired foods in a trimmed down manner.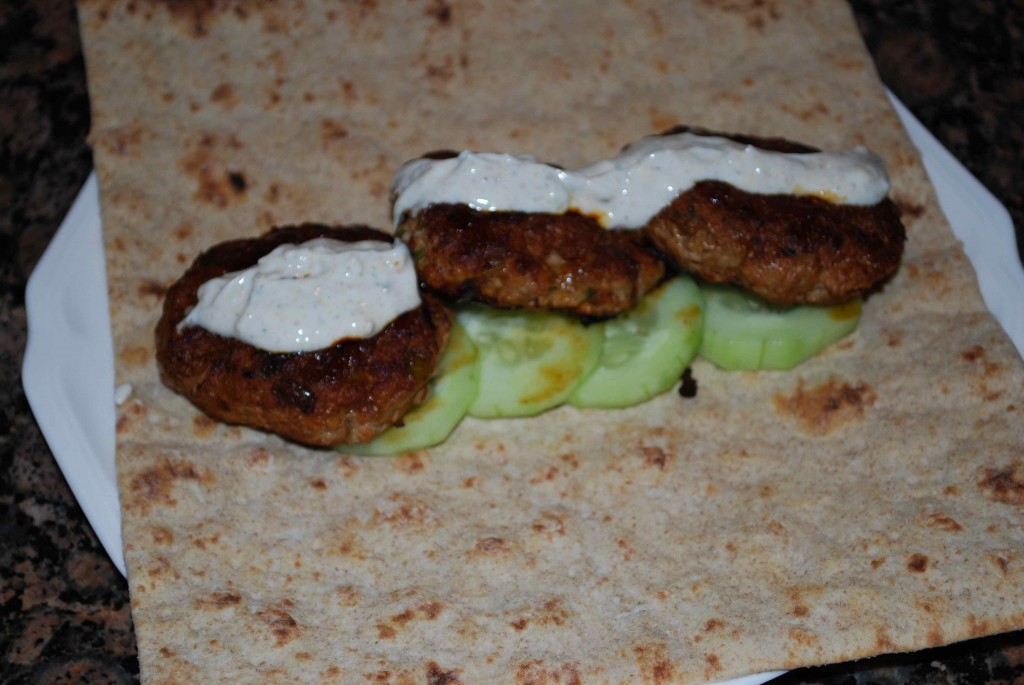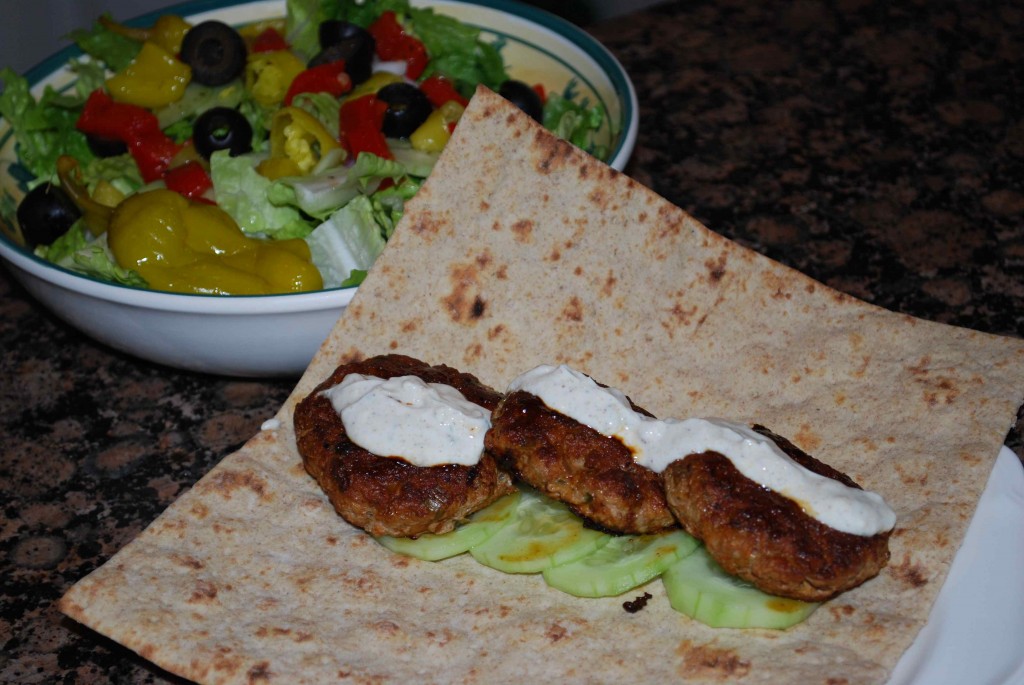 Indian-Spiced Turkey Burgers
1 lb. ground chicken breast
 (I used turkey burger)
3 scallions, thinly sliced
2 1/2 tbsp. fresh ginger, minced
2 tbsp. fresh lemon juice
2 tsp. paprika
2 tsp. ground cumin
1/4 tsp. cayenne pepper
salt and pepper
1 small cucumber, sliced
flatbread (or naan) and cilantro (optional) for serving
cumin yogurt sauce (recipe follows)
In a bowl, gently combine the first 8 ingredients. Form into burgers or meatballs and set aside/refrigerate for 10 minutes or longer to combine flavors.
Grill or fry the patties. Place the cucumber and cilantro on the naan/flatbread, followed by the patties.
Drizzle with the yogurt sauce.
Cumin Yogurt Sauce
1/2 cup plain Greek yogurt (or strained yogurt)
1/2 tsp. ground cumin
1 clove garlic, minced
salt and freshly ground pepper
Yields 4 servings.

Oh how I love a great pasta salad. My mom always makes pasta salad in the summer; it is an old standby in our household. Her version is delicious, but it could probably add up on the waistline a bit. It isn't that bad, but she does love to put chunks of cheese in it and lots of dressing. So over the years I have made my own versions of pasta salad and usually try to make them on the lighter side. I find it to be very subjective and I love that about it. You can make a million different versions and adapt it to practically anyone's diet restrictions.
With summer in the air; yes I do realize it is only April but in south Florida we don't really have a spring. So with summer in the air I decided to make a good old pasta salad for Greg and I. As some may know, I have really been trying to take some weight off, tone up and get Greg and I back on a more healthful and balanced diet. So I made this pasta salad with whole-wheat pasta and I went light on the pasta and heavy on the veggies.
As I mentioned earlier, I think pasta salad is very subjective so I have decided not to post an exact recipe. I figured this entry could serve more as inspiration than as a definite idea. So please, add what you like….have fun with it! I don't think I've ever made a pasta salad the same way twice.
This past time I used the whole-wheat pasta, broccoli florets, zucchini, carrot, red onion, black olives, pimento, homemade Italian dressing and Italian seasoning. It was light, satisfying and deliciously summer.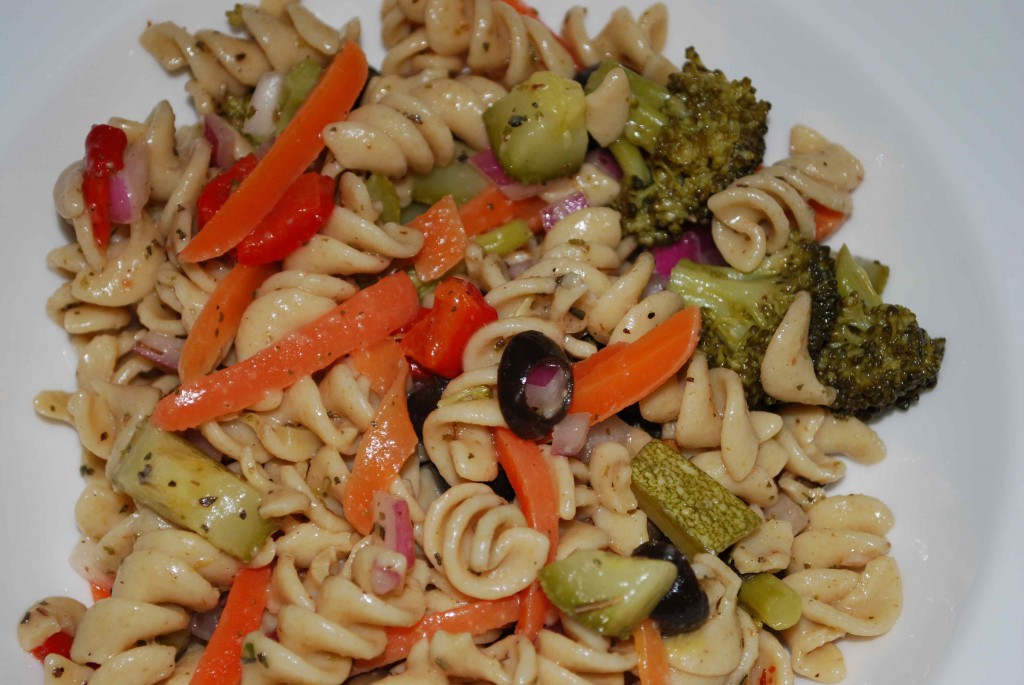 As someone who loves to cook, I enjoy using fresh herbs. Unfortunately they are quite pricey at the grocery store and when we do buy them, half usually goes to waste. We have tried growing herbs before, but didn't have much luck, as they would eventually be taken over by bugs. Since we are now living in a townhouse that has a balcony, we decided to give it a shot again. We are hoping that the elevation will help keep some of the bugs away. We went out and purchased flat leaf parsley, basil, thyme and chives. So far they have been very good.
While searching through the blog, Elly Says Opa, I found many wonderful recipes that I am dying to try. One of which was Chicken with Herbed Pan Sauce. I thought this would be a great recipe to use some of our fresh herbs in. It's also a new chicken recipe, which you can never have too many of. I knew that Greg would probably be a big fan of this as well. So with all of the arrows pointing to "make it," I quickly added it to our weekly menu.
Although I adapted it a bit to fit with the ingredients I had on hand, the outcome was excellent. This will definitely be a repeat on our menus to come.
Chicken with Herbed Pan Sauce
1 Tbsp. olive oil
2 chicken breast halves, pounded to about 1/3-inch thick
1 small shallot, diced (I used onion since that is what I had)
1 clove garlic, minced
2 Tbsp. chopped fresh thyme, rosemary & chive (I substituted the original spices with what I had, feel free to do the same)
1/3 cup dry white wine
1/2 cup chicken broth
salt and pepper to taste
Heat a skillet over medium heat. Add the olive oil to pan. Season the chicken with salt and pepper, and then cook in the oil, about 4 minutes per side or until done. Remove the chicken and keep warm.
Add the shallots (or onion) to the pan and sauté until tender. Add the garlic and herbs and cook until the garlic is fragrant, about 30 seconds.
Pour in the white wine and reduce down by half. Add the chicken broth and do the same. Season the sauce to taste with salt and pepper. Serve sauce over chicken.

After frequenting the What's Cooking board on The Nest, I have been exposed to so many wonderful cooking blogs. I love getting new ideas and great recipes from others that enjoy cooking as much as I do. I find myself book marking recipes and blogs all of the time. The problem is, they accumulate and it can become a bit overwhelming. So lately I have been choosing a blog here and a blog there to sit and sift through. I will look at the tabs that interest me and go through the blog entirely, book marking each recipe that I'm interested in trying. One of the blogs that I did this with was Just 2 Good by Amy. She is also a fellow WC Nestie and has given me great ideas on more than one occasion.
While visiting her blog I came across a recipe for Florentine Turkey Meatloaf. It looked and sounded delicious! It is definitely a twist on the normal humdrum meatloaf that most of us were brought up on. After plugging the ingredients into Spark Recipe and seeing that it wasn't going to blow my calories for the day, I decided it was definitely worth trying. I am so glad that I did too because it was fabulous and it was an easy recipe to cut in half for the two of us. You can't beat an old comfort food that is good for you and has a great new face lift.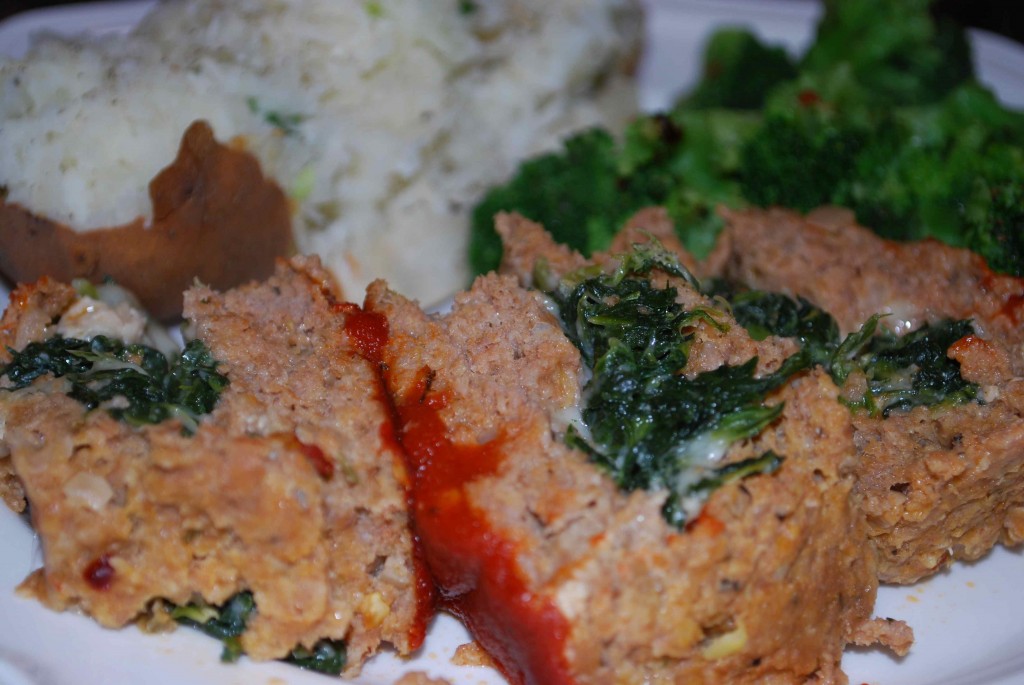 Florentine Turkey Meatloaf
1 ¼ pounds ground turkey
1 cup spaghetti sauce, divided
½ cup Italian-seasoned breadcrumbs
1/2 cup finely chopped onion
2 eggs, slightly beaten
2 tbs. grated Parmesan cheese
1 package (10 oz.) frozen chopped spinach, thawed and well drained
¾ cup low-fat shredded mozzarella cheese
Preheat oven to 350 degrees. Line an 8 or 9-inch loaf pan (or 4 mini loaf pans) with foil, dull side toward the food.
Combine ground turkey, ¼ cup spaghetti sauce, breadcrumbs, onion, eggs, and Parmesan cheese in a medium bowl.
Press half of the turkey mixture into a foil-lined pan(s). Press a 1-inch indention down the center of mixture, leaving 1-inch thickness on all sides.
Toss spinach and mozzarella cheese together; spoon into indention, mounding in center. Press remaining turkey mixture evenly over top, sealing edges.
Bake 45 to 50 minutes. Spoon remaining spaghetti sauce over meat loaf. Bake 15 minutes longer. Let stand 10 minutes.
Yields: 6 to 8 servings

While living in the Clearwater area of Florida, Greg and I were spoiled by having some wonderful Greek restaurants around. This is due to the huge Greek population in the Tarpon Springs area. Unfortunately, since moving back to south Florida, we haven't found a place to fulfill our need of great Greek food. So after having a craving for it, probably after seeing it on TV, we decided to take the matter into our own hands. If we can't get it out, then we will have to make it in. So we decided on Greek style chicken and veggie kabobs with a side of orzo.
This was an incredibly delicious meal. It was light but satisfying and I highly recommend it to everyone!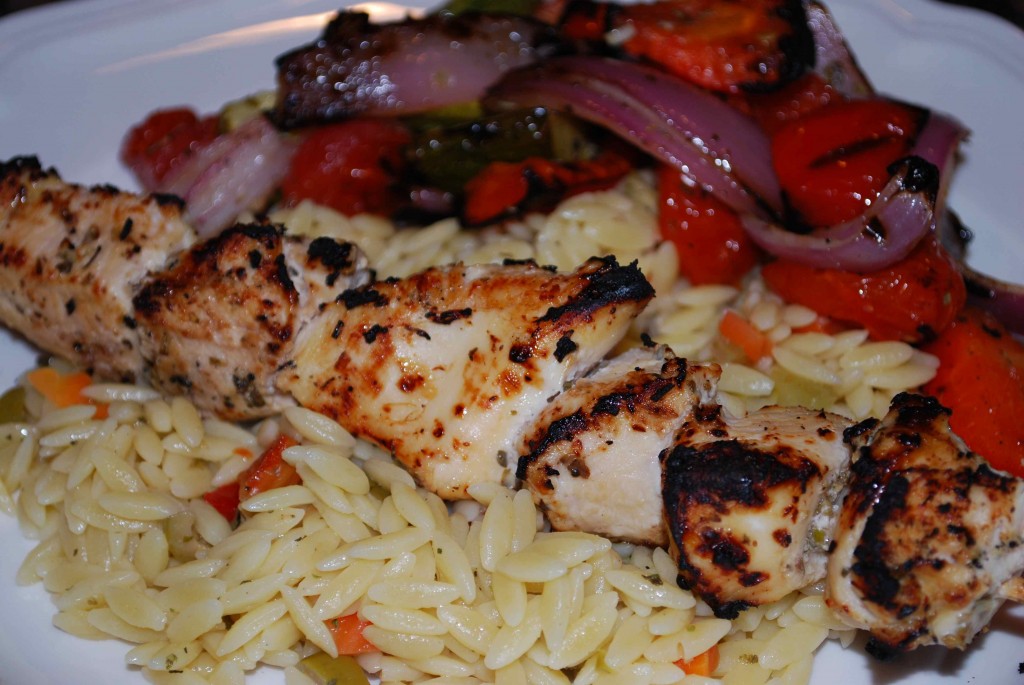 Marinated Greek Chicken Kabobs
1 cup fat-free plain yogurt (or Greek yogurt)
½ tsp. lemon zest
2 tbs. fresh lemon juice
2 tsp. dried oregano
½ tsp. salt
¼ tsp. ground black pepper
¼ tsp. crushed dried rosemary
1 pound skinless, boneless chicken breasts, cut into 1-inch pieces
Marinated veggies (recipe below)
In a medium bowl, mix the yogurt, lemon zest, lemon juice, oregano, salt, pepper, and rosemary. Place the chicken in a large freezer bag and pour marinade over it. Turn to coat. Place in the refrigerator and let marinate for 3 hours.
Preheat an outdoor grill at high heat.
Thread the chicken and veggie pieces alternately onto skewers. Discard the remaining yogurt mixture.
Grill the skewers on the prepared grill until the chicken is no longer pink and juices run clear.
Marinated Veggies
1/3 cup fresh lemon juice
1/8 cup white wine vinegar
2 tbs. dried oregano
4 tsp. extra virgin olive oil
6 cloves garlic
1-2 zucchinis, cut into 1 inch chunks
1 red onion, cut into wedges
cherry tomatoes
In a small bowl, combine the lemon juice, vinegar, oregano, oil and garlic. Place the prepared veggies into a large freezer bag and pour marinade over the top. Make sure all of the veggies are well coated. Refrigerate until ready to gill.

Who isn't looking for a decadent dessert they don't have to feel guilty about eating?? With the sweet tooth I posses along with being a chocoholic, this is a mission in life for me. :o) Especially since I gain weight just looking at food!
I was so happy to find a chocolate cookie that would feed my sweet tooth, but not leave me avoiding the scale afterwards. Did I mention that this cookie tastes great too?! It is actually more decadent than most full-fat cookies I have eaten. Think cookie meets brownie. Honestly, I really don't think any further explanation is needed. One bite and you will be sold, I promise!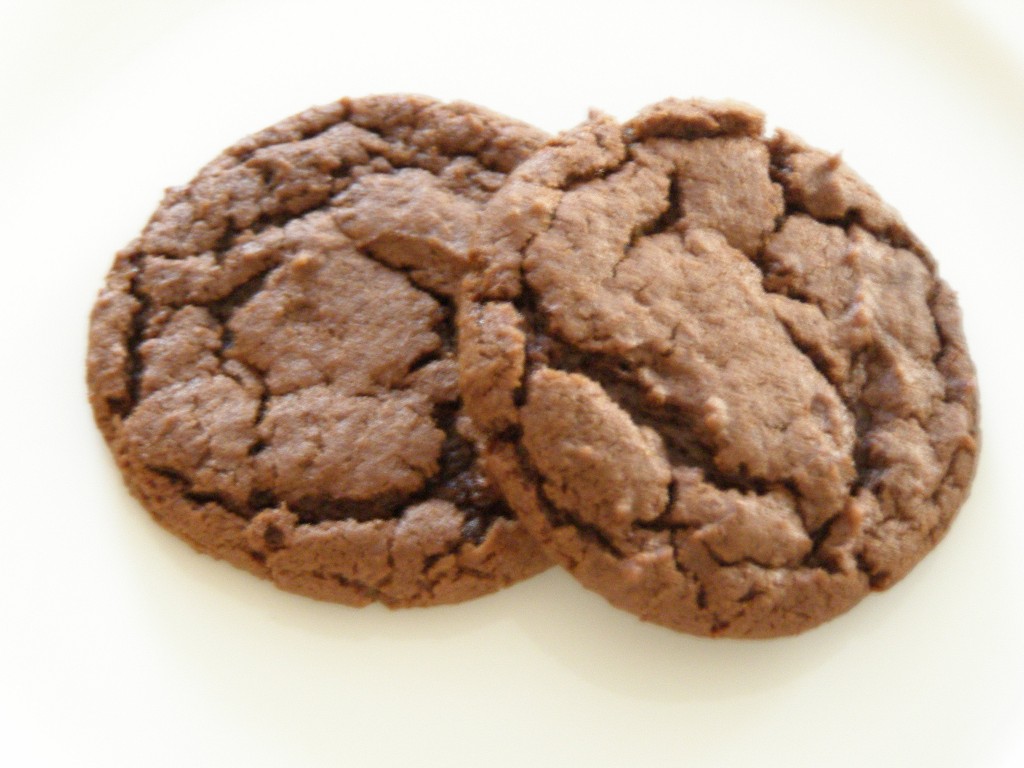 Cocoa Fudge Cookies
courtesy of cookinglight.com
1 cup all-purpose flour
1/4 tsp. baking soda
1/8 tsp. salt
5 tbs. butter
7 tbs. unsweetened cocoa
2/3 cup granulated sugar
1/3 cup packed brown sugar
1/3 cup plain low-fat yogurt (I used vanilla)
1 tsp. vanilla extract
cooking spray
Preheat oven to 350 degrees.
Lightly spoon flour into a dry measuring cup; level with a knife. Combine flour, baking soda, and salt; set aside. Melt butter in a large saucepan over medium heat. Remove from heat; stir in cocoa powder and sugars (mixture will resemble course sand). Add yogurt and vanilla, stirring to combine. Add flour mixture, stirring until moist. Drop by level tablespoons 2 inches apart onto baking sheets coated with cooking spray.
Bake at 350 degrees for 8 to 10 minutes or until almost set. Cool on pans 2 to 3 minutes or until firm. Remove cookies from pans; cool on wire racks.
Yields about 2 dozen cookies.