I try and pull inspiration for recipes and cooking techniques from all different sources. I watch my fair share of Food Network, subscribe to a ton of magazines, own quite a few cook books and frequent some cooking boards online. Those are the places that I probably get most of my inspiration from. Although those are all wonderful resources, I am always looking for something new to change things up a bit. I recently started visiting Tastespotting and Food Gawker, and they have become wonderful resources. Not only do you get to look at beautiful food photography, but all of those photos are linked to great recipes and ideas. I love these sites too because there is such a variety of information.
During one of my recent visits I saw a photo of delicious looking cake slices. They looked yummy enough for me to click and see where they led to. The photo took me to an adorable blog called My Baking Addiction, which is put out by Jamie. Not only did I find a fabulous sounding recipe, but I also found a wonderful new site for sweet treats! After reading over the recipe and seeing that I had two sad looking bananas hanging in my kitchen, I knew I had to make this for the Labor Day get together we would be attending.
Oh, and did I mention that this cake is topped with cream cheese icing?? This little recipe was just winning my heart over more and more by the minute. And win my heart over it did! Not only my heart, but the hearts of just about everyone who tried it. My uncle, who never eats desserts, came over and took three pieces on a plate to hide away for himself for later. Thank goodness I made the last minute decision to cut the larger pieces I made in half in order to create more, haha.
I should also mention that this is a very easy, fuss free recipe. How could you go wrong with an amazingly delicious cake that that doesn't take a whole lot of effort? I suggest you go out and make this as soon as possible!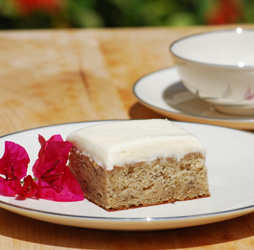 Banana Bars with Vanilla Cream Cheese Icing
adapted from My Baking Addiction, originally seen on allrecipes.com
Cake:
1/2 cup butter, softened
1 1/2 cups white sugar
2 eggs
1 cup plain Greek yogurt (I actually mixed a little plain with a bit of vanilla flavored that I had on hand)
1 teaspoon vanilla extract
2 cups all-purpose flour
1 teaspoon baking soda
1/4 teaspoon salt
1 teaspoon cinnamon
1 cup mashed ripe bananas (about 2 large bananas)
Icing:
2 (8) ounce package cream cheese, softened (I used 1/3 less fat)
1 stick unsalted butter, softened
1 1/2 lbs. confectioners' sugar ( adjust sugar for desired thickness and sweetness)
2 teaspoons vanilla extract
Preheat oven to 350 degrees F. Grease a 9×13 inch pan.
In a large bowl, cream together the butter and sugar until smooth. Beat in the eggs, one at a time, then stir in the yogurt and vanilla.
Combine the flour, baking soda, salt and cinnamon; stir into the batter. Finally, mix in the mashed banana. Spread evenly into the prepared pan.
Bake for 25-30 minutes in the preheated oven, until a toothpick inserted into the center comes out clean. Allow bars to cool completely before frosting with the cream cheese icing.
In the bowl of your mixer fitted with the paddle attachment, mix cream cheese and butter until smooth. Gradually add in the confectioners' sugar and mix until smooth and creamy. Stir in vanilla extract. Spread on cooled cake.  Refrigerate until ready to serve.
*This recipe creates a large amount of icing.  You could probably get away with making half of the recipe to ice this cake.  Although, there is nothing wrong with having leftover cream cheese icing hanging out in your refrigerator!