As a mentioned in a previous post, I decided to make my husband's cousin a little care package and send it off to her in college. This is her freshman year and of course she is living in the dorms and having the time of her life. It seems like just yesterday I was moving into my dorm and starting college, but it has actually been 8 years since that big move! It is crazy how time flies. I do remember though how nice it was to get packages of goodies from my mom and my Nana. I mean if she is anything like I was, I lived off of ramen noodles and rice, unless I ventured off to have some of the less than spectacular cafeteria food. Of course I had my occasional Subway, Taco Bell and Wendy's, which is a splurge on a college budget, but there was nothing like getting that package of homemade goodies. I had suite-mates, but no roommate, so I didn't have to share either.
Okay, enough reminiscing of days past, back to my care package for Juliann. I didn't realize how hard it was going to be to come up with the contents of the package. The main problem being, the temperatures down here in Florida are well into the 90's and I knew anything that contained too much chocolate was going to melt. So I needed things that weren't only sturdy (to make it through the shipping process), but that would also get to her without being a complete and utter mess. So I decided on the Apple Cinnamon Scones I mentioned in a previous post and also went with a Oatmeal Chocolate Chip Blondie. I figured since the blondies were much more dense than a cookie the chocolate chips should hold up fairly well. I think my conclusion was correct, but Juliann will have to confirm that for me. Just an FYI, the scones didn't do as well getting to her as I would have liked. They were more of a muffin consistency than a typical scone consistency, so by the time they got to her they were a bit on the soggy side. Once again, I believe the blondies were okay though, but Juliann will have to confirm.
I originally found this recipe on Martha Stewart's website, but I did some modifications because honestly, they sounded a bit bland in their original form. The final product came out quite nice. My husband absolutely loved them! It's a good thing he went out of town the day after I made them or else they probably would have never made it to you Julianne! This is a very simple recipe that is perfect for having around the house. With school just starting back this is a great treat for an after school snack or for the lunch boxes too. Not that I have children to test this theory on, but I am assuming. One day though, one day.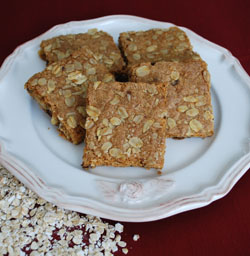 Oatmeal Chocolate Chip Blondies
adapated from MarthaStewart.com
1/2 cup (1 stick) unsalted butter, room temperature, plus more for pan
1/2 cup packed light-brown sugar
1 large egg
1/2 teaspoon vanilla extract
1 cup all purpose flour
1/2 cup granulated sugar
1 teaspoon baking powder
1 cup old-fashioned rolled oats (not quick-cooking)
1/2 cup semi-sweet chocolate chips (I used semi-sweet minis)
Preheat oven to 350 degrees. Brush an 8-inch (or 9 inch) square baking pan with butter. Line bottom and two sides with a strip of parchment paper, leaving a 2-inch overhang on both sides. Butter paper, and set pan aside.
Using a mixer, beat butter and brown sugar until light and fluffy. Add egg and vanilla, and beat until combined. With mixer on low, gradually add the flour, granulated sugar and baking powder; mix just until combined. Mix in 3/4 cup oats. Pour batter into prepared pan.
Using a spatula or table knife, smooth batter evenly. Sprinkle with remaining oats, pressing gently to adhere. Bake until a toothpick inserted in center comes out with only a few moist crumbs attached, *30 to 35 minutes (see note below). Let cool in pan 30 minutes.
Using overhang, transfer blondie (still on paper) to a wire rack to cool completely. Place on a cutting board (peel off paper); using a serrated knife, cut into 16 squares. Store blondies in an airtight container at room temperature.
*Notes:
-If you are using a 9 inch pan, I suggest checking the blondies at 20-25 minutes (depending on your oven), otherwise they may get too dry.  I completely forgot that I used a larger pan than directed and left them in the full time; they were good but I would have liked them a bit more moist.
-According to Martha Stewart's website, these will freeze for up to 2 months.
Yields: 16 bars