As you may have noticed, I was absent for about two weeks, up until two days ago. My husband and I were actually in Long Island and NYC for a wedding and vacation for a few days and then I had family visiting for a week. So it has been a bit hectic and I apologize for my lack of posting. I promise that I will be sharing some highlights from our NYC trip very soon though. Needless to say, we had some amazing food during our visit.
While wandering around the city we decided to check out the market and shops in Grand Central Terminal. We were very excited to find a Penzey's, since we don't have one in South Florida and have always ordered online. We were also intrigued by this little oil and vinegar shop we came across, Oliviers & Co or O & Co. I let my husband take a peak while I ran to a different store to pick something up for my mom. When I returned he seemed quite excited about what he had found in the shop. The lady pretty much let him taste every oil and vinegar in the shop, even the bottles that were priced well over $100. They also had a great selection of imported pastas. So now the question was, what do we buy? So I tasted a few and we finally made some decisions.
Our final choices included:
Gaec Salvator Extra Virgin Olive Oil – France
Basil Extra Virgin Olive Oil
Fig Vinegar – Provence
Purple Basil Vinegar – South Asia
Penne with Wheat Germ
Straccetti with Wheat Germ
We were so excited to return from our trip and find our products were shipped right behind us and arrived a couple of days later. My husband's birthday was quickly approaching and he loves pasta, so I knew this would be a great opportunity to try out some of our new goods. I decided to do a pasta tasting for his birthday dinner. One of the dishes would have to be pesto, because I felt that would be a great way to showcase our new Gaec Salvator. I started searching for a great, simple recipe. Of course I turned to Cook's Illustrated and was happy to find a classic version in my The New Best Recipe book. I figured I couldn't go wrong with that.
The outcome? A perfectly simple pesto that was made even better with our incredible EVOO.
Stay tuned for more recipes to come using our delicious new additions!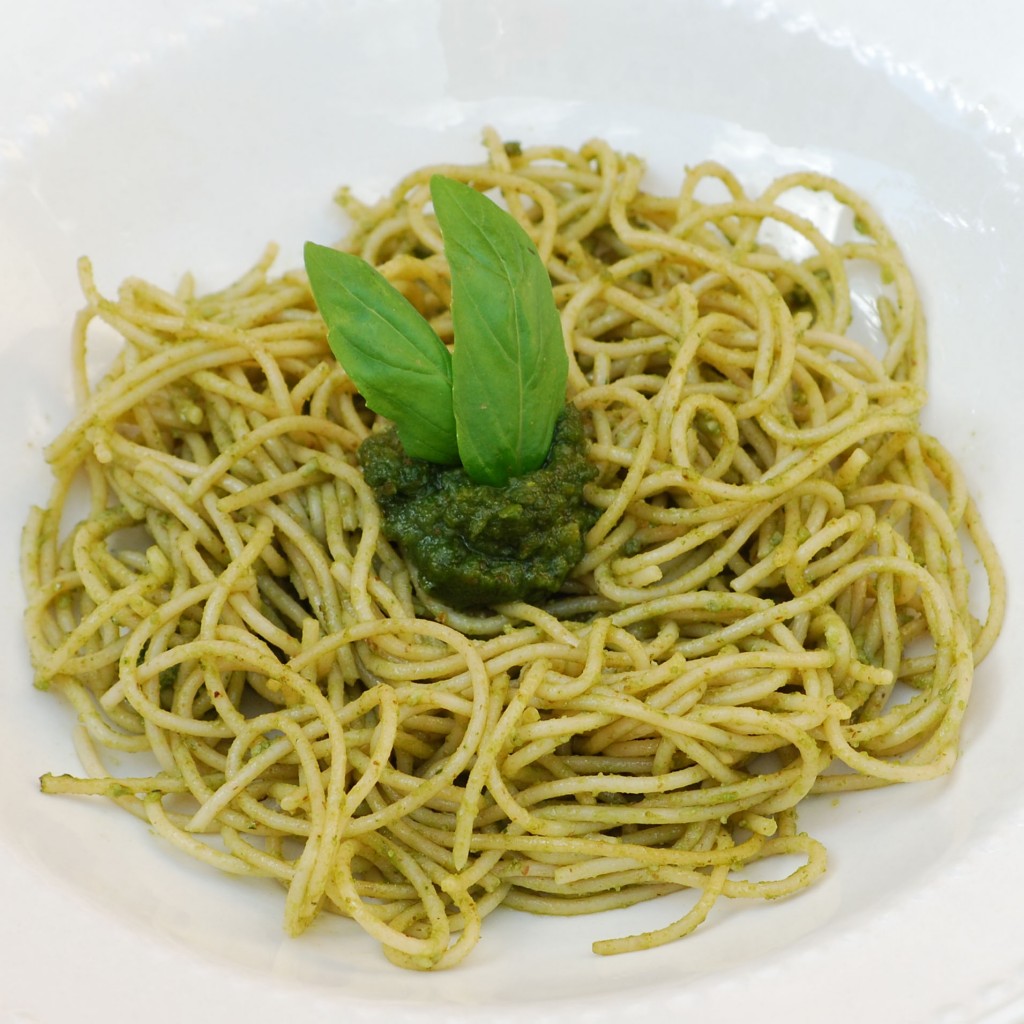 Classic Pesto
courtesy of Cook's Illustrated,
The New Best Recipe
1/4 cup almonds (pine nuts or walnuts are fine too)
3 medium garlic cloves, unpeeled
2 cups packed fresh basil leaves
2 tablespoons fresh parsley leaves (optional-I did not use)
7 tablespoons extra virgin olive oil
Salt
1/4 cup freshly grated Parmesan cheese
Toast the nuts in a small, heavy skillet over medium heat, stirring frequently, until just golden and fragrant, 4-5 minutes. Transfer the nuts to a plate.
Add the unpeeled garlic to the empty skillet. Toast, shaking pan occasionally, until fragrant and the color of the cloves deepens slightly, about 7 minutes. Let the garlic cool, then peel and chop.
Combine the basil and parsley (if using) in a heavy-duty zipper-lock plastic bag. Pound the bag with the flat side of a meat pounder or rolling pin until all the leaves are bruised.
Place the nuts, garlic, pounded herb(s), oil, and 1/2 tsp. salt in a food processor. Process until smooth, stopping as necessary to scrape down the sides of the workbowl. Transfer the mixture to a small bowl, stir in the Parmesan cheese, and adjust the salt to taste.
The surface of the pesto can be covered with a sheet of plastic wrap or a thin film of oil and refrigerated for up to 3 days.
Yields: about 3/4 cup