I really feel like I should have been born Italian. I just love the culture and food. I mean their ingredients alone are enough to make me drool. Italian food is my absolute favorite thing to cook by far. With that said, of course Giada De Laurentiis is one of my favorite chefs. Her recipes are very inspiring and open doors for you to explore many options.
Recently I was looking for a lighter pasta dish. I didn't want a heavy sauce, just something refreshing. While looking through Giada's Family Dinners I found a recipe for Fusilli with Shrimp and Arugula. It sounded great, but I wanted to put my own twist on it. In the end it turned out fabulous and is now a favorite of mine and Greg's. We have also made it without the shrimp as a simple side dish.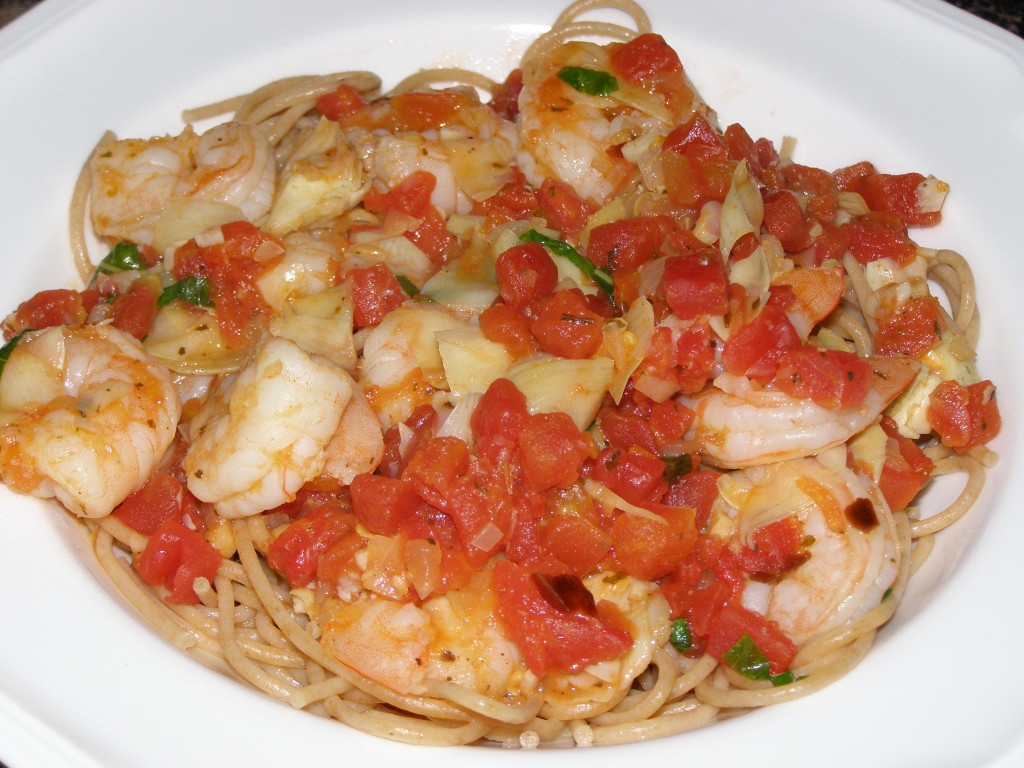 Spaghetti with Shrimp and Basil
adapted from Giada's Family Dinners
1/4 cup olive oil
1/4 cup finely chopped shallots (or yellow onion)
1 tbsp. minced garlic
1/4 tsp. crushed red pepper flakes
1 cup dry white wine
1 lb. large shrimp, peel and deveined
1 cup petite diced tomatoes
salt
fresh ground black pepper
12 ounces dried thin spaghetti (or pasta of your choice)
about 6 leaves of fresh basil
Heat the oil in a large skillet over medium heat.  Add the shallots, garlic, and red pepper flakes; saute until translucent, about 2 minutes.  Add the wine.  Simmer until the wine reduces by half, about 5 minutes.  Add the diced tomatoes and stir to combine.  Add the shrimp and cook, stirring, just until they are pink; about 2 minutes.
Meanwhile, bring a large pot of salted water to a boil.  Add the spaghetti and cook, stirring often to prevent the pasta from sticking together, until tender but still firm to the bite; about 8 minutes.  Drain.
Add the spaghetti and the basil (torn into pieces) to the skillet with the shrimp.  Toss to combine.  Season the pasta to taste with salt and pepper.
Yields about 4 servings.