Have you ever come across a recipe or saw one being made on TV and decided that you had to make that for dinner that same night? This was exactly what went through my mind while watching an episode of Everyday Italian. While Giada was cooking away on my television, I was trying to keep myself from drooling. Normally this dish would have had to go on the back burner for a while because although Greg loves Italian food, I didn't really think it would be something he would like. Well, wasn't I lucky, because Greg just so happened to have to work at Dolphin Stadium that night which meant I was on my own for dinner. Pasta Ponza it was!
I was short some of the ingredients so I had to make a few substitutions, but the dish was still amazing! I am sure it would be even better following the exact recipe, but I was quite pleased with my version as well.
The dish is just so rich but yet light at the same time and is one of those things that just comforts you. I actually made it for myself again the next time Greg worked a game. He saw a picture of it on my computer (waiting to be blogged about) and he was like, "What is that?!" I told him and he seemed pretty disappointed that I made it while he was working. Go figure! I told him that I didn't think he would like it and promised him I would make it again while he was home. Well, I haven't made it for him yet, but it will definitely be in the repertoire again in the near future.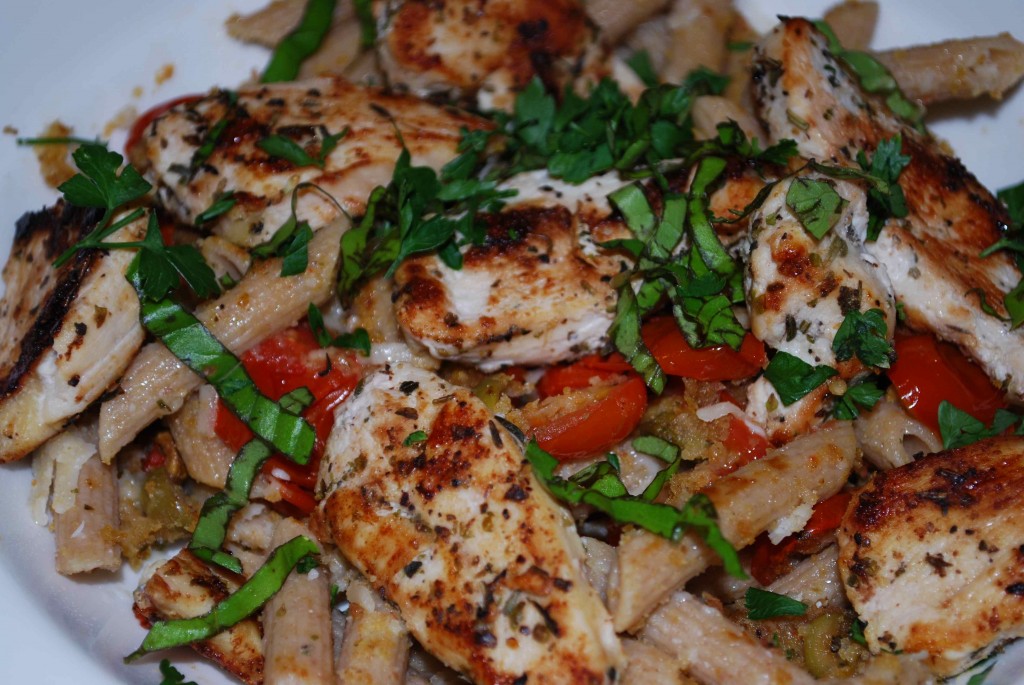 Pasta Ponza
Adapted from Giada De Laurentiis
Butter for greasing
2 cups (12 ounces) red cherry or grape tomatoes, halved
2 cups (12 ounces) yellow cherry or grape tomatoes, halved (I only used red)
1/4 cup capers, rinsed and drained (I didn't have any on hand so I diced up Spanish olives)
1 tbs. extra-virgin olive oil, plus extra for drizzling
1/2 tsp. kosher salt, plus extra for seasoning
1/4 tsp. freshly ground black pepper, plus extra for seasoning
1/2 cup Italian-style seasoned breadcrumbs
1 pound ziti or other short tube-shaped pasta
1 1/4 cups (2 1/2 ounces) Pecorino Romano cheese, grated (I substituted Parmigiano Reggiano)
1/4 cup chopped fresh flat-leaf parsley (I used fresh basil)
*I also added some grilled chicken on top for a more balanced meal.
Place an oven rack in the center of the oven. Preheat the oven to 375 degrees F. Butter an 8 by 8-inch glass baking dish. Set aside.
Place the tomatoes, capers (or olives), 1 tablespoon olive oil, 1/2 teaspoon salt, and 1/4 teaspoon pepper in the prepared baking dish. Toss to coat. Sprinkle the breadcrumbs over the tomato mixture. Drizzle the top with olive oil and bake for 30 to 35 minutes until the top is golden. Cool for 5 minutes.
Bring a large pot of salted water to a boil over high heat. Add the pasta and cook until tender but still firm to the bite, stirring occasionally, about 8 to 10 minutes. Drain and reserve about 1 cup of the pasta water.
Place the pasta in a large serving bowl. Spoon the tomato mixture onto the pasta. Add the cheese and toss well. Thin out the sauce with a little pasta water, if needed. Season with salt and pepper, to taste. Sprinkle with the chopped parsley (or basil) and serve immediately.
Yields 4-6 servings