We had a family gathering at my husband's grandparent's house this weekend. When I asked if she wanted me to bring something of course his grandmother said no, we just needed to bring ourselves. Well, I haven't really done any baking since we moved and I was really itching to get in the kitchen and do what I love most. I decided to make my grandma's "famous" brownies. I had asked her for the recipe quite a while ago but never got around to making them. For as long as I can remember she has always made these brownies for pretty much every holiday or family gathering. We all always look forward to these brownies (hence why I called them "famous")! Needless to say they were a hit with my husband's family as well. The tray was more than half empty before it was even time for dessert.
I am really glad that everyone enjoyed them as much as I always have. It is always fun to share a recipe that has been passed down. Next time around I may even try to put my own twist on them….Greg has already put his request in for adding chocolate chips. :o)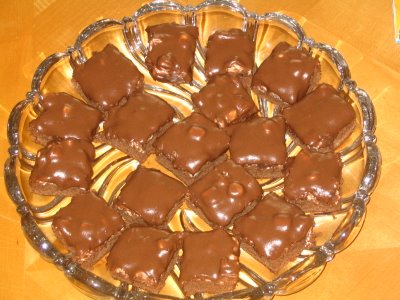 Grandma Smalley's Brownies
1 cup sugar
1/2 cup butter (softened)
3/4 cup flour
2 eggs
2 tbs cocoa
1 cup nuts (optional – I left them out)
pinch of salt
small marshmallows (about a half a bag)
Preheat oven to 350 degrees. Cream sugar and butter. Add the eggs and mix until combined. Sift the flour, salt and cocoa together and then add to the egg mixture. Mix in nuts (if desired). Line a square cake pan with parchment paper (this isn't necessary but it makes for easy removal – otherwise make sure to grease your pan). Pour batter into the pan.
Bake at 350 degrees for about 25 minutes (33 minutes for a glass pan). When brownies are done remove them from the oven and immediately spread the marshmallows on the top. You can add a tin foil tent over the pan for a few minutes to make the marshmallows melt nicely but it isn't necessary.
Let cool and cover with icing (recipe follows).
Chocolate Icing
1/4 cup butter (softened)
2 cups confectioners sugar
2 tbs cocoa
2-4 tbs half & half (I didn't have any so I used milk and it worked fine)
Mix the butter sugar and cocoa in a bowl until it starts to combine. Add two tbs. of half & half and mix well. Add additional half & half until you reach the correct consistency.