Well they may be puffs of sweetness if someone else makes them! Sadly I don't think I am cut out to make meringues. My husband and I have been trying to get back into shape and back into the routine of eating healthy. I saw Ellie Krieger make these Chocolate-Almond Meringues on her show the other day and thought they would be a perfect (low fat) sweet treat for us. I made a first attempt at them last week and they completely flopped. I cooked them for 40 minutes at 250 degrees as the recipe instructed. Once they cooled they became super sticky and soggy. Yuck!
I didn't want to let them defeat me so I asked the girls on the WC Nest board about their experience with meringues and I referred to a few other recipes. I decided to try the route of heating the oven and then turning it off when I put the meringues in and leaving them in for a few hours. When I took them out I could tell they weren't done so I put them in the oven at 250 for another 30 minutes and then let them stand in the oven for quite a while again after I turned it off. When I first took them out they were PERFECT!! I was so happy and thought I finally had a success. Well, to my disappointment they weren't as perfect the next day. :o( They aren't as soggy as the first time but they aren't crispy like they should be either. I think I am going to give the meringue making up now. I have posted the recipe below in case anyone else would like to take a crack at it. Please let me know if you have any better success!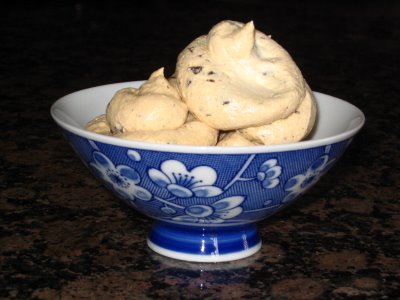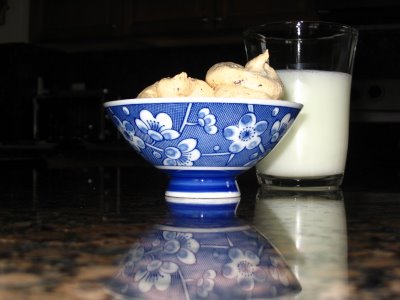 Chocolate-Almond Meringues
courtesy of Ellie Krieger
3 egg whites
1/4 tsp. cream of tartar
1/3 cup superfine (caster) sugar*
3/4 tsp. almond extract
2 oz. semi-sweet chocolate (chopped)
Preheat oven to 250 degrees F. Line a baking sheet with parchment paper and set aside (I actually had to use two baking sheets). Place egg whites and cream of tartar in a clean, dry bowl of a stand mixer and beat until foamy (I used my hand mixer). Add sugar and almond extract, beat until meringues hold soft peaks, about 3 minutes. Fold in chocolate gently until just incorporated. Using a pastry bag or a sealable plastic bag with the corner snipped off, pipe meringue by the tablespoon onto cookie sheets. Bake for 40 minutes, then remove from oven and let cool completely before removing from parchment paper. Transfer to an airtight container.
*You can make your own caster sugar by pulsing granulated sugar in a food processor for 30-40 seconds.