This month's Tasty Tools hosted by Joelen's Culinary Adventures, is bakeware. Since everyone seems to be catching the Fall bug I decided to use my muffin pans and make Pumpkin Muffins. This is my first time participating in the event (actually any event that has been advertised on the WC board) so I am very excited!
Okay so let's get to the muffins. I have been trying to cut calories lately so these muffins are actually low fat and were inspired by a Weight Watchers friendly recipe that a friend told me about a few years ago. The original recipe was good and extremely easy but I just wasn't crazy about the texture; they were very dense and the tops were always gooey. I decided to do a little research and attempt to make the recipe a little more pleasing without making it unhealthy.
I was very pleased with the outcome. The muffins have more of a cake like texture and do a better job of resembling a full-fat muffin. Pumpkin muffins that you don't feel guilty about eating, what more could you ask for??
Well, you could visit Joelen's Culinary Adventures to see a ton of other delicious recipes in the Tasty Tools September Round-Up!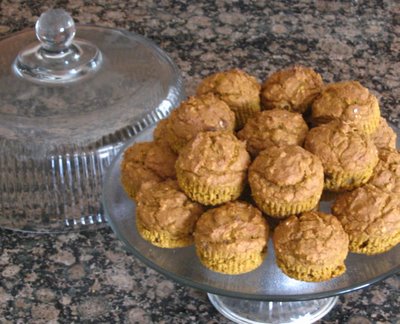 Low Fat Pumpkin Muffins
1 box of spice cake mix
1/2 cup instant oats
1 15 oz. can of pumpkin
1 to 2 egg whites
3/4 cup water (or milk)
1 tsp. vanilla extract
Preheat oven to 350 degrees. Combine cake mix and instant oats. Add pumpkin, egg whites, water (or milk) and vanilla extract. Mix until well combined.
Line your muffin pans with paper liners (I suggest spraying the liners with a little cooking spray since the recipe has no oil in it). Fill the liners 3/4 of the way up. Place in oven and bake 20-25 minutes. Recipe should make 24 muffins.
It doesn't get much easier than that!