I would like to start out by saying that I never felt that I was a deprived child (food wise) until my husband introduced me to Nutella. Yes, I had never tasted or even knew about Nutella until I was about 20 years old and in college. I did have my share of Fluffer Nutter sandwiches as a child though, so I guess I wasn't too deprived. : p The ironic part of this situation is that my husband was actually the yummy food deprived child, but yet knew of the fabulous Nutella. Yeah, he was the kid who went to birthday parties and then got sick afterwards because he gorged himself on so much junk food (since he wasn't allowed to have any at home).
Okay, so where was I going with this whole Nutella discussion? Well, I was going to a Dolphins football game with some family and I wanted to make cookies to bring along for tailgating. On my quest for a new cookie recipe I came across Culinary Concoctions by Peabody. While browsing through her wonderful site I found a cookie recipe that called for the cookies to be stuffed with Nutella. I mean could you really ask for anything more than a Nutella stuffed cookie…I DON'T THINK SO!! Of course I had to make them.
The outcome was delicious! It is also a great recipe if you are looking for something homemade but don't have a ton of time because you can always use store bought sugar cookie dough for the base.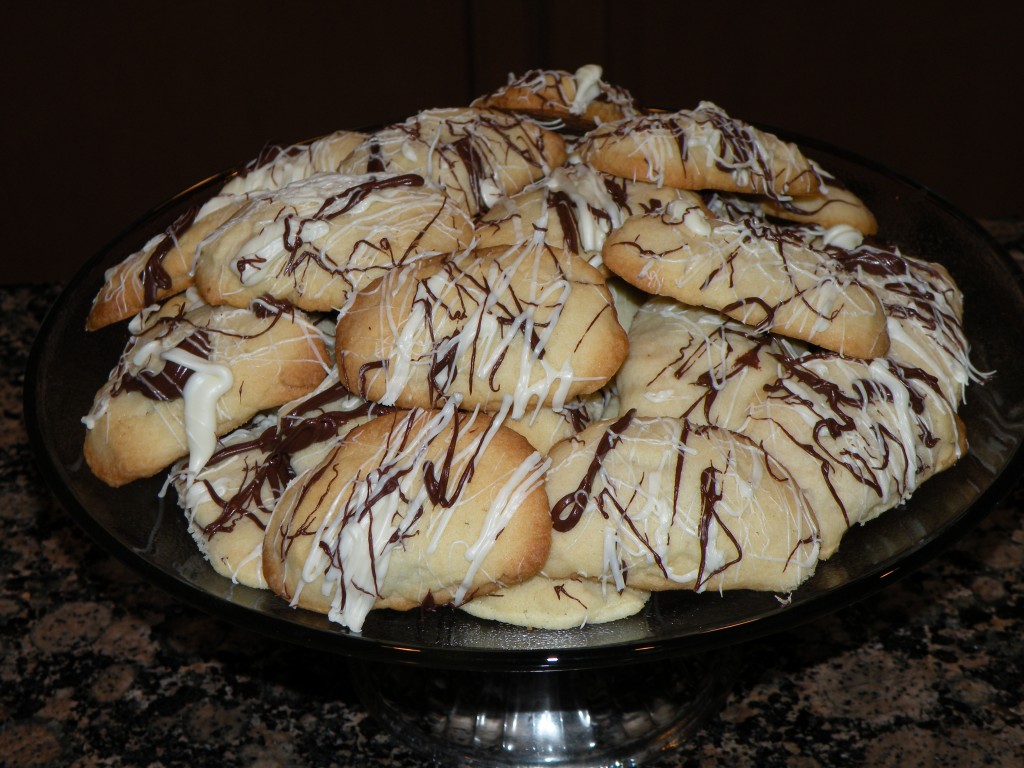 Nutella Ravioli Cookies
courtesy of Culinary Concoctions by Peabody
18 oz. of fresh sugar cookie dough (I used Peabody's Sugar Cookie recipe)
OR
18 oz. of store bought cookie dough
1/2 cup Nutella
3 tbs. white chocolate chips
3 tbs. chocolate chips
Preheat oven to 350 degrees.
Roll out cookie dough to about 1/4 of an inch thickness. Using a cookie cutter or glass dipped in flour, cut out rounds ( I used a glass and it worked perfectly). Using a piping bag or a plastic bag with the end snipped off, pipe about a 1/2 tsp. of Nutella into the center of each round. Fold rounds over to create a half moon shape and seal off edge. Place on an ungreased cookie sheet and bake for about 9-10 minutes. Move to racks and cool completely.
When cookies are completely cooled, melt the white chocolate and chocolate chips separately in the microwave for 1 minute. Using a fork, drizzle both chocolates over the top of the cookies. Then enjoy!