I had two pitiful bananas dangling from their little banana hanger in my kitchen. Normally I would be wasteful and throw them away because as much as I would like to, I don't bake on a regular basis due to the fact that I don't need the indulgent food in my house. As I have mentioned before, the skinny gene is not a friend of my family. So, I am not one of those people who generally holds onto their ripe bananas. Well, I guess the What's Cooking board that I frequent must be wearing off on me because instead of tossing them I was determined to find a recipe to use them in. I figured I would treat my coworkers to a Friday sweet. I searched for banana bread recipes (of course the first thing that came to mind) but most of the recipes I found called for more than two bananas. Just when I thought I was going to have to get really creative I logged onto the WC board and there just happened to be a blog update from angelashley titled Peanut Butter Banana Muffins. I checked out the recipe and to my delight it only called for two bananas, YAY! My two little bananas wouldn't have to go to waste. It was obviously meant to be that I make these lovely little muffins. I was also itching to use my new silicone baking cups. :o)
If you aren't a fan of super sweet things in the morning then this recipe is perfect. They have a very mild sweetness even with the streusel topping. My coworkers loved them.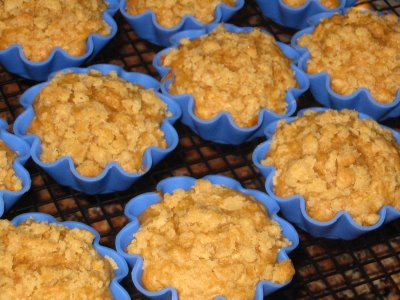 Peanut Butter Banana Muffins
courtesy of angelashly, Ashley's Attempts in the Kitchen
1 cup all purpose flour
3/4 cup quick cooking oats
1/3 cup packed brown sugar
1 tbs. baking powder
1 cup milk
1/2 cup peanut butter
1/2 cup mashed ripe banana
1 egg, beaten
2 tbs. vegetable oil
1 tsp. vanilla extract
1/4 cup all purpose flour
2 tbs. butter, melted
2 tbs. packed brown sugar
Preheat your over to 375 degrees. Grease 12 muffin cups or line with muffin liners (I used silicone cups and they were great). Combine 1 cup of flour, quick cooking oats, 1/3 cup brown sugar and baking powder. Whisk together milk, peanut butter, mashed banana, egg, oil and vanilla.
Add banana mixture to dry ingredients, mixing just until moistened. Fill the prepared muffin cups 3/4 full.
In a small bowl, stir together 1/4 cup flour, melted butter and 2 tbs. of brown sugar. Sprinkle the topping evenly over the muffins.
Bake in preheated oven for 18 minutes, until golden brown. Best served warm (but everyone enjoyed them room temperature as well).
Note: I actually got about 15 or 16 muffins out of the batter.