There is no denying that Greg and I love sweets. I tend to be more of the dessert person (i.e. cakes, pastries, etc.) while Greg prefers candy and ice cream. He isn't much of a cake person, but he loves cookies and brownies. So, that brings me to our dilemma….if there are sweets in the house, we will eat them! Unfortunately our waistlines don't enjoy the treats as much as our taste buds do.
Thankfully there is this wonderful website/magazine called Cooking Light that lets us feed our sweet tooth without increasing our clothing size. I frequent this site quite a bit to find healthy or at least semi-healthy treats. I wanted to make brownies but I wanted something a bit different. When I came across the Raspberry-Cream Cheese Brownies I knew I found a winner. Chocolate and raspberry are a match made in heaven and then you add cream cheese…..what more could you want?
These were definitely a winner and there is no doubt I will make them again. The best part….they are delicious and I don't even have to feel guilty while indulging.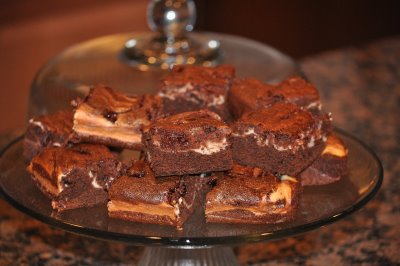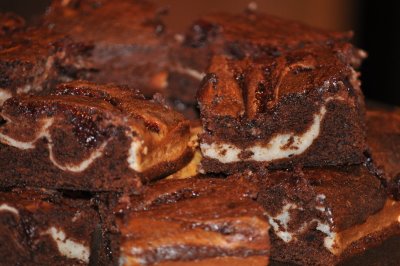 Raspberry-Cream Cheese Brownies
courtesy of cookinglight.com
Filling:
1/3 cup sugar
1/3 cup (3 oz.) 1/3 less fat cream cheese, softened
2 tsp. all-purpose flour
1/2 tsp. vanilla extract
1 large egg white
Brownies:
Cooking Spray or Parchment Paper
3/4 cup all-purpose flour
1/4 tsp. baking powder
1/4 tsp. baking soda
1/8 tsp. salt
1 cup sugar
2/3 cup unsweetened cocoa
1/4 cup of butter or stick margarine, melted
1 tbs. water
1 tsp. vanilla extract
1 large egg
2 large egg whites
3 tbs. raspberry preserves
Preheat oven to 350 degrees.
To prepare the filling, mix the first 5 ingredients at medium speed of a mixer until well blended, then set aside.
To prepare the brownies, coat the bottom of an 8 inch baking pan with cooking spray (I prefer to line the pan with parchment paper for easy release). Lightly spoon 3/4 cup flour into dry measuring cups, and level with a knife. Combine flour, baking powder, baking soda and salt in a medium bowl. Combine (in another bowl) 1 cup sugar with cocoa, butter, water vanilla extract, egg and egg whites, mixing until smooth. Add the flour mixture to the wet ingredients, stirring just until moist. Spread 2/3 of the mixture into the bottom of the prepared pan. Pour the cream cheese filling over the batter, spreading evenly. Carefully drop the remaining batter and raspberry preserves by spoonfuls over the filling. Swirl together using the tip of a knife to make a marble effect.
Bake at 350 degrees for 40 minutes or until a toothpick inserted in the center comes out almost clean. Cool on a wire rack and then ENJOY!