I decided to make a red velvet cake for Father's Day this year (I'll blog about it as soon as I get the pictures from my mom). The recipe called for buttermilk and as I went shopping for the ingredients I found out that I couldn't buy just a small container of buttermilk, I had to buy a whole liter. Now what do I do with the 3 cups of buttermilk I have left in my refrigerator?? I went to the ladies on the What's Cooking board to see if they had any tried and true recipes that call for buttermilk. I received four or five recipes that all sounded great so I then had to figure out which to make. Since I would be making this on a weeknight after work (which means I will be exhausted) I decided to go with one that would be the least messiest and the least amount of work. I went with a pound cake. Thanks to thatgirlang I ended up with a great cake that was a crowd pleaser at work. Thanks Angie! This also gave me the opportunity to use a pretty bundt pan that I received as a bridal shower gift and completely forgot I had.
I have been trying to experiment and be more creative in the kitchen rather than always following recipes word for word, so I took her base recipe for the cake and modified it a tiny bit. Since the cake had lemon extract in it I decided to add some lemon zest as well. I also seem to find that pound/bundt cakes can be a bit bland for my taste so I chose to add a cream cheese glaze to it. I crossed my fingers that it would all turn out okay in the end and luckily it did. I was also so excited that my cake came out of the pan perfectly! I was a little worried because of the design aspects of the pan but I guess all of the greasing and flouring paid off, whew!
It was a delicious cake; very moist and tasty. It is a perfect cake to serve during breakfast or brunch because it isn't terribly sweet. Everyone kept complimenting on how beautiful it was. I couldn't take much credit on that though…the pan did all of that work, lol. ; )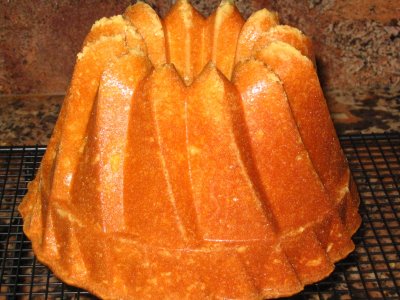 Buttermilk Pound Cake with Cream Cheese Glaze
adapted from Angie's recipe at Angie's Simple Cooking
3 cups all-purpose flour, sifted
1/4 tsp. baking soda
1/2 tsp. salt
1 cup butter
3 cups white sugar
6 eggs
1 tsp. lemon extract
1 tsp. vanilla extract
1 cup buttermilk
zest of 1 lemon
cream cheese glaze (recipe follows)
Preheat oven to 325 degrees F. Grease and flour one 9 or 10 inch tube pan. Mix together the flour, baking soda and salt. Set aside.
In a large bowl, beat butter with sugar. Mix in the eggs, one at time, beating well after each addition. Stir in the lemon and the vanilla extracts. Gently mix in flour mixture alternately with the buttermilk. Stir in the lemon zest. Pour batter into the prepared pan.
Bake in preheated oven for 90 minutes. Keep an eye on it though because mine was done in 75 minutes. Do not open oven door until after one hour. When cake begins to pull away from the side of the pan it is done. Let cool in pan for 10 minutes, then turn out onto a wire rack and cool completely.
Note: I ended up moving the oven rack to the notch just under the center because as the cake started to rise it got a little too close to the top of the oven and I was afraid it would burn.
Cream Cheese Glaze
adapted from Martha Stewart's Baking Handbook
4 oz. cream cheese, softened
1/2 cup confectioners' sugar, sifted
pinch of salt
1 tbs. freshly squeezed lemon juice (I added an additional 1/4 tsp.)
3 tbs. milk
1 tsp. lemon zest (about 1/2 of a lemon)
Beat together the cream cheese, sugar and salt until all is incorporated. Add the lemon juice and milk, mix well. Stir in the lemon zest. Pour over the cooled cake.
Note: If the glaze is too think, add milk 1 tsp. at a time.