During the holidays I saw Oreo Truffles mentioned on the What's Cooking board numerous times. You mention truffles and I am immediately intrigued. So I decided to look into these truffles that everyone spoke of. Pretty much crushed Oreos and cream cheese covered in chocolate….what more could a girl ask for? These definitely had to go on my "to make" list. I decided to whip a batch up for Christmas day. We would be going over to visit with family and I thought it would be the perfect treat. They are so incredibly easy to make, but they look like you purchased them at a high end chocolate store. Oh, did I forget to mention that they are also DELICIOUS!! I highly recommend these for any occasion. You can used whatever type of chocolate you prefer and you can change up the decorations. Just be prepared for them to disappear very quickly! :o)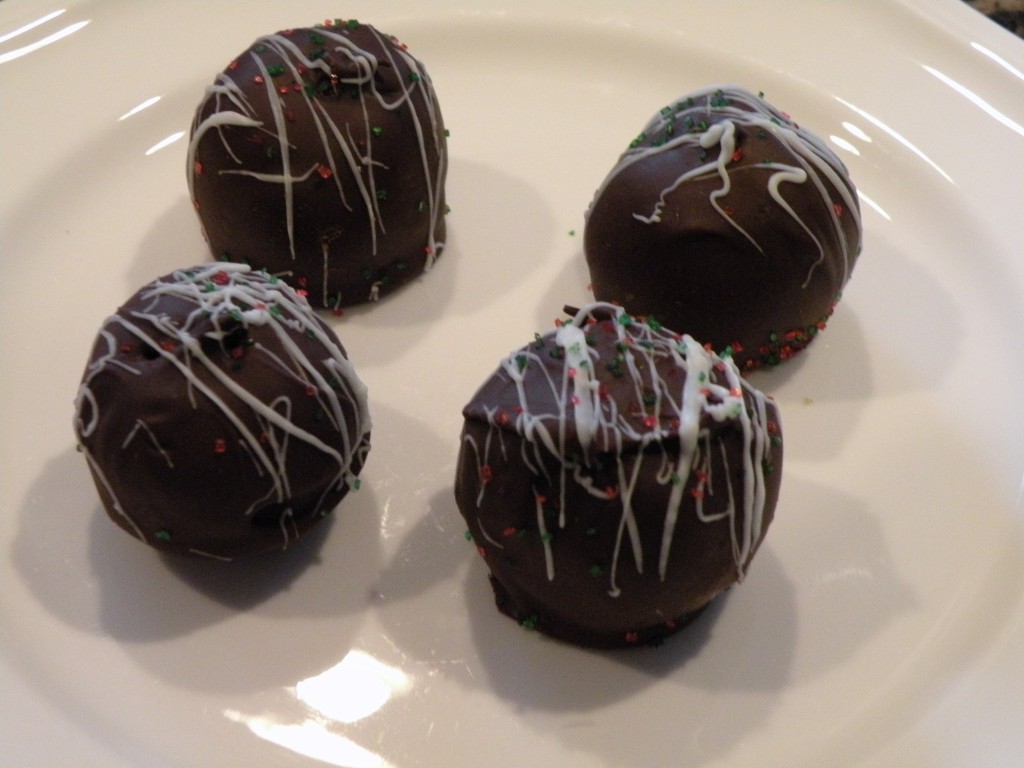 Oreo Truffles
courtesy of lovestoeat's weblog, originally from recipezaar.com
1 lb. Oreo cookies (3 sleeves) 8 ounces cream cheese, room temperature 1/2 tsp. vanilla extract 1 lb. milk chocolate 1/2 lb. white chocolate Using a food processor, grind cookies to a fine powder.
With a mixer, blend cookie powder, cream cheese and vanilla extract until thoroughly mixed (there should be no white traces of cream cheese).
Roll into small balls and place on wax-lined cookie sheet. (As suggested, I used my cookie scoop, refrigerated for a while, then rolled them and this made it a lot less messy).
Refrigerate for 45 minutes.
Line two cookie sheets with wax paper.
In a double-boiler, melt milk chocolate (I used a Pyrex dish over a pot).
Dip balls in chocolate and coat thoroughly.
With slotted spoon, lift balls out of chocolate and let excess chocolate drip off. (I used toothpicks to do this instead).
Place on wax paper lined cookie sheet.
In a separate double-boiler, melt white chocolate.
Using a fork, drizzle white chocolate over balls. (You may also choose to use decorative sprinkles or sugars for decorating).
Let cool.
Store in airtight container, in refrigerator.
Yields approximately 40 truffles.