Archive for the 'Truffles' Category
One thing I have learned since I started cooking and baking is that in many cases, the recipes that are the most impressive in looks are sometimes the simplest to make. Although this recipe has been shared on many a food blog and cooking board, I almost don't want to out it to my family and friends because of the simplicity. These little guys can be made so many different ways, and are so pleasing to the eye, but they couldn't be any easier to make.
I originally found this recipe on Katie's blog, Good Things Catered. By the way, she is a domestic goddess and you should check out her blog if you haven't already. She made them into these cute little flower pops that she actually used as centerpieces. Since I was making these as part of a gift, I wanted to go in a different direction with them. I decided to go for more of a truffle look. In my experience of making these, I have also found that they can be difficult in the dipping process. Instead of dipping this batch, I decided to use wax paper, place a dollop of chocolate on the paper, place the cake ball down on the circle of chocolate and then, using a spoon, pouring the chocolate over the top of the ball. After placing them in the refrigerator to cool and harden, you can peel the truffles right off of the wax paper. The result, a pretty little truffle with an interesting look.
These are so tasty and you can make them to please just about anyone's palette. So, I send you off now to be creative and create your own little masterpiece of a truffle. Of course feel free to use the recipe verbatim too!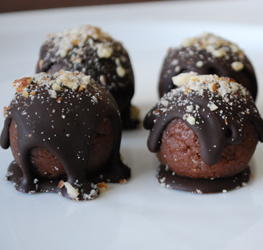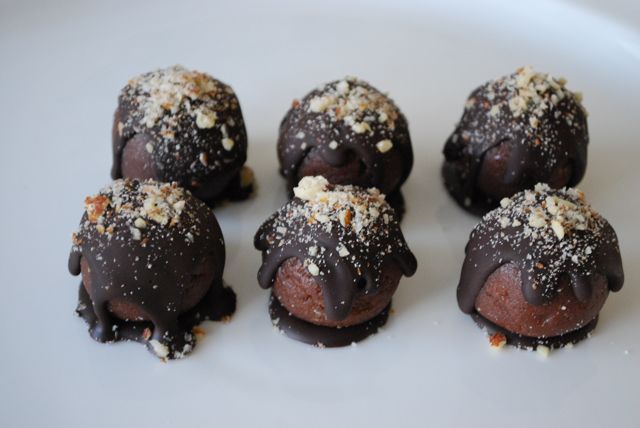 Chocolate Almond Cake Truffles
adapted from Good Things Catered, originally from Bakerella
1 box of yellow cake mix (or any recipe or flavor you choose)
1 can of chocolate frosting (or flavor of your choice)
1/2 tsp. almond extract
1 bag of dark chocolate morsels
crushed almonds for sprinkling on top
Prepare a 9×13 baking pan and bake your cake according to directions and let cool completely.
Slightly crumble your baked and cooled cake into a large mixer bowl, add the frosting and almond extract, stir to combine completely.
Take small amounts of cake mixture and roll into 1-inch balls, placing onto a parchment or wax paper lined baking sheet.
When all cake balls are rolled, place baking sheet into fridge overnight (this will form a crust around the edges and make the cake mixture much easier to work with)
In a double boiler, heat the chocolate morsels until they are completely melted and smooth.
Line a backing sheet with parchment or wax paper. For each truffle place a small dollop of the melted chocolate on the paper, place the cake ball on top of the chocolate and then spoon more chocolate over the top of the ball so it drizzles down the sides. Sprinkle crushed almonds over the top. Continue this process with each cake ball.
When finished, place the pan in the refrigerator until the the chocolate is completely cooled and set. You can then remove them from the paper and serve.

During the holidays I saw Oreo Truffles mentioned on the What's Cooking board numerous times. You mention truffles and I am immediately intrigued. So I decided to look into these truffles that everyone spoke of. Pretty much crushed Oreos and cream cheese covered in chocolate….what more could a girl ask for? These definitely had to go on my "to make" list. I decided to whip a batch up for Christmas day. We would be going over to visit with family and I thought it would be the perfect treat. They are so incredibly easy to make, but they look like you purchased them at a high end chocolate store. Oh, did I forget to mention that they are also DELICIOUS!! I highly recommend these for any occasion. You can used whatever type of chocolate you prefer and you can change up the decorations. Just be prepared for them to disappear very quickly! :o)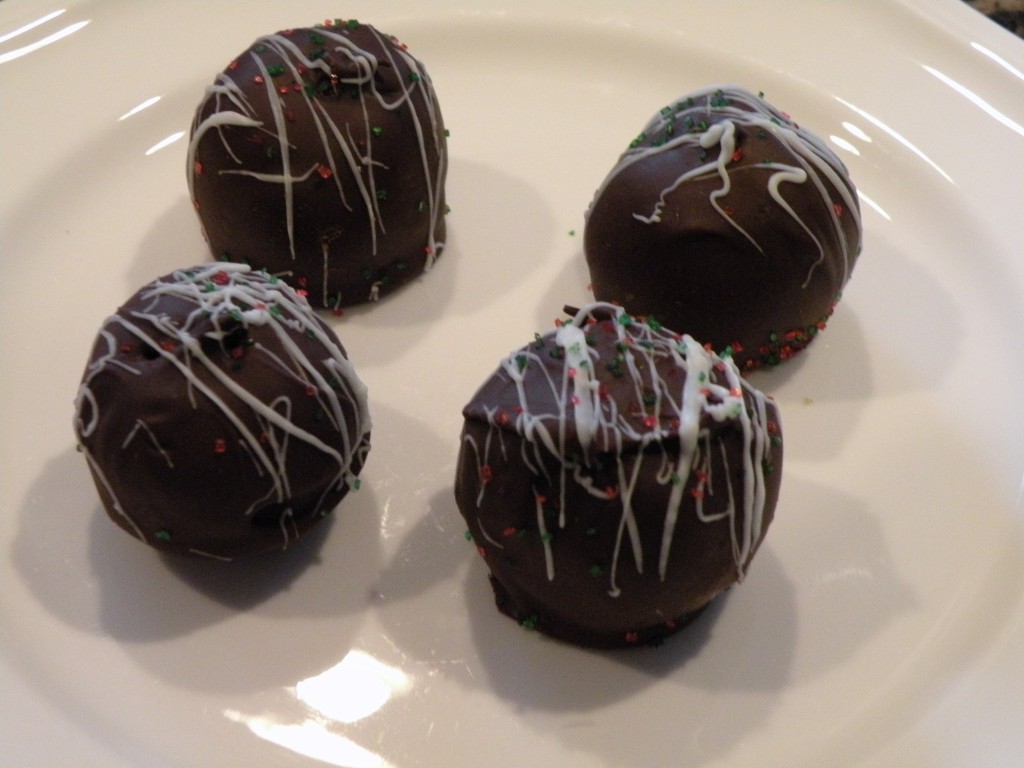 Oreo Truffles
courtesy of lovestoeat's weblog, originally from recipezaar.com
1 lb. Oreo cookies (3 sleeves) 8 ounces cream cheese, room temperature 1/2 tsp. vanilla extract 1 lb. milk chocolate 1/2 lb. white chocolate Using a food processor, grind cookies to a fine powder.
With a mixer, blend cookie powder, cream cheese and vanilla extract until thoroughly mixed (there should be no white traces of cream cheese).
Roll into small balls and place on wax-lined cookie sheet. (As suggested, I used my cookie scoop, refrigerated for a while, then rolled them and this made it a lot less messy).
Refrigerate for 45 minutes.
Line two cookie sheets with wax paper.
In a double-boiler, melt milk chocolate (I used a Pyrex dish over a pot).
Dip balls in chocolate and coat thoroughly.
With slotted spoon, lift balls out of chocolate and let excess chocolate drip off. (I used toothpicks to do this instead).
Place on wax paper lined cookie sheet.
In a separate double-boiler, melt white chocolate.
Using a fork, drizzle white chocolate over balls. (You may also choose to use decorative sprinkles or sugars for decorating).
Let cool.
Store in airtight container, in refrigerator.
Yields approximately 40 truffles.