I know this may seem like a sin, but I had never had Challah bread until I met my husband who just happens to be Jewish. Year's ago when we started dating, it didn't take me long at all to fall in love with some of his family's traditional holiday food. Challah has to be at the top of the list as one of my favorites though.
Since Greg and I have been together for over eight years, I have spent many Jewish holiday's with his family and traditionally they had store bought challah. When Greg and I moved away for a couple of year's, I wanted to make sure that he was still able to have his traditional food when the holiday's rolled around, so I taught myself how to make some of the dishes. When it came to the challah, I bought the frozen dough and made it that way. It was very yummy and it seemed a bit more homemade to me than the store bought version.
Well, this past year I decided that I was going to take a stab at making homemade challah and bring it to his mom's house for everyone to "hopefully" enjoy. I was able to get a wonderful recipe from the blog, It's Melissa's Kitchen. Hers looked beautiful and I was hoping that I would be able to make something that looked at least half as good. So with my fingers crossed I headed into the kitchen for my attempt at challah.
Mine didn't turn out quite as perfect looking as hers did, but for my first attempt I was pretty impressed and happy with the way that it did turn out! Luckily it tasted great too and was a big hit with the family. His grandmother still compliments me on the challah and how she can't wait to have it again.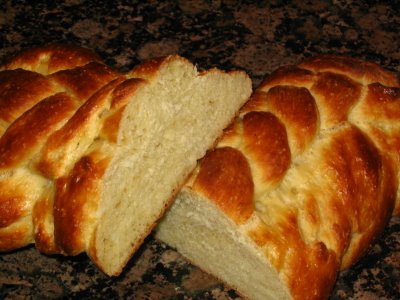 Fresh Baked Challah
courtesy of It's Melissa's Kitchen
3-3 1/4 cups unbleached all-purpose flour, plus extra for dusting
1/4 cup sugar
1 envelope instant or rapid-rise yeast
1 1/4 tsp. salt
2 large eggs plus 1 large egg yolk
4 tbs. (1/2 stick) unsalted butter, melted
1/2 cup plus 1 tbs. warm water (about 110 degrees)
1 large egg white (for the egg wash)
Whisk together 3 cups of flour, sugar, yeast, and salt in a medium bowl; set aside. Mix together 2 eggs, egg yolk, melted butter and 1/2 cup of water in bowl of standing mixer fitted with the dough hook (note: I did not have a stand mixer at the time and made this recipe fine without it). Add flour mixture to the wet mixture. Knead at low speed until dough ball forms, about 5 minutes, adding remaining 1/4 cup flour, 1 tablespoon at a time, as needed to prevent dough from sticking. Whisk the reserved egg white with remaining 1 tbs. water in a small bowl, cover with plastic wrap and refrigerate.
Transfer dough to a very lightly oiled large bowl, turning dough over to coat with oil. Cover with plastic wrap and let rise in a warm place until doubled in size, 1 1/2 to 2 hours.
Gently press dough to deflate, cover with plastic wrap and let rise until doubled in size again, 40 to 60 minutes.
Lightly grease a large baking sheet and set aside. Transfer dough to a lightly floured work surface. Divide dough into 2 pieces, one roughly half the size of the other. (Small piece will weigh about 9 ounces, larger piece about 18 ounces). Divide large piece into 3 equal pieces. Roll each piece into a 16-inch long rope, about 1 inch in diameter. Line up ropes of dough side by side and pinch ends together. Proceed to braid the three ropes together, then pinch ends to seal. Place braid on baking sheet. Divide smaller piece of dough into 3 equal pieces. Roll each piece into a 16-inch long rope, about 1/2 inch diameter. Braid together, pinching ends to seal. Brush some egg wash on top of larger loaf and place small braid on top of the larger braid. Loosely drape loaf with plastic wrap and let rise in a warm place until loaf becomes puffy and increases in size by a third, 30 to 45 minutes.
Adjust oven rack to the lower-middle position and heat oven to 375 degrees. Brush loaf with remaining egg wash. Bake until loaf is golden brown and instant-read thermometer inserted into side of loaf reads 190 degrees, 30 to 40 minutes. Place baking sheet on wire rack. Cool loaf completely before slicing.