I found this recipe while flipping through the October 2008 edition of Cooking Light.  It sounded almost too decadent to be considered a "light" recipe…what more could you ask for?  I decided to try it out while my mom came to stay with us for a weekend.  Of course it is a risotto so it was a bit time consuming, but in the end it was worth the time spent.  It sounded decadent and it was decadent, but without the guilt of the high calories of course.  I also usually adapt recipes to mine or my husbands liking, but this one was great just the way it was.
If you aren't in a hurry and you are looking for a recipe that looks like it was a lot harder to make than it actually was, then I would definitely recommend this seafood risotto.  It also doesn't hurt that it is very colorful and pleasing to the eye.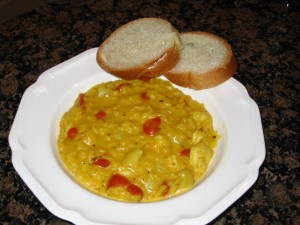 Seafood Risotto
courtesy of cooking light
2 cups fat-free, less sodium chicken broth
1 (8 oz) bottle of clam juice
2 tsp. butter
1/4 cup chopped shallots
1/2 cup uncooked Arborio rice
1/8 tsp. saffron threads, crushed
1 tbs. fresh lemon juice
1/2 cup grape tomatoes, halved
4 ounces medium shrimp, peeled and deveined
4 ounces bay scallops
2 tbs. whipping cream
chopped fresh parsley
Bring broth and clam juice to a simmer in a medium sauce pan (do not boil).  Keep warm over low-heat.
Melt butter in a large saucepan over medium heat.  Add shallots to pan; cook 2 minutes or until tender, stirring frequently.  Add rice and saffron to pan; cook 30 seconds, stirring constantly.  Add lemon juice to pan; cook 15 seconds, stirring constantly.  Stir in 1/2 cup hot broth mixture; cook 2 minutes or until liquid is nearly absorbed, stirring constantly.  Add remaining broth mixture, 1/2 cup at a time, stirring constantly until each portion is absorbed before adding the next (about 18 minutes total).
Stir in tomatoes; cook for 1 minute.  Stir in shrimp and scallops, cook 4 minutes or until shrimp and scallops are done; stirring occasionally.   Remove from heat; stir in cream.  Sprinkle with parsley, if desired.
Yields 2 servings.