As I mentioned in my last entry, we hosted a birthday dinner for my dad. I really wanted to make it special since not only was it his birthday, but it was the first time I had that side of my family over for a real dinner. I love to bake, so that is usually my favorite part of a meal. I was so excited about making him a cake.
I had seen a few posts on the What's Cooking board for a Cookies n' Cream Cake. When I originally saw it I bookmarked it because I didn't really have a reason to bake a cake at the time. When I decided to host the birthday dinner I knew that the Cookies n' Cream cake would be THE cake.
Greg admitted after the fact that he never thought I could pull it off. HA, I guess I showed him! He was very impressed, not to mention the reaction I got out of my family. Everyone loved it!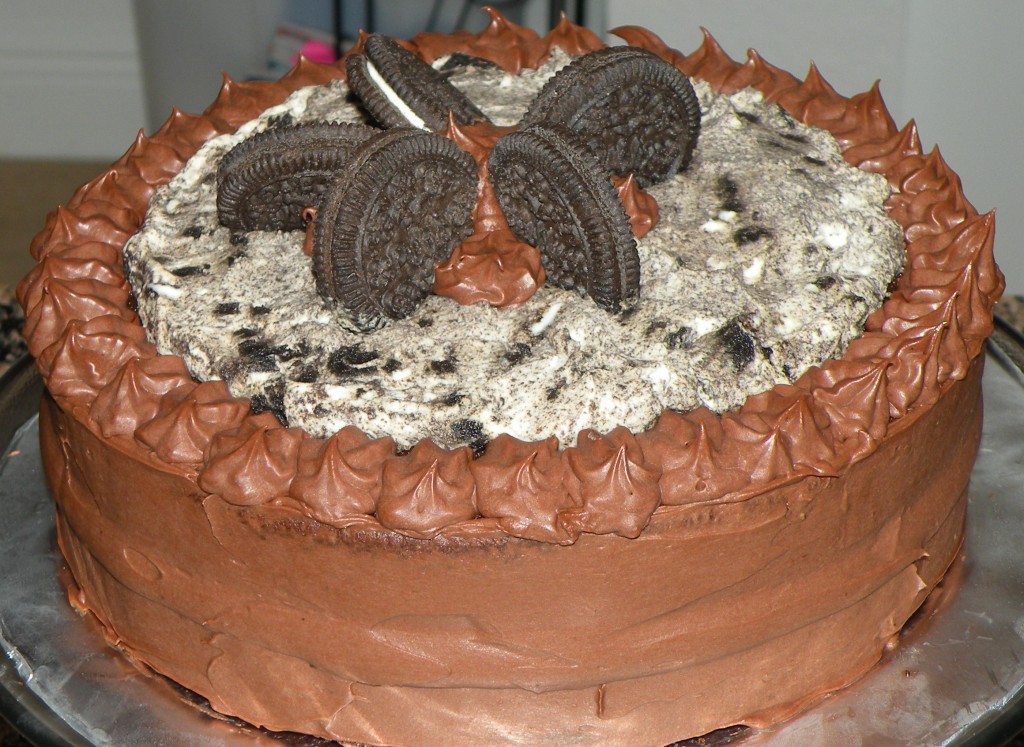 Cookies n' Cream Cake
courtesy of Just2Good, cake and frosting originally from Hershey's.
Cake:
2 cups sugar
1 3/4 cups all-purpose flour
3/4 cup cocoa powder
1 1/2 tsp. baking powder
1 1/2 tsp. baking soda
1 tsp. salt
2 eggs
1 cup milk
1/2 cup vegetable oil
2 tsp. vanilla extract
1 cup boiling water

Filling:
1 1/4 cups heavy cream
1/8 cup confectioners' sugar
1/4 tsp. vanilla extract
10 chocolate sandwich cookies, chopped
Frosting:
1/2 cup unsalted butter
2/3 cup cocoa powder
3 cups confectioners' sugar
1/3 cup milk
1 tsp. vanilla extract
Preheat oven to 350 degrees and grease two 9 inch round baking pans.
In a large bowl, stir together sugar, flour, cocoa, baking powder, baking soda, and salt. Add eggs, milk, oil, and vanilla. Beat on medium speed for 2 minutes. Stir in boiling water (batter will be very thin). Pour batter into round baking pans.
Bake 30-35 minutes, or until a toothpick inserted comes out clean. Cool for 10 minutes before removing from pans. Once removed place on baking racks until completely cooled.
To make the filling, combine cream, confectioners' sugar, and vanilla in the bowl of a stand mixer fitted with the whisk attachment. Beat on low until sugar is incorporated, then beat on high until stiff peaks form (do not over beat). Gently fold in chopped cookie pieces.
To make the frosting, melt butter in a medium bowl. Stir in cocoa. Alternately add confectioners' sugar and milk, beating to spreading consistency. If needed, add additional amount of milk. Stir in vanilla.
To assemble the cake, place one layer of cake on a cardboard circle. Pipe a border of frosting along th rim of the cake. Spread a thick layer of cookies n' cream filling inside the circle. Top with the other layer of cake. Frost the side of the cake with the frosting. Pipe a decorative border of chocolate frosting along the border of the cake. Fill the inside of the decorative border with a thick layer of cookies n' cream filling. Garnish with cookies and frosting as desired.