While my mom and stapdad were visiting over Thanksgiving weekend, there was a lot of cooking going on! I was determined to make a Pumpkin Roll since my mom and I love pumpkin and I saw it so many times on the What's Cooking board. I made that for Thanksgiving day and to my happiness, it was a success. The thing is, my stepdad and Greg do not like pumpkin; I know what a shame. My stepdad had mentioned how he loved jelly rolls. So one evening I decided to find a jelly roll recipe and make him a dessert he would eat.
My stepdad is a southern boy so when I came across a recipe by Paula Dean, I knew I couldn't go wrong. I just happened to have all of the ingredients, so I threw it together. It was quite delicious and everyone loved it.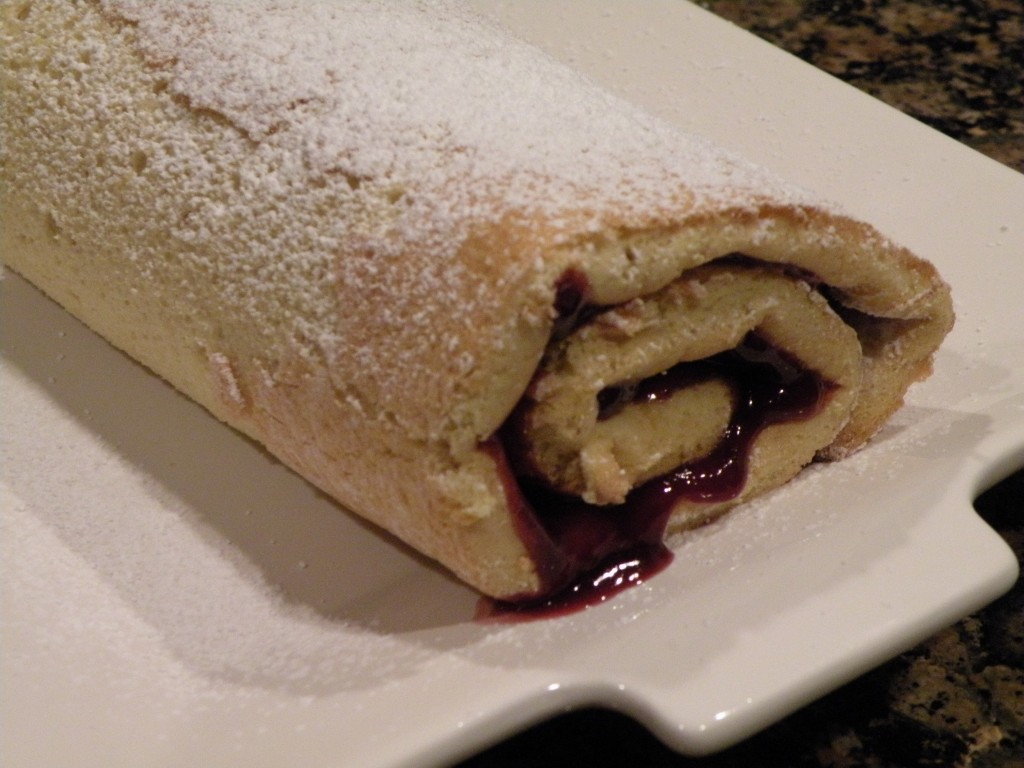 Old South Jelly Roll Cake
courtesy of Paul Dean and Food Network
4 eggs, separated
3/4 cup sugar
1 tbs. vanilla
3/4 cup cake flour, sifted
3/4 tsp. baking powder
1/4 tsp. salt
1 cup jam or jelly, stirred well
whipped cream (for topping)
confectioners' sugar (for dusting)
Preheat oven to 400 degrees.
In a small bowl beat egg whites until stiff but not dry and set aside. In another bowl, beat the egg yolks until light. Gradually add the sugar and vanilla, and mix well. Sift together the flour, baking powder, and salt. Add the sifted flour mixture to the egg yolk mixture. Fold the egg whites into the egg mixture and pour the batter into a 15 x 10 x 1 inch jelly roll pan lined with parchment paper. Bake for 8 to 10 minutes or until cake is golden brown.
Loosen edges of cake, invert cake onto a towel dusted with confectioners' sugar. Gently peel parchment paper off cake. Trim 1/4 inch of hard crust off each long side of the jelly roll cake. Begin with the narrow side and roll the cake and towel up together. Cool cake on rack, seam side down, for 10 to 15 minutes.
Once cake has cooled, gently unroll and spread cake with jam or jelly and re-roll (without the towel). Sprinkle with confectioners' sugar or cover with whipped cream.
Yields 8 to 10 servings.