I want to begin by saying that the October issue of Cooking Light was a real winner. There were tons of great recipes!
On that note, while browsing through my magazine, I found a recipe for Herbed Chicken and Dumplings. The dish was very easy to make and tasted great. Greg and I both loved it and and were completely satisfied from it. It doesn't seem like a lot when you cook it, but it is actually very filling. I highly recommend this dish to anyone (up north) suffering with the winter blues.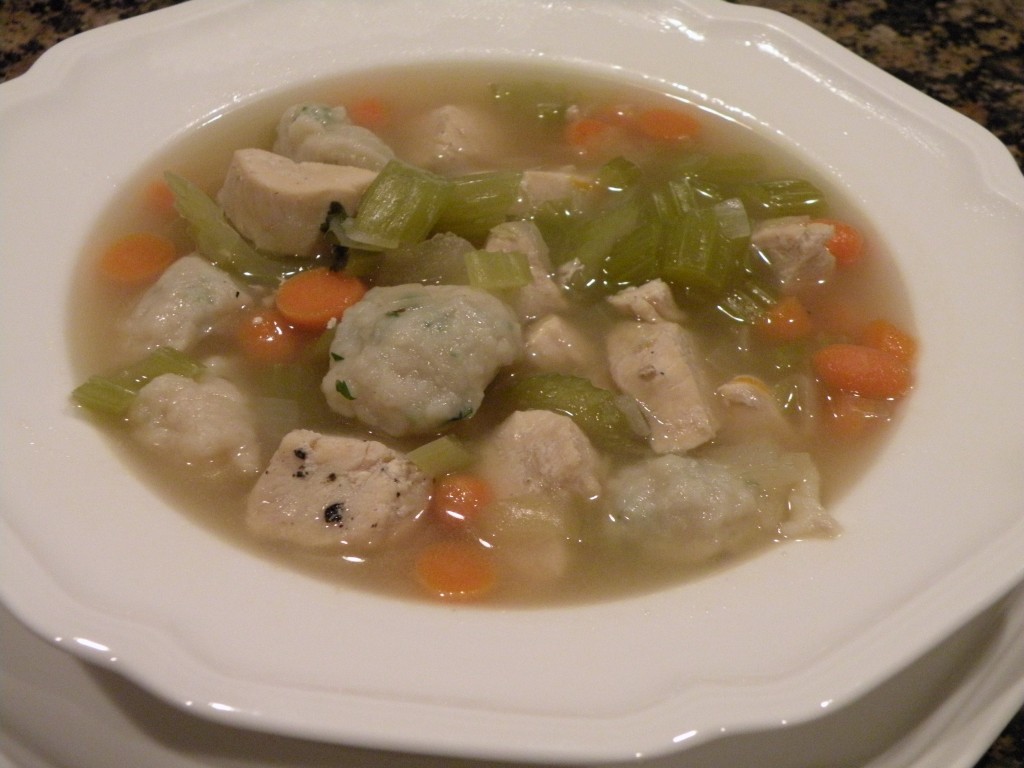 Herbed Chicken and Dumplings
courtesy of Cooking Light, October 2008
cooking spray
8 ounces skinless, boneless chicken thighs, cut into bite sized pieces (I used chicken breast)
3/4 cup (1/4 in) diagonally cut celery
1/2 cup (1/4 in) diagonally cut carrot
1/2 cup chopped onion
1/8 tsp. dried thyme
3 parsley sprigs
1 bay leaf
3 cups fat-free, less-sodium chicken broth
2.25 ounces all-purpose flour (about 1/2 cup)
1 tbs. chopped fresh parsley
1/4 tsp. baking powder
1/4 tsp. salt
1/4 cup 1% low-fat milk (I used skim)
Heat a large saucepan over medium-high heat. Coast pan with cooking spray. Add chicken to pan; cook 4 minutes, browning all sides. Remove chicken from pan; keep warm. Add celery and next 5 ingredients (through bay leaf) to pan; saute 5 minutes or until onion is tender. Return chicken to pan; cook 1 minute. Add broth to pan; bring mixture to a boil. Cover, reduce heat, and simmer 30 minutes.
Weigh or lightly spoon flour into a dry measuring cup; level with knife. Combine flour, chopped parsley, baking powder, and salt in a medium bowl. Add milk, stirring just until moist. Spoon by heaping teaspoonfuls into broth mixture; cover and simmer 10 minutes or until dumplings are done. Discard parsley sprigs and bay leaf.
Yields 2 servings. Serving Size: 2 cups