When it comes to dinner, sometimes I'm just not in the mood for meat, veggies and a starch; I want something different. So, while thumbing through my Ellie Krieger cookbook I came across a recipe for Summer Corn and Vegetable Soup and knew that would be a great change-up. It called for lots of my favorite vegetables and it was more of a chowder style so I knew it would be hearty.
I whipped a batch up one night and served it with a half of a sandwich. It was so filling! I couldn't even finish my bowl. Greg was even satisfied by this "lighter" meal. It is jam packed with fresh and easy to find ingredients and is a cinch to make. What more could you ask for?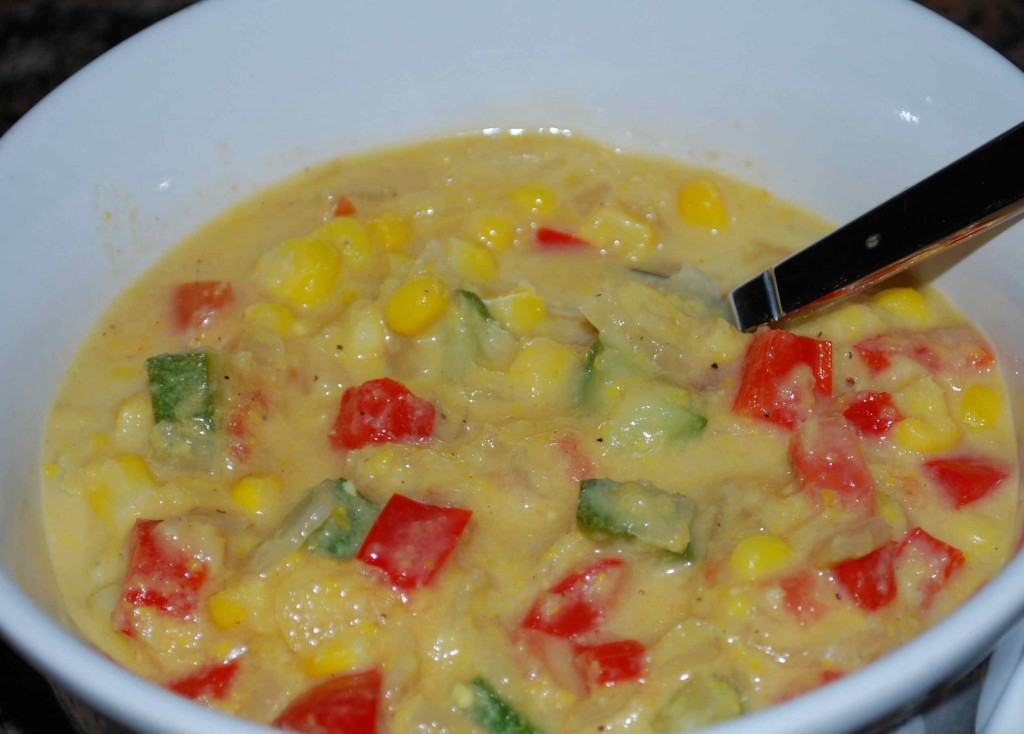 Summer Corn and Vegetable Soup
Courtesy of The Food You Crave by Ellie Krieger
4 cups fresh corn kernels or two 10 oz. packages frozen corn, thawed
2 cups non-fat milk
1 tbs. olive oil
1 large onion, diced (about 2 cups)
1 medium red bell pepper, seeded and diced (about 1 cup)
1 small zucchini (about ½ lb.), diced
2 cups low-sodium chicken or vegetable broth
2 plum tomatoes, seeded and diced
¾ tsp. salt
Freshly ground black pepper to taste
½ cup fresh basil leaves, cut into ribbons
Put 2 cups of the corn and the milk into a blender or food processor and process until smooth. Set aside.
Heat the oil in a large soup pot over medium-high heat. Add the onion, bell pepper, and zucchini and cook, stirring, until the vegetables are tender, about 5 minutes. Add the remaining 2 cups corn and the broth and bring to a boil. Add the pureed corn and the tomatoes and cook until warmed through but not boiling. Add the salt and season with pepper. Serve garnished with the basil ribbons.
Yields: 6 servings
Nutrition Facts (according to book)
Serving size: 1 ½ cups
Calories: 180
Total Fat: 5 g
Cholesterol: 5 mg
Sodium: 365 mg
Carbohydrates: 32 g
Dietary Fiber: 4 g
Protein: 9.5 g