I love recipes that can be made with things that are generally kept stocked in the kitchen. These are always great go to dishes that don't require a last minute run to the grocery store. These are also dishes that have ingredients that can be subbed in and out if you are missing something or have something in the refrigerator that needs to be used up.
While watching the Food Network the other day, I found one of "those" dishes. It is Giada's Roman-Style Chicken. The dish is jam packed with a tasty combination of fresh ingredients. This will definitely stay on my list of "go to" meals. It was delicious to say the least!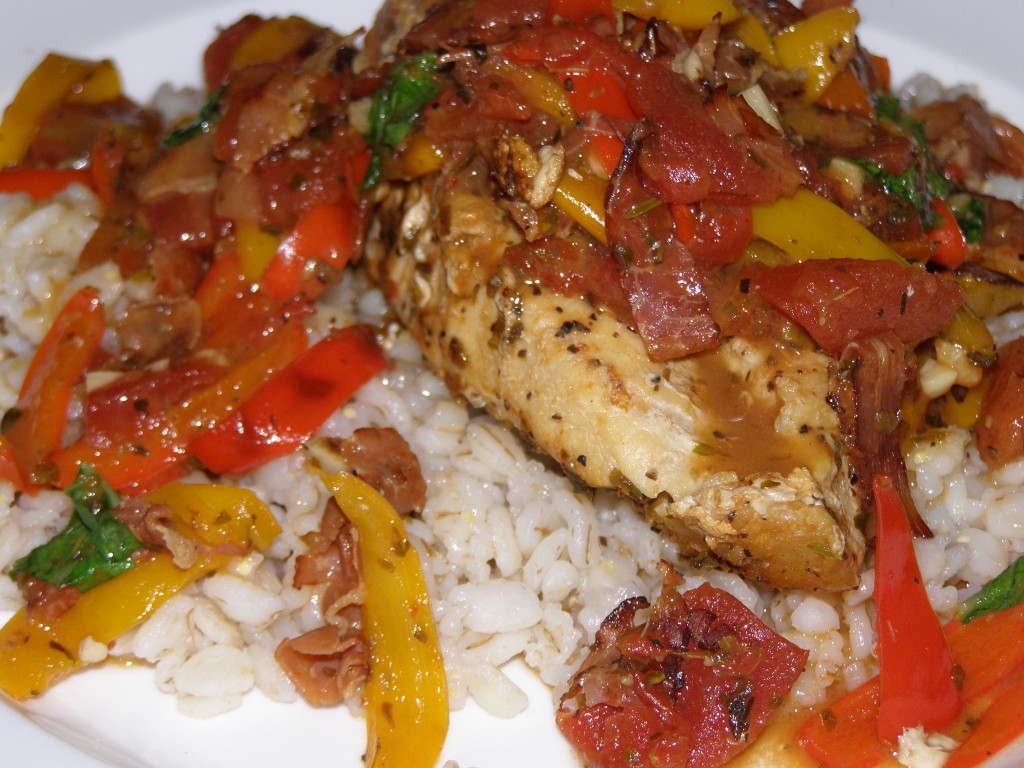 Roman-style Chicken
adapted from Giada De Laurentiis and Food Network
4 skinless chicken breast halves (I used boneless skinless chicken breast)
2 skinless chicken thighs, with bones (I omitted these)
1/2 tsp. salt, plus 1 tsp.
1/2 tsp. freshly ground black pepper, plus 1 tsp.
1/4 cup olive oil
1 red bell pepper, sliced
1 yellow bell pepper, sliced
3 ounces prosciutto, chopped
2 cloves garlic, chopped
1 (15 oz.) can diced tomatoes
1/2 cup white wine
1 tbs. fresh thyme leaves (I used dried)
1 tsp. fresh oregano leaves (I used dried)
1/2 cup chicken stock
1/4 cup chopped fresh flat-leaf parsley
Season the chicken with 1/2 tsp. salt and 1/2 tsp. pepper. In a heavy, large skillet, heat the olive oil over medium heat. When the oil is hot, cook the chicken until browned on both sides. Remove from the pan and set aside.
Keeping the same pan over medium heat, add the peppers, prosciutto and cook until the peppers have browned and the prosciutto is crisp, about 5 minutes. Add the garlic and cook for 1 minute. Add the tomatoes, wine, and herbs. Using a wooden spoon, scrape the browned bits off the bottom of the pan. Return chicken to the pan, add the stock, and bring the mixture to a boil. Reduce the heat and simmer, covered, until the chicken is cooked through, about 20 to 30 minutes.
Add parsley and stir to combine.