When we go to family gatherings I always try to bring a sweet treat. I love to bake but I don't do as much as I would like because it is just Greg and I. So I jump at any opportunity I can find to make some yummy baked goods.
I always try to make an array of things that I know most people will like. Not only that, but if it is a casual gathering I also try and make something that is simple to grab and munch on at each guest's leisure. While searching for a new recipe for one of the many gatherings we attended this summer, I found a delicious recipe from The Baking Blonde. Oatmeal Fudge Bars! That is a combination that most people would not snub their nose at. Not only that, but it was a recipe from her grandma, so how could you go wrong with that??
These bars were rich and delicious. They were a definite hit at the barbeque we attended. So if you are looking for a sweet treat that is finger friendly, I would definitely give this a shot.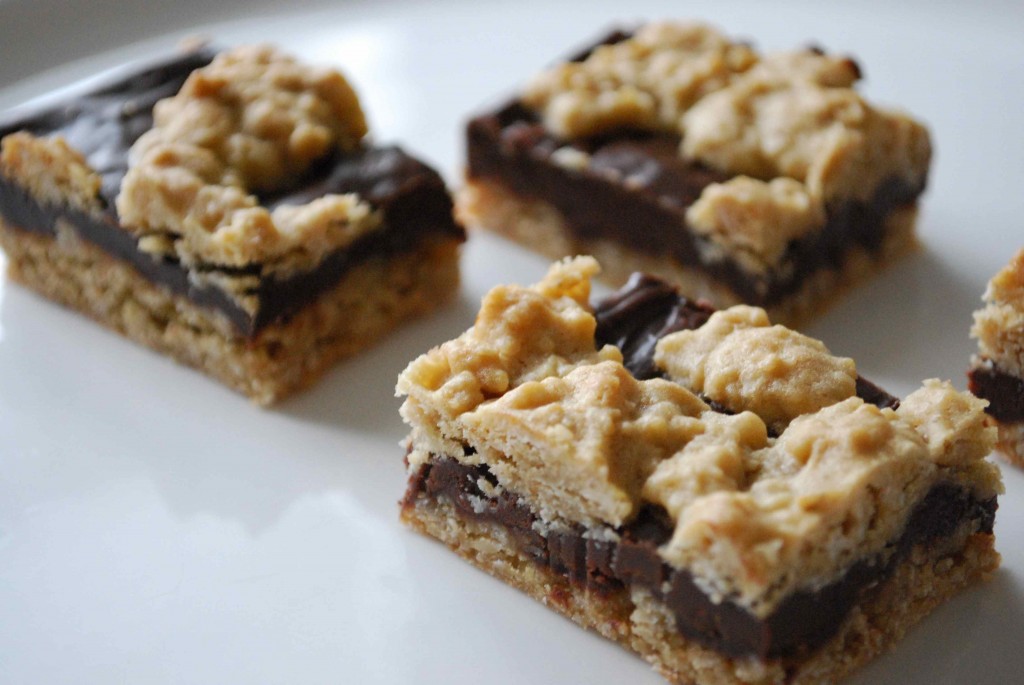 Oatmeal Fudge Bars
2 1/2 cups flour
1 teasponn baking soda
1 teaspoon salt
1 cup butter, softened
2 cups brown sugar
2 eggs
2 teaspoons vanilla
3 cups quick cooking oatmeal.
2 cups semi-sweet chocolate chips
1 can sweetened condensed milk (15 oz.)
2 tablespoons butter
1 teaspoon salt
2 1/2 teaspoons vanilla
Preheat oven to 325.
Grease and flour a 10×15 jelly roll pan.
In a large bowl, sift together flour, baking soda and salt. Set aside.
In a large mixing bowl, beat together softened butter and brown sugar until light and fluffy.
Add eggs, one at a time and beat until combined. Add vanilla and mix well.
Slowly add the sifted flour mixture and mix until combined. Stir in oatmeal.
Gently spread 2/3 of the mixture into the bottom of the prepared pan. Reserve the rest for topping.
Making the filling:
Over Medium-Low heat, melt together chocolate chips, sweetened condensed milk, 2 tablespoons butter, and salt. Stir until smooth. Remove mixture from heat and stir in vanilla.
Evenly pour filling mixture over the crust but keep the filling about a 1/4 inch away from the side of the pan so it does not stick to the pan while baking. Evenly dollup the remaining oat mixture on top of filling. Bake for 25-30 minutes or until topping is light brown and fudge layer is set but not solid. Don't overbake these bars or they can become dry.
Cool in pan on rack until set. You can chill them if you need them to set up faster.
Keep stored in an airtight container either room temp or in the fridge.