Archive for the 'Greek' Category
I grew up eating stuffed peppers, although we only had them on occasion since my mother and I were the only ones who enjoyed them. If you think about it, it's a great way to get your vegetables, protein and starch all into one compact entrée. I also love this meal because it is very versatile; you can do just about anything to change it up. I guess stuffed peppers are kind of like a pizza.  You have your base and then you can add whatever your choice toppings, or in this case mix-ins, are until you are blue in the face.
Of course the stuffed peppers that I grew up on were the traditional ones; the standard pepper stuffed with ground beef, rice, diced onion and topped with tomato sauce. When I decided to make them for dinner the other night I wanted to spruce them up a bit. Not only did I want to make them a bit healthier, but I also wanted to make a few additions. So, I decided to go with a Greek inspired version. I also opted to use turkey burger and barley instead of the beef and rice. The addition of the spinach, Greek peppers and black olives gave a nice extra element of flavor. I am sure it would be great with kalamata olives too (which would be a bit more Greek); and feel free to add some feta cheese to the top as well.
Not only is this a great way to use up what's in your refrigerator, but it also makes for great leftovers.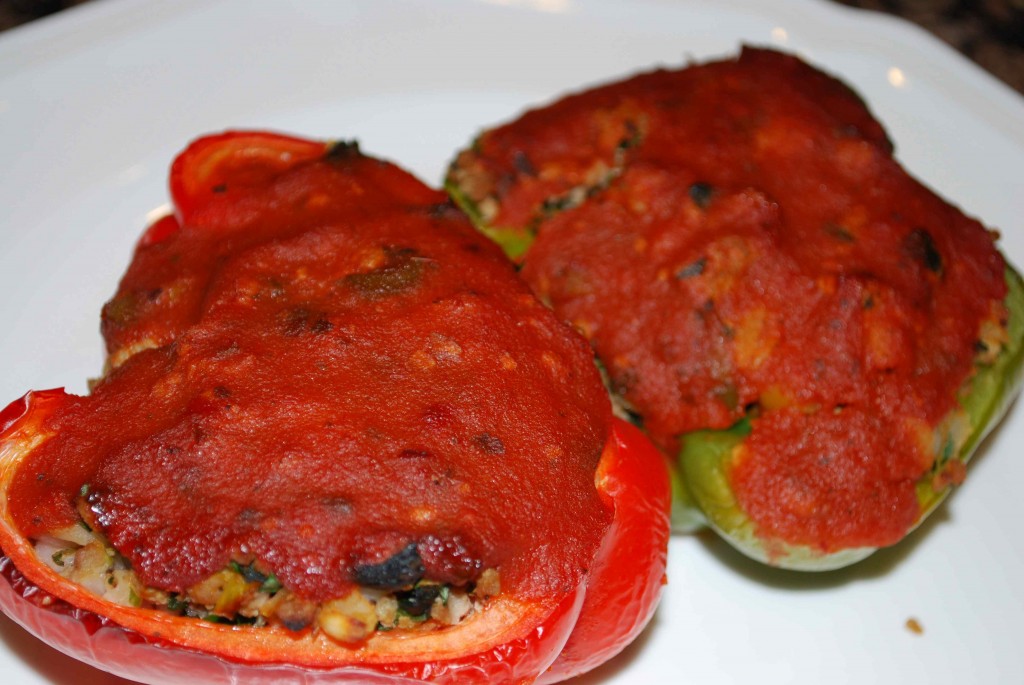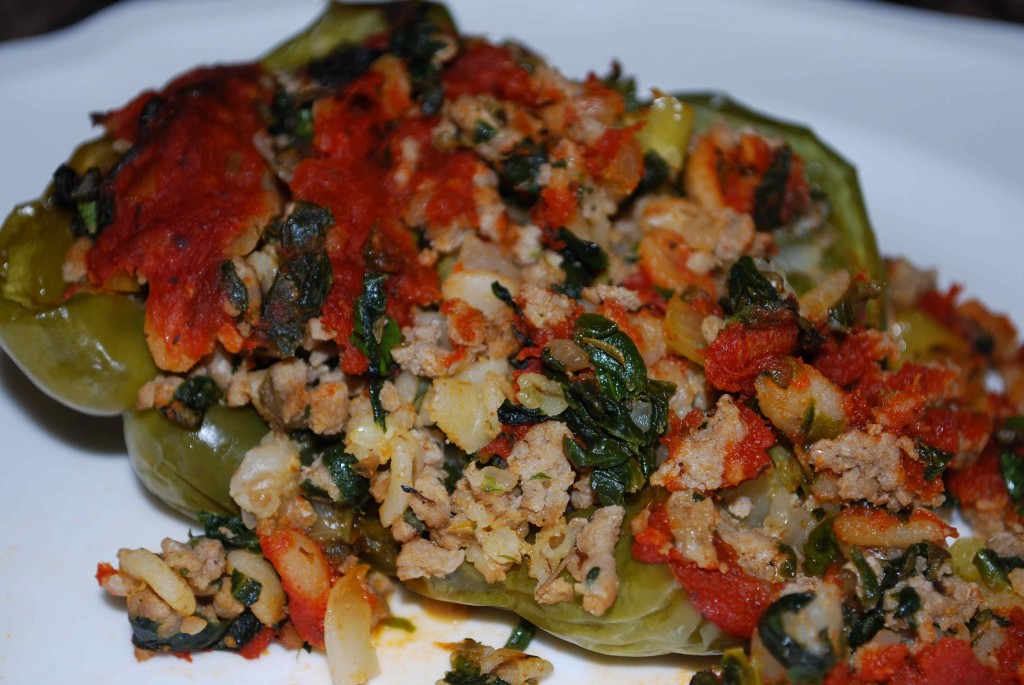 Greek Inspired Stuffed Peppers
3 bell peppers (your choice of color), halved vertically
1 cup cooked barley
2 tsp. olive oil (or coat the bottom of the pan with olive oil spray)
½ cup onion, chopped
½ lb. ground turkey
2 tsp. dried oregano
1 tsp. garlic powder
½ of a 10-ounce package of frozen chopped spinach, thawed and squeezed dry
8 large black olives, sliced
4 Greek peppers, chopped
salt and pepper to taste
1 cup of your favorite tomato sauce (store bought or homemade)
Preheat oven to 350 degrees.
Begin preparing barley on the stove top.
Place your six pepper halves, cut side up into a large casserole dish (9×13).
Heat olive oil in a large skillet over medium to medium-high heat. Add the diced onion to the pan and sauté; about 2 minutes. Add the ground turkey, oregano, garlic powder and salt & pepper to the pan and cook until onions are translucent and the meat is cooked through.
Place the meat mixture into a large bowl, combine with cooked barley, spinach, olives and chopped Greek peppers. Fill each pepper half with the mixture. Spoon tomato sauce over the top of each filled pepper.
Place in the oven and bake for about 30 minutes or until peppers are tender.
Yields: 3 servings
Nutrition Facts
Serving size: 2 pepper halves
Calories: 421.7
Total Fat: 13.6 g
Cholesterol: 81 mg
Sodium: 1,284.1 mg
Carbohydrates: 53.3 g
Dietary Fiber: 13.1 g
Protein: 30 g
*note that I used my olive oil sprayer, so the nutrition does not include the 2 tsp. of olive oil.

While living in the Clearwater area of Florida, Greg and I were spoiled by having some wonderful Greek restaurants around. This is due to the huge Greek population in the Tarpon Springs area. Unfortunately, since moving back to south Florida, we haven't found a place to fulfill our need of great Greek food. So after having a craving for it, probably after seeing it on TV, we decided to take the matter into our own hands. If we can't get it out, then we will have to make it in. So we decided on Greek style chicken and veggie kabobs with a side of orzo.
This was an incredibly delicious meal. It was light but satisfying and I highly recommend it to everyone!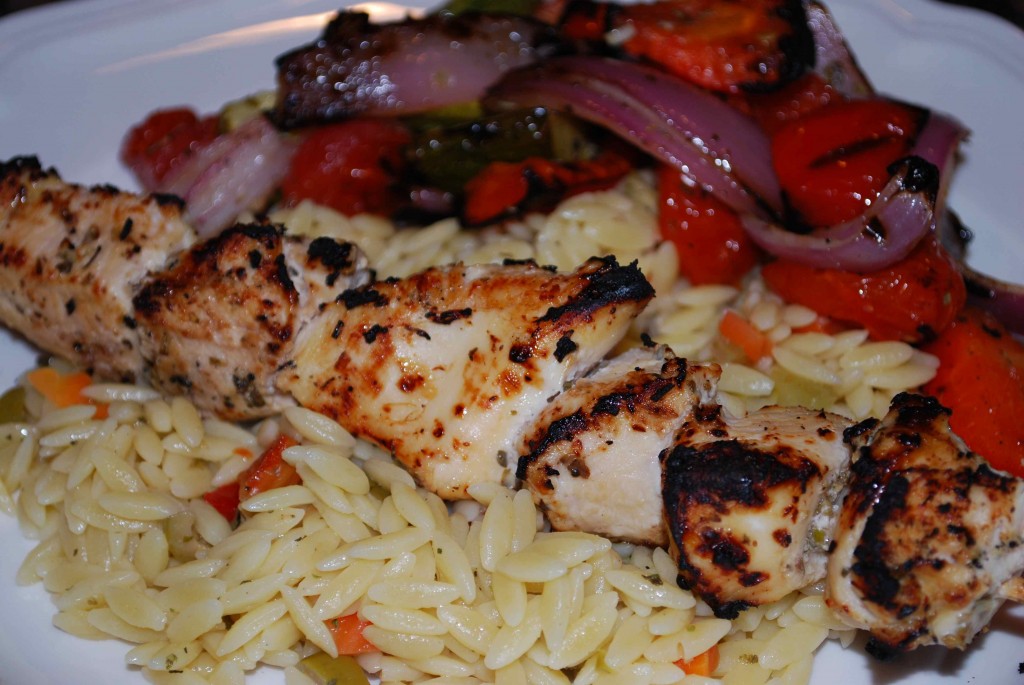 Marinated Greek Chicken Kabobs
1 cup fat-free plain yogurt (or Greek yogurt)
½ tsp. lemon zest
2 tbs. fresh lemon juice
2 tsp. dried oregano
½ tsp. salt
¼ tsp. ground black pepper
¼ tsp. crushed dried rosemary
1 pound skinless, boneless chicken breasts, cut into 1-inch pieces
Marinated veggies (recipe below)
In a medium bowl, mix the yogurt, lemon zest, lemon juice, oregano, salt, pepper, and rosemary. Place the chicken in a large freezer bag and pour marinade over it. Turn to coat. Place in the refrigerator and let marinate for 3 hours.
Preheat an outdoor grill at high heat.
Thread the chicken and veggie pieces alternately onto skewers. Discard the remaining yogurt mixture.
Grill the skewers on the prepared grill until the chicken is no longer pink and juices run clear.
Marinated Veggies
1/3 cup fresh lemon juice
1/8 cup white wine vinegar
2 tbs. dried oregano
4 tsp. extra virgin olive oil
6 cloves garlic
1-2 zucchinis, cut into 1 inch chunks
1 red onion, cut into wedges
cherry tomatoes
In a small bowl, combine the lemon juice, vinegar, oregano, oil and garlic. Place the prepared veggies into a large freezer bag and pour marinade over the top. Make sure all of the veggies are well coated. Refrigerate until ready to gill.