Passover has come and gone once again, but at least this year I was able to leave a lasting impression with dessert! I know this is a bit late, but better late then never….especially with this dessert! Passover desserts can be tricky and can become a bit redundant because there tends to be a few standbys that most people turn to. On top of that, no one really likes to bake in Greg's family so I challenge myself to always make a wonderful dessert to bring, especially for Passover. The past couple of years I have just thrown together simple things last minute, but this year I really wanted to find a great recipe. All I can say is that Cooking Light has come through for me once again. I had been eying this beautiful lemon curd cake for a while and decided to finally make it sine it was Passover friendly.
This cake was AMAZING!! Everyone raved over it. Halfway through serving it Greg's cousin started rationing the pieces and then horded the remaining bits for herself and practically licked the plate clean. It not only looked pretty but it was lemony and refreshing with a touch of cake. I will definitely make this recipe again and it will not be stored away for just Passover, as the matzo cake meal can easily be switched out with whole-wheat flour. It is perfect for any spring or summer gathering.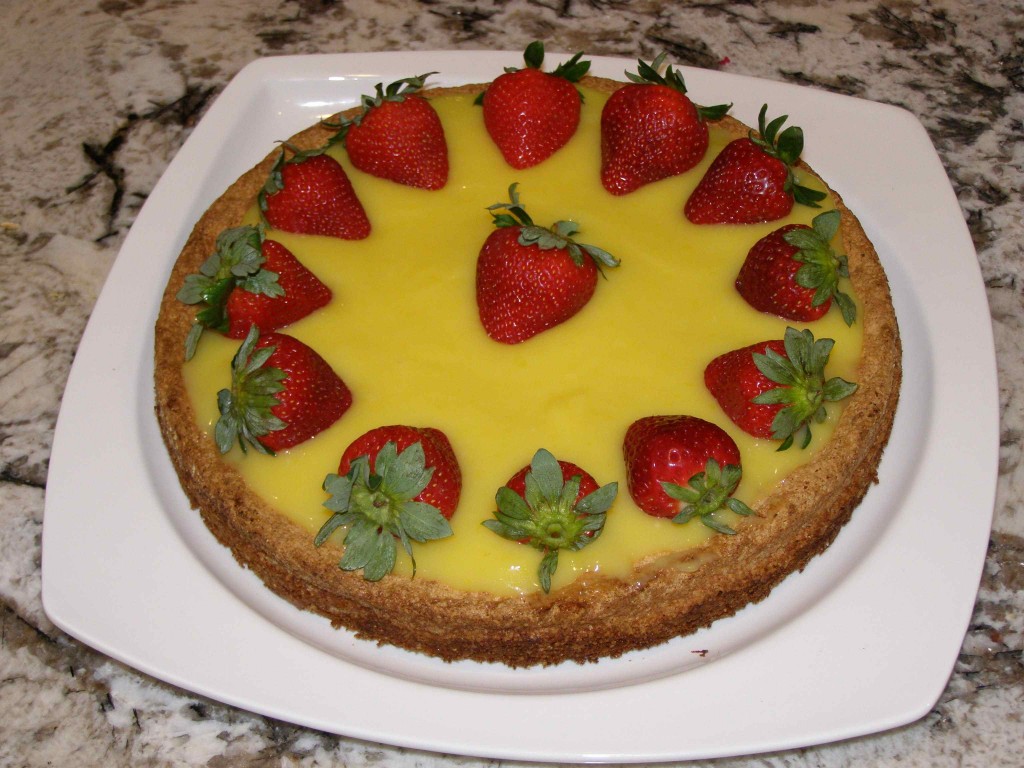 Lemon-Almond Cake with Lemon Curd Filling
Courtesy of Cooking Light
Cooking spray
2 tsp. matzo cake meal (I ground up matzo meal)
4 large egg yolks
1 cup sugar
1/4 cup matzo cake meal
1 1/2 tsp. water
1/2 tsp. grated lemon rind
1 tsp. fresh lemon juice
1/4 tsp. salt
1/4 cup blanched almonds, ground
4 large egg whites
1 cup Lemon Curd (recipe follows)
2 cups fresh raspberries (I garnished with fresh strawberries)
Preheat oven to 350°.
Coat a 9-inch spring-form pan with cooking spray. Dust pan with 2 teaspoons matzo cake meal.
Place the egg yolks in a large bowl, and beat with a mixer at high speed for 2 minutes. Gradually add 1 cup sugar, beating until thick and pale (about 1 minute). Add 1/4 cup matzo cake meal, 1 1/2 teaspoons water, 1/2 teaspoon grated lemon rind, fresh lemon juice, and 1/4 teaspoon salt; beat just until blended. Fold in the almonds.
Place egg whites in a large bowl. Using clean, dry beaters, beat egg whites with a mixer at high speed until stiff peaks form. Gently stir one-fourth of egg whites into egg yolk mixture; gently fold in remaining egg whites. Spoon batter into prepared pan.
Bake at 350° for 35 minutes or until golden brown and set. Cool for 10 minutes in pan on a wire rack. Run a knife around edge of cake. Remove cake from pan. Cool completely on a wire rack. (Cake will sink in center as it cools.) Spread 1 cup Lemon Curd in center of cake, and top with raspberries (or whatever berries you prefer). Cut cake into wedges using a serrated knife. Serve immediately.
Lemon Curd
1/2 cup sugar
3 large eggs
2 tablespoons grated lemon rind
3/4 cup fresh lemon juice
2 tablespoons unsalted butter
Place sugar and eggs in a medium bowl; beat with a mixer at medium speed until blended. Gradually beat in rind and juice. Spoon mixture into a heavy-duty saucepan over medium heat. Add butter to pan; cook 5 minutes or until thick, stirring constantly (do not boil). Spoon mixture into a bowl. Cover surface with plastic wrap. Chill thoroughly.
Yields: 8 servings
Nutrition Facts 
Serving size: 1/8 of cake
Calories: 238
Total Fat: 6.6 g
Cholesterol: 149 mg
Sodium: 123 mg
Carbohydrates: 41.4 g
Dietary Fiber: 2.7 g
Protein: 5.9 g